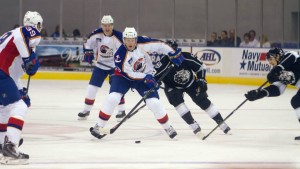 Anaheim Ducks prospect and current Norfolk Admiral Josh Manson is having a rookie season to remember. The 23-year-old defenseman out of Northeastern University recorded a Gordie Howe Hat trick on Wednesday January 21st against the Charlotte Checkers. Manson also proved himself this season earning a 17 game call-up with the "Big Club" where he racked up his first NHL point by assisting on a goal.
THW's Ted Warren caught up with Manson after a recent game and conducted a Q&A interview.
THW: This season has been a lot of firsts for you: first call-up, first NHL game and first NHL point. Did you expect any of this your rookie year?
J.M.: No, not at all. With it being my first year, I wanted to take everything in stride and try and come in and play my game and help the Admirals win. If things happen that I could get into the NHL and get the chance for that I wanted to make the most of it. It came along this year and I was very fortunate.
THW: What things did you learn in Anaheim that you could apply in the AHL?
J.M.: Just moving pucks fast. You don't have much time with the puck, but guys are always in their spots so the faster you can get the puck, keep your head up, and move it right away, the better off you'll be.
THW: Looking back at the game vs. the Checkers where you recorded a Gordie Howe Hat Trick, is that a memory you'll look back on for years to come?
J.M.: For sure! I'd like to have some more down the road, but a Gordie Howe Hat Trick, my first one in pro, I don't think I'll forget that.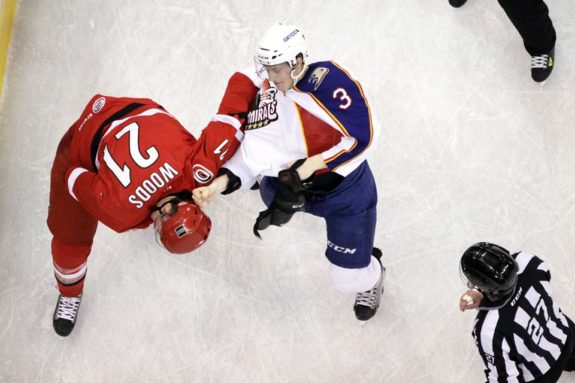 THW: You have a lot of responsibility for a rookie such as being out on the PK and also you're out in big situations, how are you handling this?
J.M.: I'm taking everything in stride. Marty has been good. He's been teaching me a lot of things on the defensive end and putting a lot of trust in me and I've been trying to respond the best way I can. I think we have the best penalty kill at home right now. That gives a lot of credit to Marty. He's been teaching a lot of good things to me.
THW: Are there any older guys on the team that are a mentor to you?
J.M.: Yea, they all are, they're all good guys. All the veteran guys play their part teaching you little things. You want to learn little things from each of them because they obviously have been doing something right which has allowed them to be around the game for this long. So if you can learn one thing from each guy, I think it can only help your career moving forward.
THW: You have a big body, have you always used your size to your advantage?
J.M.: I try to, try to get body position and be stronger on pucks. It's obviously an asset. Guys are getting bigger and stronger so you have to keep up and if I can use it to the best of my ability it's only helping me.
THW: For you personally, how are you going to build off the success you had against the Checkers on January 21st, that was a pretty big game for you?
J.M.: Honestly, you just have to put it in the past, it's one game and I got a couple bounces. I think if I just play solid and let those bounces come, but they aren't going to come every game and you've got to understand that. Just keep moving pucks quickly and play my style of game and every once in a while those games will come.
THW: The AHL is all about player development; do you feel you're getting more comfortable with each game?
J.M.: I try to. I try to become more comfortable with each game. You play a different opponent each week and each team brings something new and each weekend is a new change. The more I can learn the better off I'll be.
THW: On off-days what do you do to relax and get your mind off hockey?
J.M.: Mostly just relax. When it was nice out we would go golfing which was great because I love to golf. My roommate is Chris Wagner so we head out and go golfing every once in a while. We've got a ping-pong table set up in our place right now so we've had a couple of battles with that, but other than that I just try to relax and rest the body up. It's a long season.
THW: Who is the better ping-pong player: you or Wagner?
J.M.: It's been close lately. He took me yesterday pretty badly. He took it to me six games to two or three. I'll have to give it to him right now; he's got the belt.
THW: Your Dad, Dave, played in the NHL. What kind of role has he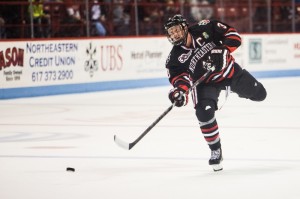 served in your hockey career?
J.M.: He's been a great mentor for me. He's been around long enough since he's played the game for sixteen or seventeen years to see it all. I learn things from him everyday away from the rink and at the rink. He hasn't talked to me much about hockey this year. He lets me feel it out and learn from Marty and the guys here, but away from the rink he knows how to handle himself and he's taught me a lot on how to do that.
Josh Manson VS. Ryan Stanton

For the past few contests, Manson was paired with veteran defenseman Mark Fistric on the Admirals blue line.  Fistric praised Manson's maturity and progression saying,
"I think just the progression he's made since he first got called up and his first game where he only played twelve or thirteen minutes and by his fifteenth game he was playing twenty minutes for us (in Anaheim) at crucial times is remarkable. I think it just shows the confidence that he's gaining. He's a young guy, he's learning on his way. He's like a sponge. He absorbs everything and he continues to progress and continues to get better."
In closing, if Manson keeps his sponge like mentality he will secure a full-time roster spot in Anaheim sooner rather than later.