The All-Star game is now behind us and though there is still a lot of the season left to play, contract talks are heating up and trade talks even more so. As much as this has to do with making final pushes to make the playoffs, teams are already considering the fact that many of their stars will hit the open market come July. With that in mind let's take a look at some of the top names that could be available to the highest bidder once free agency begins this summer.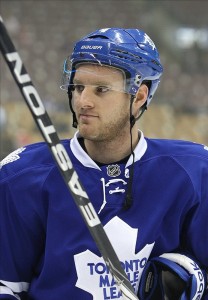 10. Cody Franson: $3,300,000 Toronto Maple Leafs
The Maple Leafs defender is having his most offensive season of his career. He has six goals and 29 points and is first among Leafs defenders in scoring. He is just four points away from matching his career high of 33 points from last season and is on pace for 50 points. Last season he also led all NHL D-men in hits.
The Leafs have been able to drive the bus in the past when it has come to negotiating with Franson. He has had both of his last two contracts get pretty heated.
Before the 2013-14 season, Franson and the Leafs didn't come to an agreement until September 26, just days before the team's first game. While last year Franson filed for arbitration in July before signing with the club.
In each of his last two negotiations Franson has agreed on just one-year deals, hoping to get a higher dollar amount from the team. This year he will hit the open market after being restricted and will be able to control the negotiations more. The team has been rumoured to possibly trading him before this year's deadline, but either way Franson is set to hit the market. With minimal right-handed defenseman on the market, he could be very sought-after.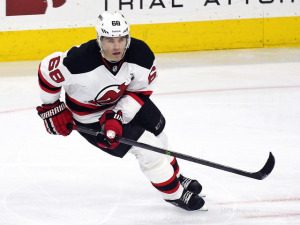 9. Jaromir Jagr, $3,500,000 New Jersey Devils
He is the fifth highest scorer in NHL history, so that holds a lot of weight as to why interest in the right winger might be high. Though he has had some injury problems this season, he is still second on the team in scoring. He has 25 points in 43 games and is on pace for 45 points, achieving that would put him ahead of Ron Francis for fourth all-time in scoring.
Those numbers aren't great, but considering the lack of offensive talent on the Devils it's not bad. The 42-year-old led the Devils in scoring last season with 67 points and was the only player with a plus-minus in double digits (+16).
Jagr's age is obviously a cause for concern and anytime a player in his 40s has an injury there is always the risk that it could bring an end to their career. However, if he can return and possibly find himself on a team with more scoring punch and someone to play alongside him, he could be a big contributor. He should be able to get a deal at a bargain and would be a decent second-line winger.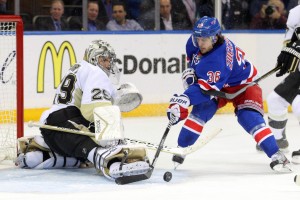 8. Mats Zuccarello: $3,500,000 New York Rangers
The Rangers' winger led the team in scoring last season with 59 points in 77 games.  This year he has seen a drop in his production, but given his age and what he can do there is no reason to think we have seen the best of Zuccarello.
The 27-year-old is on pace for 43 points this year and a +22 rating.  A big reason for the drop in production is the fact that Zuccarello is now playing on the team's second power play unit. Last year the native of Norway had 17 points while on the power play while this season he has just two points with the extra man. This is largely due to the injury to Rick Nash last season and the trade that brought in Martin St. Louis, so he is now seeing less time.
He is a +12 this season and a +23 since last year, so he has been very dependable for the Rangers. This season shouldn't deter any interested in teams and if anything might make him more intriguing if there is the thought that he can be attracted for a lower cost.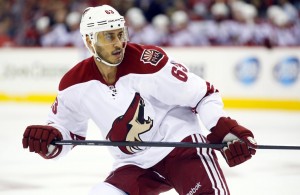 7. Mike Ribeiro: $1,050,000, Nashville Predators.
The 34-year-old this season has been arguably the biggest best bang for your buck player. The Preds centre has 10 goals and 39 points in 45 games and is just one point behind rookie Filip Forsberg for the team lead.
His shooting percent of 19.2% is the 21st highest in the NHL and he is on pace for 70 points this season. That would be his fourth-highest total of his career and the highest mark since the 2010-11 season, when he was with the Dallas Stars.
Ribeiro has been an odd case almost his entire career, being on and off from year to year. He signed a four-year contract with the Coyotes last season and after just the first year and recording 47 points, the Yotes used a buyout on Ribeiro.
With his inconsistent play it seems any contract given to the Montreal native would be a risk, but if he isn't brought back by Nashville and can stay on track, he could be a good pickup.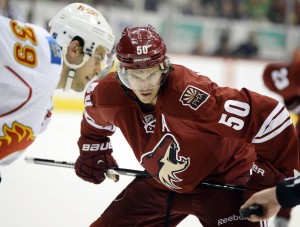 6. Antoine Vermette: $3,750,000 Arizona Coyotes
Like Franson, Vermette has also been included in many trade rumours this season. With their season going awry, it looks as though Arizona will be sellers come the trade deadline. And with Vermette hitting the market there, is extra incentive for the team to trade him to acquire something in return.
What makes Vermette so valuable is the fact that he can seemingly do it all. He is tied with defenceman Keith Yandle in scoring on the team with 30 points and plays on both the power play and the penalty kill. He has the 16th highest faceoff percentage in the league at 55.2% and has an impressive shooting percentage at 17.5%.
Despite the struggles the Coyotes are going through, Vermette is on pace for 52 points which would be the third highest total of his career. He can be very versatile and on a good team could be a very solid second-line centre.