A month ago, rookie defenseman Ivan Provorov was under direct heat from some Philadelphia Flyers fans because of a, simply put, terrible game against the Chicago Blackhawks. In 21 minutes of ice time, the Russian was a minus-5, and a couple of goals were exclusively his fault.
Some of the lowlights included a back-pedaling play that ended with Provorov tripping and Dennis Rasmussen scoring on a breakaway goal, and a bad-luck bounce later that sent Patrick Kane, Artemi Panarin and Artem Anisimov on a 3-on-1.
Today, that game has largely been forgotten by Flyers fans – and not just because it was a month ago. Provorov has looked much better over the past two weeks. The solid defenseman that was advertised leading up to the 2016-17 season is on display.
Changes In Play
In the first six weeks of the season, Provorov and his usual partner Mark Streit did not mesh well together. On paper, it makes sense to have the two paired. Streit's the elder statesman of the Flyers' blue line and although an offensive defenseman, his defensive game has improved over the past few years.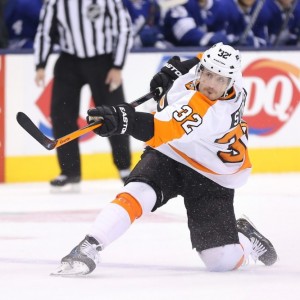 On the ice, it didn't work. Streit stepped up too often, putting Provorov in a bad position as the last defenseman back. As a 19-year-old, that's strictly too much responsibility, especially against the toughest opponents.
Provorov spent some time with Brandon Manning since then and actually played a better game with the less-skilled blueliner. But when Michael Del Zotto returned from injury, Provorov and Streit were a duo again.
However, things have been much better in the new incarnation of Streit-Provorov. Provorov isn't left out to dry as usual and chemistry seems to be growing after more playing time together.
In the offensive zone, the former Brandon Wheat King has looked more comfortable also. He's reading plays better and pinching in for opportunities.
Over the past six games, he's recorded 17 shots on net. In his first six, he had six, with four coming in one game. Despite that, Provorov still doesn't have an NHL goal.
Rest of the Season
Provorov's hopeful ascent to number-one defenseman will be a slow one just like it was for Drew Doughty and Victor Hedman, but that doesn't mean that there aren't goals to hit through the rest of his rookie season.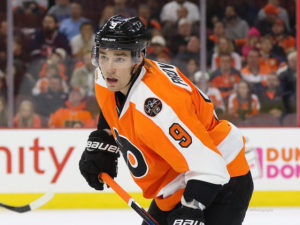 First off, the Flyers, fans and Provorov would all like to see him put the puck in the net for the first time. It almost seems criminal that none of his chances have beaten a goaltender yet.
For the rest of his offensive game, he's already doing a great job of making a first pass out of the zone. He also excels at skating with the puck – out of the defensive zone and otherwise.
The goal there, as it would be for any player, is to just cut down on any mistakes. Obviously, Provorov does make an errant pass on occasion and the team and player would like that trimmed down as much as possible.
Defensively, Provorov's strong with his stick at breaking up plays, which he detailed to Elliotte Friedman of Sporstnet in his 30 Thoughts:
Since he played in the Western Hockey League, I'd never had much of a chance to talk to the rookie defenceman, but he's very good at discussing the intricacies of the game. He was explaining what it was like to face Sidney Crosby.

'He was coming in on me, and I wasn't on my regular side. I was thinking, "Don't go for the first move, don't go for the first move." He brought the puck across his body and I waited, then was able to poke it away from him.'
While his stick play is strong, Provorov could improve his body work against bigger players. Against the Ducks earlier this year, Ryan Getzlaf was able to drive the defenseman back to allow a screened shot from Corey Perry that beat Steve Mason.
The area that he needs work on the most is back-pedaling with the puck. The play that allowed the Rasmussen breakaway goal is something that still hinders Provorov's game.
Regardless of the zone, there are times when the 2015 first-round pick will fumble the puck if he attempts to skate backward with it. There haven't been any disastrous outcomes like against Chicago, but turning over the puck is always an issue.
The good news is that that's an easy fix. It's not a system issue or something based on a player's characteristics. It's something that can be easily worked on by practice.
If the last month has proved anything, it's that Provorov's a quick learner, even if there are some road bumps. These issues shouldn't take long to smooth out if he continues to progress as he has.