Although he may have started this season in the American Hockey League, Logan Shaw knows what it's like to be in the big leagues.
The Glace Bay, Nova Scotia, native suited up in 53 games for the Florida Panthers during their record-setting 2015-16 campaign. While far from being an offensive threat — he registered seven points off of five goals — the 6-foot-3, 202-pound forward played well in a bottom-six role, even logging 28:30 of short-handed ice time.
Shaw had shown flashes of potential as a two-way player. Given the chance, the right winger could have developed into an effective bottom-line skater, one that occasionally chipped in on offense.
Which makes the decision to trade him all the more perplexing.
Months after re-signing him to a one-year, two-way contract, the Panthers elected to trade Shaw to the Anaheim Ducks last week, netting center Michael Sgarbossa in return. The transaction brings another undersized, offensiviely skilled forward into the fold; but did the Cats need to pull the trigger? Given the state of the franchise's depth chart, odds are they didn't.
The Skills
One glance at their career statlines shows how different Sgarbossa and Shaw's skillsets are.
Per Elite Prospects, the 6-foot Sgarbossa has scored no fewer than 0.64 points per game in any minor league he's appeared in. He also plays with an edge — Sgarbossa has averaged a little under a penalty minute per game over the course of his 550 game hockey career.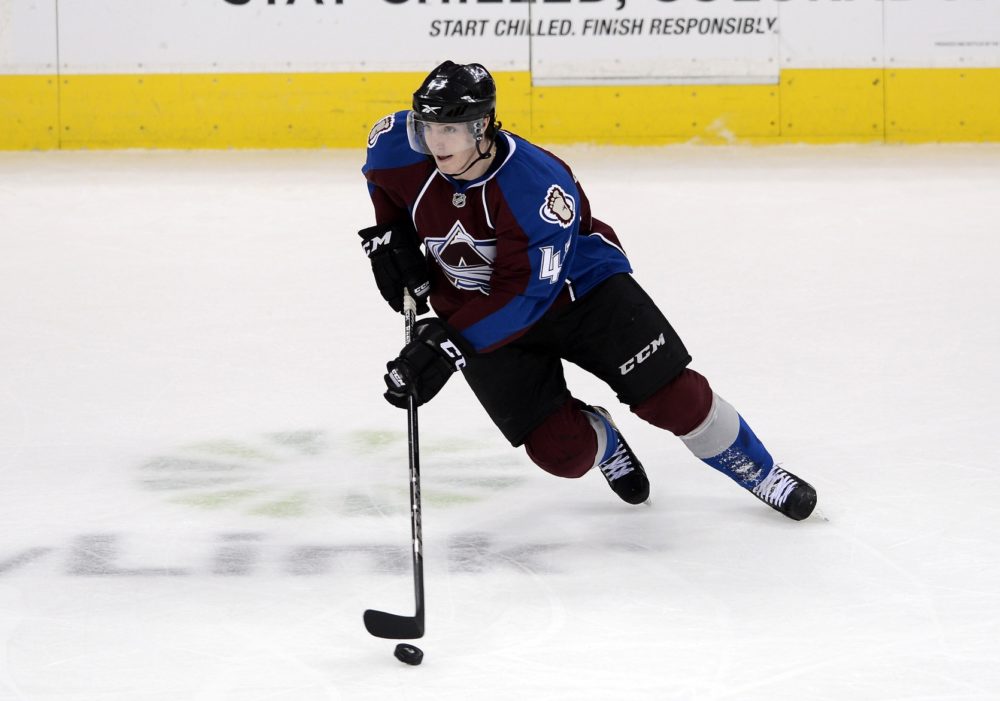 Shaw, on the other hand, brings something else to the table. While not as talented with the puck on his stick — his career points per game line hovers around 0.53 — the bulky winger is more disciplined than his counterpart, accruing one fewer NHL penalty minute despite dressing for 34 more games.
Additionally, Sgarbossa's offensive ability has yet to translate to the NHL level. Goalless through 19 career appearances, the undrafted pivot has only marginally outproduced Shaw, scoring 0.16 points per game to Shaw's 0.13. Those numbers are further amplified when zone starts are taken into consideration: Shaw, a 2011 third-round draft pick, began his shifts in the offensive zone 48 percent of the time, 10 percentage points fewer than Sgarbossa's career average and 17.6 percentage points fewer than his average through nine games this year.
What's more — Sgarbossa's acquisition adds another undersized, offensively-inclined forward to a system loaded with similar types. According to James Mirtle's analysis, the Panthers are among the league's smallest teams, finish 26th and 24th in average height and weight, respectively. Part of that is due to a preponderance of smaller, skilled skaters found on the big league roster; skaters like Denis Malgin (5-foot-9, 177 pounds), Jonathan Marchessault (5-foot-9, 174 pounds) and Vincent Trocheck (5-foot-10, 182 pounds). While the Panthers have a +25 hit differential on the year thus far, the wear and tear of an NHL campaign could eventually take its toll.
Although Sgarbossa plays with grit, the Panthers would benefit more from having a sizeable presence on their checking line, one that has already proven his worth as a depth player. Furthermore, this transaction adds to an organizational glut at the center position, and weakens an already thin right wing depth chart.
While both skaters have suffered from below-average PDO rates over the course of their careers, Shaw has, to this point, been the more effective NHLer.
The Cash
From a financial standpoint, the trade represents no significant change, as far as cap hits are concerned, Shaw's deal costs $60,000 more than Sgarbossa's, but both contracts constitute less than one percent of their respective club's cap hit. Assuming both skaters remain in the minor leagues throughout the season, this transaction would actually cost the Panthers more money — according to CapFriendly, Sgarbossa's AHL salary is $5,000 greater than Shaw's.
In terms of cost-effectiveness, Sgarbossa edges Shaw — using per-game earnings as a baseline, the former's $45,020.33 price tag per point is roughly $19,000 less than the latter's. However, that discrepancy can be explained away due to the fact that, since Shaw has appeared in almost triple the games that Sgarbossa has, his career earnings would be higher; and, as such, so would his cost-per-point.
Furthermore, both players were inked to one-year, two-way deals over the summer, and neither would need to clear waivers in order to be reassigned to the AHL. Simply put: Contractual obligations were probably of little importance in this transaction.
And, in light of the statistical differences, that fact won't do anything to alleviate the confusion of Panthers fans.