When the news came out after the Philadelphia Flyers' morning skate last Thursday that second-year star and Calder Trophy runner-up Shayne Gostisbehere would be a healthy scratch for their matchup later that night against the visiting Winnipeg Jets, the Flyers fan base threw their hands up in despair.
His replacement that night, Andrew MacDonald, who is best served more as a seventh defenseman despite his contract, obviously had no business being in the lineup over the caliber of player Gostisbehere is. Despite the results of a 5-2 win by the Flyers, a game they got outplayed in overall, the benching of "Ghost" may do more good than harm over the long haul.
Flyers hope Shayne Gostisbehere learned a lot watching the Flyers D fall apart on that goal.

— Ryan Bright (@philabright) November 18, 2016
Sophomore Slump
Now it's hard to say a defenseman who has 10 points in 18 games is going through the clichéd labeled sophomore slump after a huge rookie season. However, Gostisbehere's defensive play hasn't been up to par to begin his second season in the league. His defensive game is average at best, but that's not what makes him an impact player, what makes him a special player is his play when the puck is on his stick. However, now that he is a known commodity throughout the league, other teams are now game planning to strictly stop what Gostisbehere can do to them.
He's had moments when he makes great defensive reads using his stick and speed to poke check puck carriers entering the zone on the rush, but his problems this year have come when the puck is hemmed in the Flyers' zone. This season Gostisbehere has been guilty of being too cute in his own zone when handling the puck, leading to costly turnovers and scary moments for Flyers goaltenders to have to bail him out.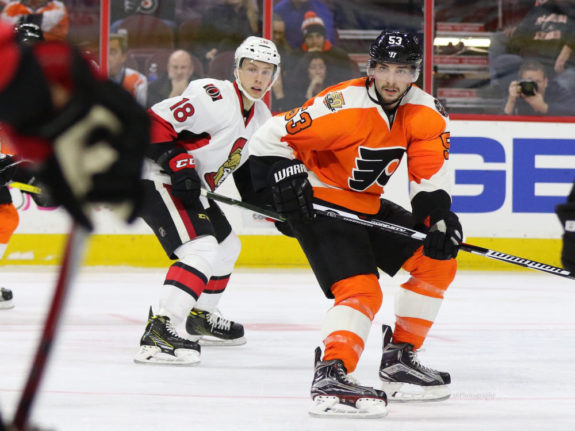 One of the most noticeable aspects of his game so far is that he clearly doesn't have the time and space he once had last season. This lack of space has been a combination of teams targeting him to make sure he doesn't have that chance to beat them as well as possibly being a step slower after offseason hip surgery.
Indeed he is now deemed 100% healthy, but it's taken a little time to get the explosiveness back in his game after a surgery which directly effects that attribute. Last season, he would look like he was shot out of a cannon when he got his feet moving with the puck on his stick. This year he sometimes looks as if his head is still operating at Mach speed but his feet are a step slower than he's used to them being.
Hitting the Reset Button
No question, for that day, the decision to play MacDonald over Gostisbehere was a bad hockey move. With that said, the bigger picture is what head coach Dave Hakstol had in mind when he made this gutsy call. Knowing the local and national media, as well as the fan base, would be livid and left scratching their heads for the night, it could be just what Gostisbehere needed.
For a young player struggling in his own zone, being able to sit out a game and watch from afar can certainly be beneficial. The fire that will be lit under Gostsibehere, an ultra-competitor, will be immediately valuable to the team. He will do the things necessary to make sure he never has to watch his teammates play without him again.
What's to Come of This?
In his first game back on Saturday against the Tampa Bay Lightning, a dreaded 3-0 loss at home, Gostisbehere played better. He pressed a bit to make things happen offensively but that was the trend of the entire team who couldn't solve goalie Andrei Vasilevskiy, who was flawless that day.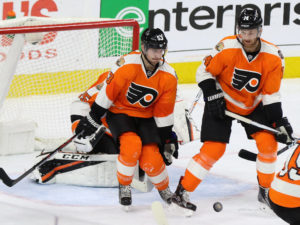 Gostisbehere has been relied upon too heavily to start the year because of the injury to Michael Del Zotto and the suspension of Radko Gudas, two defensemen that have big roles under Hakstol. It was Gostisbehere who had to pick up the slack while they were out. Now that they're back, playing mainly with Del Zotto who is his defensive partner, things will begin to settle back into place for him.
Now that Gostisbehere doesn't have to do it all on a night in night out basis, he will slot back into his more suited role. Playing fewer minutes on the penalty kill and allowing him to be fresher at 5-on-5 and on the power play. Having Del Zotto back as his partner instead of MacDonald allows "Ghost" to play his game in the defensive zone with more calmness as well as having more offensive freedom when carrying the puck, which is the trait that makes Gostisbehere one of the best young defensemen in the entire league.
Glen Stricker is a Temple University graduate with a degree in Media & Communication. He is the Lead Writer for the Philadelphia Flyers for The Hockey Writers as well as the social media coordinator and contributor for @PHLFlyersNation