Big rookie news out of Arizona Sunday afternoon, as the Coyotes announced they are returning Dylan Strome to the Erie Otters of the OHL.
"Dylan has made exceptional progress and continues to make strides to being an elite center in this league," said general manager John Chayka in a statement. "At this point in time we felt it was best for his development to get him back playing in junior, but his future in the NHL is very bright."
For Strome, there has to be some disappointment after seeing just seven NHL games this season. But the assignment makes sense since the Coyotes are playing some dreadful hockey. The move puts him on a winning team where he can be in the lineup every night, playing lots of minutes, and working on what makes him a great player.
With the Otters, he should be a leader and put up some gaudy offensive numbers. Last season, he posted 111 (37-74-111) points in 56 games.
He'll also likely be a top-line leader for Team Canada at the 2017 World Junior Championship, giving yet another opportunity to play for gold, this time on home ice.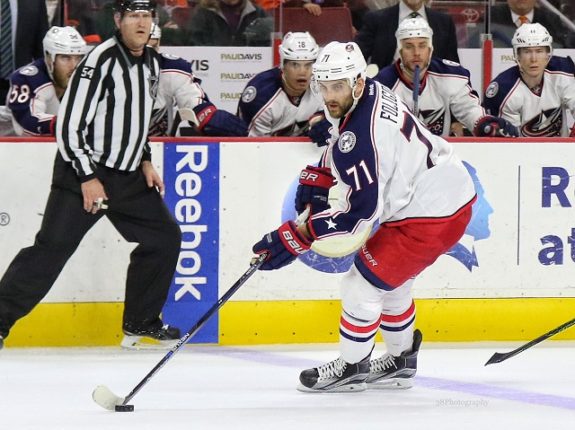 Foligno Earns an Oscar
In Sunday's game between the Capitals and Blue Jackets, a bad call became the main storyline instead of the Blue Jackets winning their fourth straight and continuing a stretch of very good play.
During overtime, Nicklas Backstrom took a high-sticking penalty that led to the game-winning goal for Columbus. Only, upon further review, it's clear that Backstrom's stick never touched Foligno and that he sold the call pretty hard.
He didn't even touch him, what an awful, awful call. pic.twitter.com/lkGhe8iIMF

— Cristiano Simonetta (@CMS_74_) November 20, 2016
"I hope the League looks at that. I mean, if you look at that … if you see the replay, he doesn't really touch him. And his head pops up when Backie's stick is on the way down. That's just a little bit disrespectful to the game," said Capitals coach Barry Trotz.
"The League will look at that and we have fines for that. So I'm sure that will be something that they took advantage of. It's something I wouldn't be too happy about if I were a referee."
This was a bad embellishment, but it's also something that goes around. This one happened to work and lead to a game-winning goal, but it would be disingenuous to act like this incident is on an island. Right or wrong, it's just one of many embellishments every night and it will draw lots of attention because of the pivotal role in played in the Blue Jackets' win.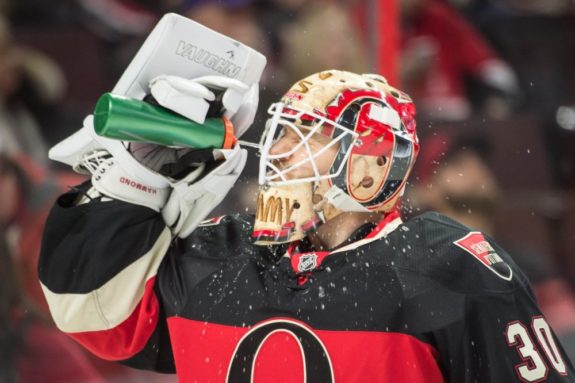 Hammond Clears / Puempel Waived
The Ottawa Senators waived goaltender Andrew Hammond Saturday. Sunday at noon, he cleared unclaimed. The team has not announced what they plan to do with Hammond. They could just use him clearing as flexibility going forward or he could be immediately reassigned to the AHL to get in the conditioning stint he previously refused.
Additionally, the Senators placed winger Matt Puempel on waivers.
Andrew Hammond cleared waivers and Matt Puempel has been placed on waivers. #Sens

— Bruce Garrioch (@SunGarrioch) November 20, 2016
Stars Injuries Keep Coming
The Dallas Stars announced Sunday that they've placed defenseman Johnny Oduya on injured reserve with a lower-body injury. Specifics on his time frame and injury weren't shared, but it's a rough shake for a team that keeps getting pelted with injuries.
Oduya was presumably injured during Saturday's loss to the Edmonton Oilers. It was in that same game that the Stars got Patrick Sharp after he missed 14 games with a concussion. They're also currently without Ales Hemsky, Jiri Hudler and Mattias Janmark.
In response, the team has recalled both Esa Lindell and Julius Honka.
NWHL Update
The situation with the NWHL is ever-evolving (and frequently perplexing). Sunday, all four of the league's teams played even though things haven't entirely been sorted with the league needing to slash player salaries mid-season. It was an effort from players to keep the league moving along as the situation is unpacked.
After Sunday's game, New York Riveters forward Madison Packer told Fan Rag Sports' Kate Cimini that the league provided proof of insurance for players prior to Sunday's contests. That was one of four demands the players made Saturday morning in response to the salary cuts.
Odds & Ends
– Columbus coach John Tortorella told the media Sunday that the team could be getting defenseman Seth Jones back a little sooner than the initially projected three-week timeline.
#CBJ coach John Tortorella allowed that D Seth Jones could be back soon, perhaps earlier than initial three-week timeline.

— Aaron Portzline (@Aportzline) November 20, 2016
– As mentioned in Sunday's morning news here at THW, there were a couple of borderline hits during Saturday's game between the Toronto Maple Leafs and Montreal Canadiens. Sportsnet's Chris Johnston reports that no supplemental discipline is expected to come down for either Alexei Emelin or Matt Martin as a result of those hits.
– The Anaheim Ducks have recalled defenseman Shea Theodore from the AHL. He's going to take a killer vacation in the summer of 2017 with all the frequent flyer miles he's collecting.
Dustin Nelson is the News Editor for The Hockey Writers. He's a contributor to Hockey Prospectus, Hockey Wilderness, and writes a column for Rotowire. He's also written for Gone Puck Wild, Wild Xtra, InDigest, Electric Literature, The Rumpus, Tiny Mix Tapes, Prefix Magazine & other publications. Have a tip? Email him at dlukenelson[at]gmail[dot]com.