In a 7-4 loss, there's a good chance that some players had bad games — to give up seven goals in 60 minutes, it's inevitable that some players struggled.
That was just the case for the Philadelphia Flyers' in their 7-4 loss to the Chicago Blackhawks on Tuesday night. Michael Neuvirth allowed four goals on 16 shots, Steve Mason followed that with nine saves on 11 attempts and Mark Streit finished as a minus-three.
But the player taking the most heat from fans is rookie Ivan Provorov. The Russian was a minus-five in the game and some of his mistakes led to goals. The poor game has made some fans even wonder if Provorov will last past his nine-game tryout. However, bringing out the pitchforks and contemplating where Provorov belongs is nothing any fans should be worried about.
The Chicago Nightmare
Provorov simply couldn't catch a break against the Blackhawks. On Chicago's second goal, an innocent back-pedalling play caused him to trip over his own feet and allowed Dennis Rasmussen to go in alone:
https://twitter.com/myregularface/status/788549938301005824
Mistakes like that happen to every player — that particular incident just happened to be a back-breaking one where the Flyers had some momentum in the game.
Provorov couldn't escape the fire though. He was already on the ice for the first goal and was on it for the Blackhawks' last three after the Flyers had tied the game at four. Not only was he not preventing goals, he was allowing them at the worst time.
Bad luck seemed to be draped around the 19-year-old's neck. On the fourth, he made a strong play at the Philadelphia blue line to stall Patrick Kane for a moment, only to have the puck bounce and land on Kane's stick allowing him to set up Artemi Panarin and Artem Anisimov on a odd-man break against Mark Streit.
Streit didn't play the odd-man chance well, deciding to not go to his knees or stomach to block a pass. In fact, the Swiss veteran struggled mightily throughout the game and didn't help Provorov much at all. He only finished with a healthier plus/minus than Provorov because he was on the ice for a couple Flyers goals when Provorov wasn't. His offensive style and unsteady defensive play so far may have hindered a rookie like Provorov.
---
Complete Flyers Coverage From THW
---
Forgetting the Blackhawks
Every rookie is going to have a tough game or two or many — it's bound to happen during the transition period, and especially for a defenseman.
Fortunately for the Flyers, it didn't happen often to Shayne Gostisbehere last season. Unfortunately for Provorov, that may have elevated fans' expectations for him. But the former-Brandon Wheat King played strong in the Flyers' first two games and no one was questioning if he was NHL-ready. One bad game doesn't change that.
There could be ways to help Provorov moving forward, though.
First of all, coach Dave Hakstol needs to shelter his minutes a little bit. It's obviously harder to do that on the road when you get the last line change, but a rookie shouldn't be playing heavy minutes against defending Hart Trophy recipient Patrick Kane.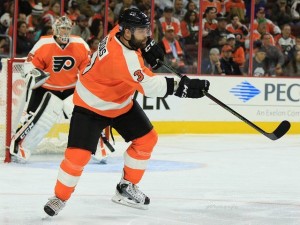 The Flyers need to work him into the league slowly, and when he's ready, which could be sooner rather than later, get him on the ice against the top players in the league. Provorov can still play 20 minutes a night that way and learn the game.
Another important change would be to move Provorov away from Streit when Radko Gudas comes back. As a 38-year-old veteran, it only makes sense to play Gudas with the 19-year-old. But Streit has never been a defensive specialist and it's not fair to have Provorov play with a blue-liner that will leave him out to dry sometimes. Gudas, on the other hand, 'thinks the game' defensively and can play 20-minutes a night with Provorov. That allows the Russian to take more chances while Gudas does what he knows best, which is defend the Flyers' net.
With Gudas still suspended for the next three games, the only player that can do what he does is Nick Schultz, but he can't handle 20-minutes a night so for the next while it's a problem that can't be fixed.
However, one unfortunate game shouldn't change anyone's feelings on Provorov — he's here to stay. There will be hiccups along the way, but there are steps that can be taken to help prevent those that were highlighted in Tuesday night's game.