The Columbus Blue Jackets are now in their 16th NHL season, but if you're still not sure where the nickname came from or what it means, simply consult the team's official media guide, which states:
"The Blue Jackets' name pays homage to Ohio's contributions to American history and the great pride and patriotism exhibited by its citizens, especially during the Civil War as both the state of Ohio and the city of Columbus were significantly influential on the Union Army. Ohio contributed more of its population to the Union Army than any other state, while many of the uniforms worn by the Union soldiers were manufactured in Columbus."
Now we all know why they're called the Blue Jackets, but what does a Blue Jacket hockey player look like? Well, the better question might be what should one look like? The answer, in many ways, is Matt Calvert.
More Than Stats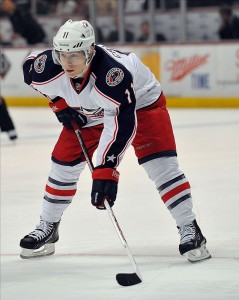 A fifth-round draft pick in 2008, Calvert split time between the NHL and AHL for three seasons after his junior career, but has played solely for the Blue Jackets since the 2013-14 season. He doesn't pile up points or log tons of minutes, but while his contributions can be difficult to quantify, they are significant.
Calvert is a key penalty killer for Columbus, last season ranking second among Blue Jackets forwards in shorthanded ice time per game, his 2:07 behind only William Karlsson's 2:08. Calvert leads Columbus forwards in that category through two games this season for a penalty kill that has been one of the team's few bright spots. Watch Calvert play in any situation and it becomes clear he provides plenty of hustle, grit, grind, jam, and all those other words about which many hockey coaches seem to constantly preach.
Those intangibles were visible in the Blue Jackets' most recent game against the San Jose Sharks, as Calvert helped create some of the team's best scoring chances. One in particular stands out from a second period penalty kill. He pressured the Sharks into a turnover and cleared the puck out of the Columbus zone, followed the play up the ice and, seconds later, scooped up the puck after Karlsson forced another turnover. Calvert was in the perfect position and created a two-on-one in which he fed Karlsson for a golden opportunity, though Karlsson's shot rang off the post. We also saw Calvert work below the goal line and utilize his speed on the rush to create opportunities against San Jose, like this one:
Work Leads to Wins
The Blue Jackets have enjoyed limited success during their 15-plus NHL seasons, the best of which came in 2013-14. Columbus earned the first wild card playoff spot in the Eastern Conference and notched the franchise's only two playoff wins. That's when the Blue Jackets were at their best, and they got there by being hard to play against, using a tenacious forecheck and finishing the regular season tied for the league lead in hits.
If this season's team is going to have success, it will likely have to follow a similar formula. It's not going to out-skill its opponents, and that's not a shot at the players. Brandon Saad and Boone Jenner scored 31 and 30 goals, respectively, last season. Cam Atkinson set career highs in goals (27), assists (26) and points (53). This season, 19-year-old rookie Zach Werenski has already shown some high-end skill in two NHL games. There's certainly talent in Columbus, but there's no Crosby-Malkin, Seguin-Benn or Ovechkin-Backstrom-Kuznetsov combo. No Connor McDavid or Auston Matthews. For the Blue Jackets to win, they need to outwork opponents, then use their skill to capitalize on the opportunities that work creates.
A Good Example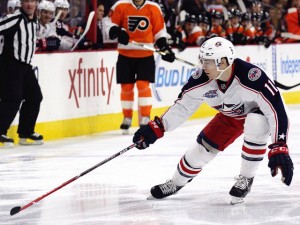 Calvert may not be the Blue Jackets' most talented player, but he sets a hardworking standard worth replicating. He, Karlsson and Josh Anderson provided such a good example as linemates early this season that Blue Jackets head coach John Tortorella spread them out onto different lines against the Sharks in hopes of others following their lead.
"I split them up because I need to get some other lines going," Tortorella said after Saturday's game.
At 26, Calvert is neither past his prime nor a fresh-faced rookie. He may not wear a letter on his sweater, but he can still help lead the Blue Jackets. Successful squads receive leadership from more players than just designated captains, and Calvert provides a good example for others to follow. Whether battling along the boards, using his speed on the rush or bringing pressure on the forecheck, he seems to be involved in the action more often than not, and that's the kind of energy Columbus needs from as many players as possible.
---
Complete Blue Jackets Coverage From THW
---
Of course, simply playing hard won't "fix" the Blue Jackets. The team needs improved play in its defensive zone, swift puck movement out of said defensive zone, and to capitalize on scoring chances, among other things. All that being said, if the team doesn't work hard and make itself one that opponents hate facing, none of the other stuff will matter. Rather than using those words like grit and grind, let's just say this: if the Blue Jackets can all play with a little "Calvert" in their games, that's a good start.