Flanking Claude Giroux on the Flyers' top line, Jakub Voracek may be perceived by some as his captain's Scottie Pippen. That's not necessarily a grotesque insult to the fourth-year Flyer, but it certainly doesn't sound the alarm across the league that he's recently abused. Perhaps this season will change that, however, since the 25-year-old forward is set to go even further, and light up the NHL like the 4th of July. Here's why….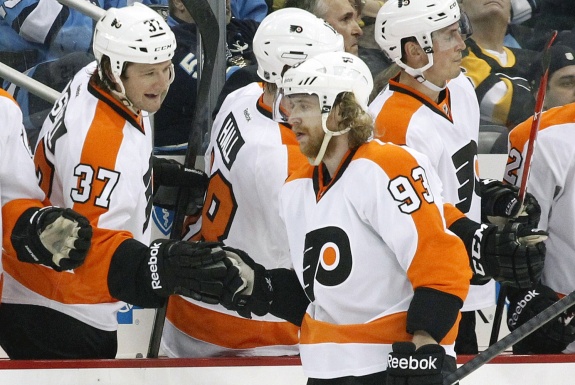 The Uphill Trend
If trends are your thing, then Jakub Voracek is your kind of guy. Since jumping onto the scene in the 2008-09 season with the Columbus Blue Jackets, the speedy Czech hasn't been shy about racking up points. As a 19-year-old rookie, Voracek helped the Jackets to their first playoff appearance in franchise history, adding 29 assists to go along with his nine goals in his first taste of the NHL.
The left-handed winger followed his rookie campaign up with a 50 point season, Voracek's highest point total in three seasons with Columbus. And since a measly four point decline in his final year with the Blue Jackets, Voracek has steadily increased his goal scoring since.
"When Jakub Voracek recalls his days in Columbus, he doesn't think about Scott Arniels's comments in the spring of 2011 about him being an "out of shape" player.

He's moved on." — Tim Panaccio, CSN Philly
For Voracek, moving on meant engaging Jeff Carter's king sized shadow that seemed to linger around like Peter Pan's escaped trail. But Voracek's 49 points in his first year with the Flyers earned him a four-year, $17 million extension. The vote of confidence was statistically rewarded in the 2012-13 lockout-shortened year, where he would go on to tally 46 points in 48 games, while increasing his power play production from 11 power play points the season before, to 17 in the abbreviated season.
"Voracek broke out in the lockout shortened 2013 season, scoring a then career-high 22 goals in 48 games.  It seemed No. 93 was poised to become the scoring wing for Giroux's playmaking ability that would create a nearly indefensible potency on Philadelphia's top line, much like the setup/scorer relationship between Peter Forsberg and Simon Gagne, the Sedin twins and Ryan Getzlaf and Corey Perry.

"But in 2013-14, with 34 more games in the regular season, Voracek scored only one more goal than the previous year (23) reverting more to the player he had been throughout his career, a pass-first, playmaking winger." — Bill Matz, Buzz On Broad
Although Voracek eclipsed his previous career-high in goals by one last season, his 39 assists catapulted him to 62 points, which bested his previous career high mark in points by 12. Furthermore, Voracek ended with a plus-11 rating for the third time in his career, while the Flyers finished with an overall goal differential of plus-one.
https://www.youtube.com/watch?v=RvtDaZ4CilY
It's even more difficult to label Voracek as a playmaker with a "pass-first" mentality when he led the team in shots on goal, with 235. That's 12 more than Claude Giroux, 26 more than Wayne Simmonds, and 28 more than Columbus' newest gem, Scott Hartnell.
Speaking of Hartnell, the Flyers would undoubtedly miss Voracek more than their former renegade. Hence, why Hartnell was traded in the first place. And while it may be difficult to compare the two players, a power forward vs. a sniper/playmaker, the only statistical category Hartnell trumped Voracek in were power play goals (9-8). Voracek's 23 power play points, though, topped Hartnell's 20. So make of it what you will.
Hartnell's departure further adds the likelihood of Voracek being signed to a long-term deal at this season's conclusion. With a year remaining on his current four-year deal then, moving Hartnell's massive contract will enable GM Ron Hextall to amicably negotiate a raise for Voracek.
"Shedding two years of Hartnell's deal gives the Flyers more cap flexibility when it comes to re-signing key players. One of those key players who will likely reap the benefits of the increased cap room down the road is Flyers winger Jakub Voracek.

"Voracek, 25, still has two years remaining on his four-year, $17 million deal signed in the summer of 2012 that carries a cap hit of $4.25 million. The collective bargaining agreement does not allow teams to negotiate contract extensions until the player has one year remaining on his current contract. In short, the Flyers and Voracek can begin negotiating a new deal next summer." — Steve Dolan, Philly Sports Inc.
At the end of the day, who do you think the Blue Jackets would rather have? And with Voracek's durability, appearing in 78 games or more in every full scheduled season to date, the uphill trend of Voracek's value hasn't even come close to apexing.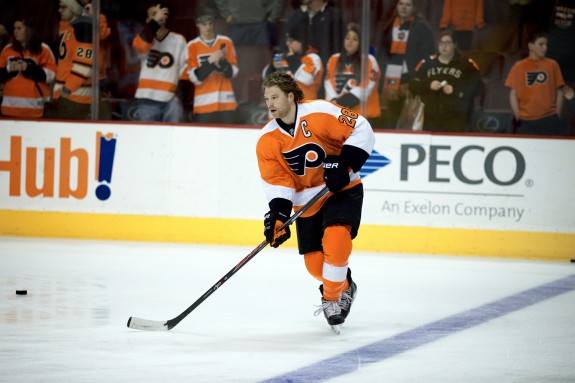 Claude Giroux's "Right-Hand Man"
While Claude Giroux has hoarded the share of attention with his brilliant play, the third-year captain has created quite the familiarity with the linemate skating to his right. In fact, the chemistry that's developed since Voracek was thrusted onto the top line in Jaromir Jagr's escape to Dallas has produced a combined 242 points.
Enjoying the spoils of sharing a line with Giroux certainly plays into Voracek's development through the past two seasons. But that can't account for Voracek's speed, terrific puck handling, and overall possession numbers.
"Flyers fans have grown accustomed to the lethal tandem of Claude Giroux and Jakub Voracek on the top line. Giroux's success and talent are apparent to all hockey fans, but Voracek's contributions are not as well known. Voracek broke out in a big way in the lockout-shortened 2013 season, scoring 46 points in 48 games. He followed that up with 62 points in 82 games this past season; he did this while posting his lowest shooting percentage since 2010. Voracek's production ability is very strong, and it is reasonable to see him be just short of a point per game pace next season (think 75-80 point range).

"However, Voracek's value is heavily bolstered when looking at his advanced stats. In today's day and age, puck possession is paramount to a team's success. It is no coincidence that the last three franchises to win a Stanley Cup (Los Angeles Kings, Chicago Blackhawks, Boston Bruins) were among the top possession teams in the league. Voracek brings to the table some of the best possession numbers in the entire league across all the different ways of quantifying possession." — Kyle Lonis, The NHL Files
With Hartnell no longer completing Philadelphia's top line, the argument that the team lacks a true left winger to replace Hartnell arises. Make no mistake about it, the Flyers will miss Hartnell. If Flyers coach Craig Berube can find a way to replicate Hartnell's contributions in the form of his replacement, it'll be nothing short of surprising. On top of that, breaking up the team's most prolific line was a gamble. But a gamble they were able to make with Giroux and Voracek together, nonetheless.
"Also of note, the level of play for all three Flyers rose in 2013-14 when they were sent out together. Is this line chemistry, or talent raising talent to another level? It's hard to say exactly, although it's odd that Philadelphia would want to break apart such a dominant trio.

"For Flyers fans, the news isn't all bad. Giroux and Voracek are exceptional after all. They played together quite often and complimented nicely, although the loss of Hartnell may cause a drop, particularly if a lower-skill player replaces the new Jacket. Strange things happen at the extremes, but it's hard to believe these results completely (Voracek and Giroux are both sub-50% when operating solo, but in only 100-minute samples)." — Matt Souva, BS Hockey
The task of finding a new linemate stalled when Giroux suffered a lower body injury on the first day of training camp. But with Brayden Schenn penciled in to be the new left winger, the blow of lost time together in camp and the early preseason was eased with prior experience together.
"Me, Jake and Schenn have played a couple games before together," said Giroux. "He creates room. He can throw the body pretty good and he's good with the puck and he can score goals. If me and Jake can give him the puck and he's in good position, he has skill of putting the puck in the net."
Also looks like Voracek and Schenn are quite aware of where each other are. Guessing the chemistry will appear quick when Giroux returns.

— Dave Isaac (@davegisaac) September 26, 2014
Schenn's versatility bring's the top line a luxury they simply did not have before his promotion. The 23-year-old forward is a natural center, but gained experience on the wing last season when Vinny Lecavalier struggled out of position. When Giroux went down, Schenn slid into the center position, keeping him together with Voracek.
"I was preparing for both," said Schenn when asked which position he was readying himself for. "I wasn't told either left wing or center. Mentally you prepare yourself, not in summer, but preparing for camp. When you start skating, I was playing a little bit of left wing and center just to be familiar with both positions because I didn't know what was going to get thrown at me."
When Giroux returned for Sept. 30th's preseason game against the New York Rangers, the three were united for the first time in real time action. And despite the fact that all three were held scoreless in Philly's 4-2 win, it was Voracek who led the line in shots with four. That's anything but irrelevant, with a playmaker in Schenn present on the line to feed both Voracek and Giroux.
That's not to say Schenn isn't privy to scoring himself. Schenn was one of seven 20-goal scorers on the Flyers roster last season, who also netted six game-winning goals.
"He's got a real gift at putting the puck in the net," said Hextall. "He scored 20 goals, which at this stage of the game that's a lot of goals. But we still think there's more there and there's more growth. I think the biggest thing is the consistency part."
Berube tells us that Brayden Schenn or Michael Raffl are his go to guys when looking how to fill 1st line w/ Giroux & Voracek. @WHIPRADIO

— Zach Gelb (@ZachGelb) September 25, 2014
Even with the uncertainty of a new linemate, Voracek has already proven he can handle change. After all, he was the guy who successfully replaced Jagr. NHL.com's Fantasy Hockey staff seems to agree. Voracek was ranked 62nd overall, ahead of players like, Ryan McDonagh, Keith Yandle, and James van Riemsdyk.
Among forwards, Voracek checked in ahead of Thomas Vanek, Jeff Carter, Paul Stastny, and Gustav Nyquist. These experts don't seem to be phased by the question marks surrounding Philadelphia's top line, and neither should anyone else.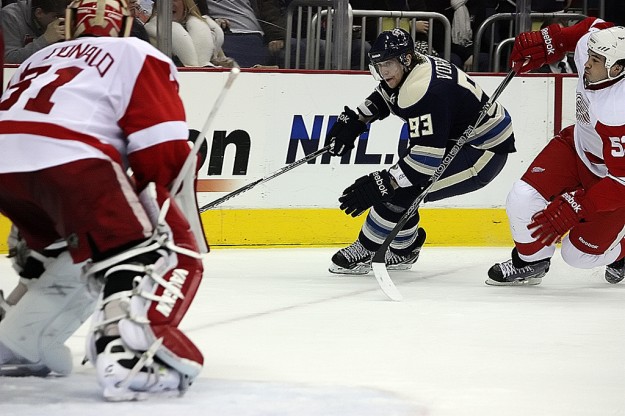 In Rhythm & Shape
At a listed height and weight of 6-2, 214 lbs., it's not hard to figure out what makes Voracek the puck-possessing horse that he is. But with a new found focus on fitness and endurance, a player with Voracek's skill set stands to benefit the most.
"The narrative surrounding Jakub Voracek this preseason is that he has totally bought into Craig Berube's emphasis on fitness, and has lost weight due to the diet and exercise. It certainly hasn't affected his ability to be nearly impossible to knock off the puck. He drew an early penalty by lugging the puck into the zone around a challenging defenseman, and scored the Flyers' first goal of the preseason from his usual spot on the power play. Jake's still awesome." — Charlie O'Connor, Broad Street Hockey
Although Voracek admitted to not changing his routine in the gym, he did credit changing his diet to giving him a mental edge.
"Cut the carbs completely, no bread, pasta, just fish, chicken, eggs, salads," Voracek said about his more strict diet. "Maybe steak, once a week and lot of vegetables. I don't know my body fat, but it's way lower than last year, for sure.
"I feel lighter and quicker on the ice. Now it's a question of whether it comes down to hard battles and whether it will benefit me. I feel stronger as well in the gym. I don't think I lost any of that raw power."
I talked with Voracek after the game tonight. He said he is down 10lbs and feels lighter and quicker. Should benefit his game a lot.

— Jason Myrtetus (@jasonmyrt) September 26, 2014
It didn't take long for Voracek and the Flyers to reap the fruits of their labor. In fact, Voracek attributed Philly's 4-0 win against the New Jersey Devils on Sept. 25th to the team's uptempo style, which has been facilitated by the organization's commitment to fitness and high energy practices.
"We beat the Devils because we were first on the puck everywhere basically in all three zones," said Voracek. "If we can keep up the same pace we did, which I think we can because that's the way we practice, we should be hard to beat because we're going to be a very good skating team."
Even Flyers owner Ed Snider noticed the change in Voracek at the opening of this year's training camp. When talking to philly.com's Sam Carchidi, Snider was quick to share the heightened expectations for the team's top right winger.
"… Then I hear that (Jake) Voracek has come in in really great shape," said Snider. "That's good. This kid, in my opinion, has the ability to become a superstar. And to go along with (Claude) Giroux, who already is. We've got some nice pieces…"
https://www.youtube.com/watch?v=hZlbglq90vo
It's hard to disagree with the bossman. It's even harder to forecast anything but a demolition derby on the score sheet for Voracek this season. He's lighter, focused, and comfortable. That's a dangerous combination for the rest of the league, who's beginning to be brought up to speed. With four preseason games under his belt, only Tyler Toffoli, Tyler Seguin, and teammate Mark Streit have more points than Voracek's five.
If trends aren't your thing, though, your surprise is right around the corner.