To say the Columbus Blue Jackets have been like a bad case of hemorrhoids for the Flyers would be an understatement. Since moving into Philadelphia's divisional neighborhood last year, a lot has transpired. And while it's likely that no other team will ever be hated by the Flyers, or their fans, as much as the Pittsburgh Penguins, the budding rivalry between Philly and Columbus will undoubtedly force the Flyers to hate the Blue Jackets.
[Related: Q & A With Flyers' Draft Pick Radel Fazleev]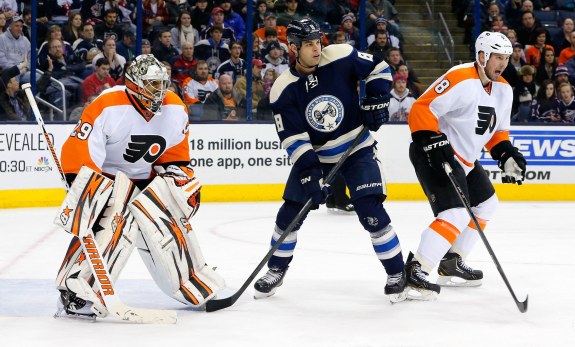 The Growing Annoyance
From a historic standpoint, the Flyers and Jackets are still getting to know each other. Not only is Columbus going into their 14th season, their first 12 seasons in existence were spent as a member of the Western Conference. When these two unfamiliar teams did see each other, Philadelphia's dominance over a young and struggling team left most Flyers fans feeling sorry for the Jackets. But with the shoe now on the other foot, the feeling of empathy is rapidly turning into disdain.
"In 13 seasons in Ohio's capital city, the Jackets have yet to develop a true rivalry. Considering that it took 8 years for Columbus to finish within 40 points of first place in the old Central division, it's not a mystery as to why the Blue Jackets could never work up a healthy hate for an opponent: they couldn't compete." — Frank Seravalli, philly.com
The Flyers may hold the overall advantage in head-to-head match ups with an 8-5-3 record, but that doesn't necessarily mean they look forward to seeing Columbus on the ice.
Yes, Philadelphia has outscored the Jackets by a 49 to 35 margin. But that's merely the lopsidedness of the early meetings showing. More recently, the Blue Jackets have terrorized the Flyers with familiar faces.
Columbus took last season's season series with a 3-1-0 record. Had it not been for an epic third period collapse that was capped off by Claude Giroux's over-the-shoulder goal on Dec. 19th, Columbus would've swept Philly. Nonetheless, the Jackets stamped their supremacy over the Flyers in their final meeting of the season as Sergei Bobrovsky reminded his former team of his Vezina Trophy with a 2-0 shutout win on Apr. 3rd.
Although the Flyers were able to avoid the season sweep, their fortunes at Nationwide Arena remained empty. Not only did they drop both games in the Arena District last season, Philadelphia hasn't won there since 2005. In fact, the Flyers have only left Nationwide Arena victorious twice – in 2005, and in Columbus' inaugural season in 2000.
[Related: Who Should the Flyers Protect in an Expansion Draft]
To illustrate how long it's been, Robert Esche was the winning goalie, while Jeff Carter netted the game-winning goal. On the other end of the aisle, though, the Jackets finally ended their all-time winless streak at the Wells Fargo Center with Bobrovsky's shutout performance last April.
"In six trips, the Blue Jackets (0-5-1) have only ever earned one point in Philadelphia. It is the only city in the NHL the 14-year-old franchise has never produced a win – after snapping a similar spell in New Jersey in December." — Frank Seravalli, philly.com
While the Jackets finally earned their first win in Philadelphia, they were still unable to catch the Flyers in the standings. Despite winning 43 games to Philly's 42, Columbus fell one point short of tying the Flyers' 94 point mark. That minute contrast was the difference in Columbus drawing Pittsburgh in the playoffs, a team they've gone 1-7-0 against in the last four regular seasons, instead of the New York Rangers. Perhaps that's enough to reciprocate Philly's hostility.
New #CBJ F Scott Hartnell meets the Columbus media for the first time. pic.twitter.com/bjJNc1r3LH

— Dave Maetzold (@DMaetzMedia) July 29, 2014
Added Incentive
If the growing frustration felt by the Flyers against the Jackets wasn't enough to spike interest in this adolescent rivalry, the list of trades between the two teams assuredly will. Philadelphia currently carries three former Blue Jackets, while Columbus has a pair of former Flyers on the roster. This doesn't include Jeff Carter or Michael Leighton, who previously played for both teams.
After Steve Mason was acquired in a trade with Columbus in 2013, the former Calder Trophy winner has won 37 games in 68 games with the Flyers. And while Jackets fans insist they're perfectly satisfied with Sergei Bobrovsky, Mason's turnaround in Philadelphia can't sit well with them.
"But does Columbus hate Philadelphia? Probably not. Will they? Perhaps. Skating for the Flyers will be former Blue Jackets Steve Mason, Jakub Voracek, and R.J. Umberger. Of course Voracek and Mason have faced the Jackets more than once. So why would this year be any different for a rivalry?

"Former Philly Scott Hartnell is now on the Blue Jackets roster. Roster swapping, as evident with New York, can have an effect. Hartnell wants to punish the Flyers for trading him. Umberger wants to punish the Blue Jackets for making him feel like he couldn't make it as a Jacket anymore. And everyone wants to punish Steve Mason." — Tyler West, Union and Blue
With Scott Hartnell crossing enemy lines, the contempt among these organizations has never been more intense – even with Steve Mason. Hartnell's arrival in the state's capital has somewhat overshadowed R.J. Umberger's return to Philadelphia. Maybe it's Hartnell's 50 or more points scored in two of his last three seasons. Or it could be the charming personality that made him a fan favorite in Philadelphia. Whatever the root of the buzz may be, both teams came out better off from this unexpected swap.
"The number one thing was we wanted to get quicker up front," said Flyers GM Ron Hextall. "If you look at R.J, he' a versatile player, a good skater, good two-way player plays who can play all three position and kills penalties. He's an attractive guy for us. Columbus is probably looking for some leadership from a veteran player who can score goals. It's s good trade for both teams.''
Over the past 3 years, #Flyers & #CBJ have made trades involving Carter, Voracek, Bobrovsky, Mason, Hartnell & Umberger. The power of love.

— Pete Jensen 🏒 (@NHLJensen) June 23, 2014
Even if it ended there, the anticipation of seeing these teams go at it would've already been elevated. With Hartnell joining the team he once called "little turds," the imminent agitation coming Philly's way douses gasoline on the fire.
"You were always checked, always being hit," said Hartnell as he reminisced about playing Columbus in the past. "I'm like, 'Ah, jeez, who are these little turds running around out there?'"
Although Hartnell is optimistic and excited to join a Blue Jackets team that took the Metropolitan Division's top team to the brink in the quarterfinal round of the playoffs, he admitted to initially being angry. And despite the fact that it didn't take long for him to go from grumpy to enthusiastic, the feeling of being slighted will be the chip that Hartnell will carry on his shoulder when he squares off against his former employer.
"To be honest, I was pretty shocked at first," said Hartnell. "I was upset. I was a little angry. I took a few days to look at the situation and it was hard. It wasn't easy. It was a lot of emotions.
"I probably decided that Columbus is an up-and-coming team with a lot of great players. I decided it was the right decision for me to go to a team very, very excited to have me and (leave) a team that basically said I was done there."
Part of completing the acceptance phase for Hartnell was asking Hextall why he was traded. And even though Hextall's response was candid, there's absolutely no speculation that Hartnell will look to boost Columbus' 12th ranked scoring team – seven goals shy of Philadelphia's eighth ranked tallies.
"Hartsy eventually called me," explained Hextall. "One question that he asked me was, 'When did I fall out of favor?' I said, 'No Hartsy, you haven't fallen out of favor. This is just something that fits for us and we want to move forward with it.'
"I didn't really say anymore than that, that we wanted to move forward. That's as harsh as it got."
To all the @NHLFlyers fans that have supported me through my seven seasons in Philadelphia, Thank You… pic.twitter.com/nDACaOFBMz

— Scott Hartnell (@Hartsy43) June 24, 2014
Hartnell's love for Philadelphia, however, will stay with him for his remaining days. He signed a six-year, $28.5 million extension while in Philly, and expressed sadness in parting with teammates such as, Kimmo Timonen – a partner in crime in both Nashville, and Philadelphia. And amidst the shock of being dealt, he wrote and released an open letter to Flyers fans, thanking them for their support throughout the years.
Make no mistake about it, though. Scott Hartnell is a Blue Jacket now. And much like fans in Columbus jump at the bit to taunt Steve Mason, Hartnell will either revel in beating the Flyers, or die trying.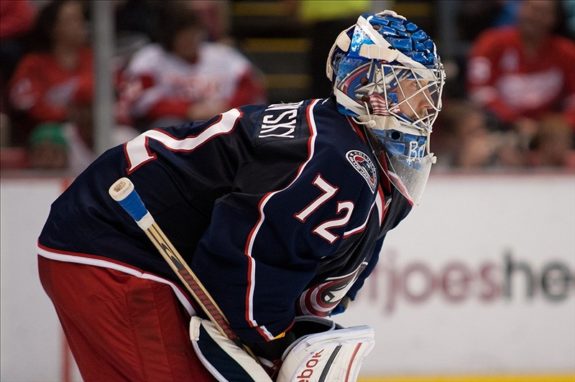 Bobrovsky vs. Mason
Then there's the captivating debate involving the goalies of both teams. Bobrovsky, the former Flyer, pitted against Mason, the former Blue Jacket. And while Mason left his past organization's fan base with a bitter taste, recent developments regarding Bobrovsky's departure from Philadelphia could do the same for Flyers fans.
After admitting that the signing of Ilya Bryzgalov to a nine-year, $51 million contract was a "mistake," Flyers owner Ed Snider revealed the driving logic in trading Bobrovsky to Columbus.
"Not only did we make a mistake on the long-term contract, but Bobrovksy's a young guy and he told Paul, 'As soon as my contract's out, I'm out of here,'" said Snider.
"He wasn't going to re-sign with us. He was going to go back to Russia [or] he was going to go with another team, but he wasn't going to be a second-string goalie for the rest of his life. So that was also a problem, and Paul made the best of the situation.
"It's not that we did not like Bobrovsky. The whole thing was a fiasco. We can't look back. What happened, happened, and here we are. But then Paul made what I think was a great move in picking up Mason, who's not chopped liver."
No matter what you may hear out of Columbus, Snider is right. Steve Mason isn't chopped liver. And even though Bobrovsky grinned awkwardly with his shiny Vezina Trophy in 2013, the two goaltenders are more comparable than most realize.
Both earned their first playoff victories in last season's quarterfinal round after both laid an egg in their previous post-season experiences. As a member of the Jackets, Bobrovsky has accumulated a record of 53-31-11. Mason as a Flyer, though, has gone 37-20-7.
In the playoffs, Bobrovsky is now 2-6 in 13 appearances with an .890 save percentage, and a 3.50 goals against average. He was 2-4 in six games last year against the Pens, and gave up 20 goals, despite Sidney Crosby not scoring a single goal. Mason's playoff record is identical to Bobrovsky's. His 2-6 record is accompanied by a .907 save percentage, and a 3.11 goals against average. Call it a push since Bobrovsky has now seen 317 shots to Mason's 270.
Steve Mason got one second place vote for the Vezina Trophy, finished 7th. (He beat Bobrovsky!)

— Broad Street Hockey (@BroadStHockey) June 25, 2014
What's the point of all this? To put it quite simply, Sergei Bobrovsky isn't leaps and bounds ahead of Steve Mason. It may be the running forgone conclusion, but the numbers say otherwise. After all, is everyone taking other factors into consideration, such as Columbus' core of better defensemen? If anything, it's Mason who has the experience, appearing in 121 more games. And it's Mason, who isn't even knocking on age 30's door, that's handled the challenge of resuscitating his career – quite wonderfully, if I may add.
"From my point of view, all that really matters heading into the 2014-15 season is what Mason has done since coming to Philadelphia. His body of work as a Flyer thus far has been strong. Likewise, the only thing that's relevant for Bobrovsky is the excellent goalie he's become in his two seasons with the Blue Jackets and not the hot-and-cold young goaltender he was in his first two NHL seasons as a member of the Flyers." — Bill Meltzer, Hockey Buzz
Take nothing away from Bobrovsky, who at a year younger than Mason, appears to be the franchise goalie in Columbus for some time to come. It's just time to knock off the ridiculous notion that Steve Mason is some used toy that's buried at the bottom of a "sale" bin at a Goodwill store. Let's be real with facts: Steve Mason's 33-18-7 record last season was not only better than Bobrovsky's 32-20-5 mark, it was done with a larger workload. Injuries? Tell me how being injured helps your team win.
What's next? Ryan Johansen is better than Claude Giroux? Please. The R Bar is pretty cool, though.
Oh yes, this is going to be a rivalry that has the potential of apocalyptic proportions. Let the trash talk begin.