With the 2014-15 NCAA women's hockey season almost upon us, here's a look at some returning players to watch going forward this year, many of whom are looking to break out.
CHA
Maeve Garvey, Sophomore, Forward, Robert Morris: She scored 15 points for the Colonials as a freshman and, with three of Robert Morris' top-five scorers now graduated, she'll take on more of an offensive role this year.
Kolbee McCrea, Senior, Forward, RIT: McCrea was sixth in goal-scoring in the CHA last season, netting 16, and could step up as one of the conference's top players if she keeps up the pace.
Jillian Skinner, Sophomore, Defense, Mercyhurst: She had a successful rookie campaign with the Lakers, scoring 12 points from the blue line, and they'll look for her to take on more of a leadership role.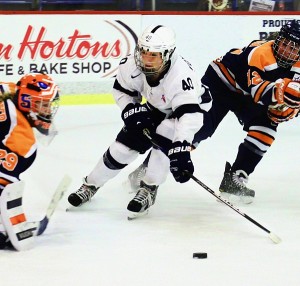 Shannon Yoxheimer, Junior, Forward, Penn State: Yoxheimer's point totals regressed after her freshman season, but she's still one of Penn State's most-skilled weapons up front and could be in line for a big junior year if all goes well for the club.
ECAC
Genevieve Bannon, Sophomore, Forward, Clarkson: She led the ECAC in rookie scoring last year with 27 points and though she missed out on ECAC All-Rookie Team honors, it's clear that she has plenty of potential and should find her way into the Golden Knights' top-six.
Sydney Daniels, Sophomore, Forward, Harvard: Daniels didn't take the country by storm as a rookie but she was a consistent part of Harvard's offensive effort, and a much fuller Crimson line-up this year should give her a chance to break out.
Heidi Huhtamaki, Sophomore, Defense, Rensselaer: Things could have gone better overall for the Engineers but Huhtamaki did about as well as you can expect out of a freshman, scoring three goals and 15 points and making an immediate impact on their blue line.
Nicole Kosta, Junior, Forward, Quinnipiac: Kosta appears to be back with the team after missing the entire 2013-14 season, which is good news for Quinnipiac, because she's a point-per-game player when she's in top shape and could have a big impact on the team's success.
Jaimie Leonoff, Senior, Goaltender, Yale: Leonoff is arguably Yale's most important player and if the team can put together a good year, she could earn herself some notoriety on a national scale.
Shannon MacAulay, Junior, Forward, Clarkson: After a great showing at the 2014 Frozen Four, eyes will be on the junior forward with a good chunk of the Golden Knights' top-six forwards now graduated.
Renata Fast, Junior, Defense, Clarkson: Fast also was impressive in Hamden en route to Clarkson's national title win, and will have to step up this year as the team's reliable defensive defender.
Abbey McRae, Junior, Forward, St. Lawrence: Five Saints forwards outscored McRae last season, but she posted 20 points as a freshman in 2012-13 and could be poised for a more productive year if she gets back on pace.
Kirsten Padalis, Sophomore, Defense, St. Lawrence: Padalis stepped in right away last season and ate up a ton of top-four minutes, and with Mel Desrochers and Dayle Wilkinson now graduated and Amanda Boulier coming off an injury, it will be largely up to her to help solidify the Saints' defensive corps.
Michelle Picard, Junior, Defense, Harvard: Picard hasn't been the most productive defenseman throughout her NCAA career, but she returns to the club after spending 2013-14 training with the U.S. National Team and competing in the Olympics.
Cassandra Poudrier, Junior, Defense, Cornell: Poudrier has proven that she's an efficient top-four puck-moving blue-liner, but she will more than likely slot in as the Big Red's number one defenseman this season and will have to take on much more responsibility.
Cydney Roesler, Junior, Defense, Quinnipiac: Roesler is the cornerstone player in what has become a very solid Bobcats defensive corps, and she could be looking at a breakout year points-wise.
Taylor Woods, Sophomore, Forward, Cornell: She netted 20 points last year for the Big Red and if they're as dynamic offensively as they're no doubt hoping to be, she could be one beneficiary.
Hockey East
Lexi Bender, Junior, Defense, Boston College: With a couple of big losses on the BC blue line last season, Bender asserted herself as a solid two-way presence more so than any of the Eagles' other blue liners, and earned a stint with the U.S. Under-22 Team this past August.
#U22Eagles In Calgary! pic.twitter.com/ZE2yCDziJQ

— BC Women's Hockey (@BC_WHockey) August 22, 2014
Cassidy Carels, Sophomore, Forward, Providence: The Friars are losing some notable players (some graduating, some transferring out) and Carels, a former U18 World Championship winner with Team Canada, will be looked towards to produce more this year.
Dayna Colang, Sophomore, Defense, Vermont: Colang spent a significant amount of time at forward last season so it'll be interesting to see where she lines up this year, but displayed she displayed legitimate skill and offensive tools.
Lucie Povova, Junior, Forward, Northeastern: Povova sat out the 2013-14 season but prior to that was an effective forward for the Huskies, and she has more potential offensively.
Paige Savage, Junior, Forward, Northeastern: It took some time for her to adjust to a bigger role last season but by the end of the year, she established herself as a go-to player up front.
Sarah Steele, Sophomore, Defense, Boston University: Steele led the Boston University blue line in scoring as a rookie with 11 points and she'll look to build on that this year as the Terriers set their eyes on the Hockey East title.
WCHA
Ashleigh Brykaliuk, Sophomore, Forward, Minnesota Duluth: Brykaliuk slotted in right away as a top-line player for the Bulldogs, and with a year's experience now under her belt and a potentially stronger squad around her, she should be even more productive.
Ann-Renée Desbiens, Sophomore, Goaltender, Wisconsin: With star netminder Alex Rigsby now graduated, Desbiens will very likely take control of the starting goaltending duties in Madison after some impressive showings last season.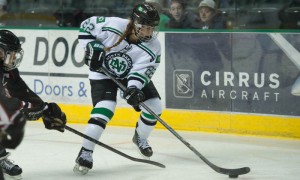 Tanja Eisenschmid, Junior, Defense, North Dakota: Eisenschmid competed for Germany in the 2014 Olympics last February, and she has quietly become one of the nation's most efficient two-way defenders.
Molly Illikainen, Junior, Forward, St. Cloud State: A transfer from Providence College, Illikainen has shown serious potential in her two years so far, and it'll be interesting to see just how much of that she can tap into with her new team.
Halli Krzyzaniak, Sophomore, Defense, North Dakota: Krzyzaniak played significant top-pairing minutes for UND last year and is already one of the most well-developed defensive defensemen in the country.
Taylor Kuehl, Senior, Forward, Ohio State: Kuehl so far has shown that she can succeed in a secondary scoring role, but she'll take on more responsibility this season as a senior.
Brigette Lacquette, Sophomore, Defense, Minnesota Duluth: Lacquette was one of the final cuts made to the Canadian Olympic roster last season, and as a rookie in 2012-13, she displayed poise and puck-moving abilities while helping to lead the UMD defensive corps.
Amy Menke, Sophomore, Forward, North Dakota: She saw time on North Dakota's top line last season, a testament to the amount of skill that she possesses, and she'll become a consistent scorer for the team. 
Sarah Nurse, Sophomore, Forward, Wisconsin: After suiting up for the Canadian Development Team this summer in a three-game series against the U.S., Nurse will look to build off a solid freshman year and become a more established member of the Badgers' top six.
Kate Schipper, Sophomore, Forward, Minnesota: Schipper is a year removed from being named Best Forward and MVP at the 2013 U18 World Championships while skating for the U.S., and she should take on a more prominent role with the Gophers' offense this season.
Lee Stecklein, Sophomore, Defense, Minnesota: Stecklein won a silver medal with Team USA at the 2014 Olympics in Sochi, and though she was a little quiet production-wise as a freshman in 2012-13, she'll be a steady defender for Minnesota this year as well.
Megan Wolfe, Sophomore, Defense, Minnesota: After a solid rookie campaign that saw her tally 16 points, Wolfe could slot in as either a forward or defenseman, bolstering the Gophers' depth at either position.