On June 24, 2011, the Calgary Flames drafted winger Sven Baertschi in the NHL Entry Draft.
Baertschi was the first player selected by Jay Feaster in his then-new role as Flames general manager, having been promoted from interim GM to full-time head honcho by team ownership just a month previous. With the club thought to be devoid of top-flight NHL prospects at that point – 2009 first rounder Tim Erixon didn't sign and was traded to the Rangers, while the 2010 pick was traded to Phoenix for Olli Jokinen – Baertschi was thought to be the team's first bright spot in awhile.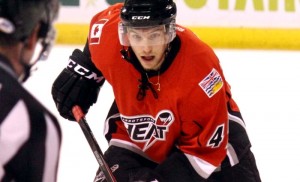 The hype surrounding the Swiss product only intensified the following season, when the Flames – missing eight regular skaters – called Baertschi up to the NHL from the Western Hockey League's Portland Winterhawks on an emergency basis. Pandemonium soon followed, as the rosy-cheeked rookie scored three goals in five games before returning to the WHL.
This was "the guy" of the future. The future face of the franchise. The team's Next One. The prodigal son that would take over the reigns from Jarome Iginla when the time inevitably came to divest the team of #12.
The 2012-13 season came and went. Baertschi graduated from junior and moved onto the professional ranks. And after all the hype and expectations, his play was uneven. He translated his offensive prowess to the NHL level, but struggled with the speed and strength of opposition players when he was away from the puck. He excelled with the AHL's Abbotsford Heat during the lockout, racking up 18 points in 21 games while adjusting to life away from Portland and his billets. In two stints with the Flames that season, he had 10 points in 20 games. When he was eventually demoted to the AHL, despite admittedly being upset about being sent down, he still scored at nearly the same pace at the AHL level.
In the 2013-14 season, things unfolded in much the same way for Baertschi. He was good but not amazing for the Flames – 11 points in 26 games playing primarily with Sean Monahan – and good to really good for the Heat, where he was shipped off to after Jay Feaster's dismissal as Flames GM. He admits he struggled to adjust to the AHL after his demotion, but he found his stride late in the season playing with Corey Locke and Josh Jooris.
Still standing more than half-way through Calgary's 2014-15 training camp, Baertschi reflected on the hype he faced when he came into the league initially.
"Sometimes you don't even realize, you act like you don't feel any pressure at all, but subconsciously I think you do, and then it's tough to deal with those things," said Baertschi. "I don't think it was a mistake, but it came with a lot of pressure, other things that come with it, the media and stuff, these things it's not easy being a 19-year-old kid and dealing with these things and still be the best you can out there on the ice."
Flames head coach Bob Hartley noted that a lot of working with high-end prospects is helping them be at ease in pro hockey.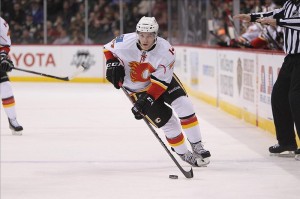 "That's always the pressure that many first round picks put on themselves, to be the difference-maker," said Hartley. "We just want to make sure that those kids have fun and try to take pressure away from them."
While he was the team's biggest prospect – by far – when he debuted in late 2012, now Flames training camp features Hobey Baker winner Johnny Gaudreau, 2014 4th overall pick Sam Bennett and 2013 6th overall pick Sean Monahan, who spent the entire 2013-14 campaign with the Flames. After several seasons under strict media and fan scrutiny, Baertschi seems to welcome the fact that the organization has more high-end prospects – he jokes that he's "old news now" – as it's seems to have allowed him to relax a bit and focus on playing his game rather than worry about expectations.
But he is well aware that this season – the last of his entry-level NHL contract – is pretty crucial to his career's long-term success.
"It is a big year for me. The good thing is I learned so much the last few years that now I'm to a point where I almost feel a little older than I actually am," said Baertschi. "I went through things, it was up and down – had my success, had my down time – it's all part of it. That's a big learning experience. Even the hockey part: I learned so much over the last two years that now I feel like that's me as a complete player. Of course I can keep learning and everything, but that's how far I can get at my age now."
The hope among around the team is that Baertschi can round out his game and rediscover his old swagger. If nothing else, he's rediscovered something else – his old jersey number. Previously wearing #47 in Calgary, the departure of Derek Smith has seen Baertschi return to his junior number of #27. Along with a moderate off-season weight gain due to some hard work in the gym, Baertschi looks every bit as fit and focused as he did when he tore up the Western Hockey League.
Now all he has to do is prove it on the ice.