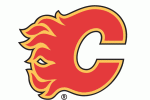 On Tuesday night, the Calgary Flames won their 30th game of the season with a 5-4 thriller against the Montreal Canadiens. Unfortunately, they also lost another body.
Winger Tim Jackman went down with an upper body injury, joining teammates Chris Butler, Mikael Backlund, Lance Bouma, Mike Cammalleri, Blake Comeau, Blair Jones and Lee Stempniak on the sidelines. With Calgary's farm team, the AHL's Abbotsford Heat, also depleted by injuries and recalls, it appears that the Flames are going a different route for help.
Local radio broadcaster Pat Steinberg, of Sportsnet 960 The Fan, reported on his Twitter account the possibility that the Flames may fill Jackman's roster spot with 2011 first round pick Sven Baertschi. The wrinkle being that Baertschi is a WHL player currently playing for the Portland Winterhawks. However, with the Flames depleted beyond the amount required under the CBA to qualify for "emergency" status, it appears that the club has appealed to the Winterhawks for temporary assistance and that the appeal has worked. Sportsnet 960 producer Brad Slater confirmed via Twitter that he received a text from the Flames prospect indicating that he would be joining the team on emergency recall.
Baertschi was chosen 13th overall by the Flames at this past June's NHL Entry Draft. He represented Switzerland at this year's World Juniors and presently has 94 points in a mere 47 games with Portland so far this season. He was recently named the WHL's Player of the Week for this past week, when he scored seven goals over three games.
The Flames have confirmed that Baertschi has been recalled.