Much to the chagrin of many Flyers fans, Craig Berube still caries the title of coach in Philadelphia at the current moment. Whether that changes in the near future or not is yet to be seen. But with growing frustrations that extend beyond the emotional fan base, GM Ron Hextall can cut ties with Craig Berube now, or stick with him at the expense of alienating certain players on the roster.
Frustrated Flyers
The toll of missing out on the playoffs is tough on every organization. For the Flyers, it's been downright unbearable. After leading the orange and black to the playoffs last season, while overcoming the franchise's worst start (1-7-0), Craig Berube has gone from motivational speaking material, to the hot seat in under a full calendar year.
Despite many analysts predicting the outcome that turned out, the "problem" has shifted over the course of last season's playoff exit to this year's conclusion. No longer are bad contracts in a sketchy salary cap situation the top culprit, nor is the makeshift defense that was patched together throughout the season.
It seems like cruel and unusual punishment for Hextall to keep Berube without some sort of vote of confidence by now.

When asked about Berube, the Flyers' responses have changed drastically since December or January. They've shifted from "it's not the coach's fault" to "we'll see what happens." — Frank Seravalli, Philly.com
While much of the other factors remain topics of discussion moving into the offseason, the narrative surrounding Berube has gone from a coach who was doing the best with what he had to work with, to an ineffective leader who's shown that he's incapable of handling a lineup.
Perhaps Berube is now taking on the undesirable role of a "fall guy." Maybe he's only partly to blame. Whatever the case may be, the coach called "Chief" seems to have lost his dressing room, making a lame duck president leaving office appear to have more clout than Berube holds at the moment.
Berube's old school approach may be appreciated by some, especially those who identify as purists. However, the tough love approach from the coach brought a mixed bag of responses this season, and mostly for the worse.
Vinny Lecavalier
Veteran forward Vincent Lecavalier's already rocky relationship with Berube took a drastic turn south this year, as the former Stanley Cup-winning captain produced a career-low 20 points in 57 games – his lowest number of games played in an 82-game schedule.
Much of Lecavalier's drop off can be attributed to a number of components, including sitting in the press box 17 times as a healthy scratch.
Berube on Lecavalier's usage: "I don't need to express my reasons to you guys why we use him the way we do."

— Frank Seravalli (@frank_seravalli) April 13, 2015
The 34-year-old natural center did create some entertaining chemistry with Pierre-Edouard Bellemare and Chris VandeVelde on the fourth line, but ultimately failed to find his niche on Berube's team, hardly what the 16-year veteran envisioned when signing to play under former coach Peter Laviolette.
"The fans are great, the organization is great, living here is [great]. My wife and my kids absolutely love it here," Lecavalier said. "But, yeah, things did change when Chief came on board."
After turning in a 37-point season in 2013-14, which was considered to be a down year, Lecavalier was expected by many (including himself) to have a bounce back season this year. That didn't happen, despite his five-on-five SAT percentage jumping from 45.30 percent in his first year with the Flyers, to 46.30 percent this past season.
Either way you slice it, those numbers are less than impressive. Then again, so was his deployment, which featured a career-low 12:39 of time on ice per game, along with his third lowest fraction of relative zone starts of plus-7.2 percent.
As Lecavalier continues to age, it's at least understandable as to why he was often the odd man out. He's no longer the 108-point scorer from the 2006-07 season, or even the 54-point producer from the 2010-11 campaign. The 6-4, 215-pounder is still  a competitor, however, who feels he was slighted the opportunity to produce.
Whether his complaints hold any merit or not, he's not the only personnel that's voiced frustration with Berube's ways.
Sean Couturier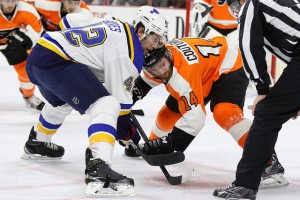 Like Lecavalier, Flyers shutdown center Sean Couturier carried loftier offensive expectations into the season. Unlike his veteran teammate, however, Couturier delivered, setting a career-high in goals with 15, while his 37 points came up only two points shy of his career-best from a season ago.
That didn't earn him much praise from his coach, though, as the Chief sounded more like an overzealous father who's disappointment reveals some degree of a vicarious life, as well as a desire to make his boy better.
"Patrice Bergeron, who is a two-way forward much like Couturier, starts all of his faceoffs in his own end and seems to come OK, right?" Berube recently responded. "When a top line goes out on the other team, [Sidney] Crosby comes in our offensive zone, who do you want me to put out? He plays 24 minutes a game.
"You tell me Couturier starts in the defensive zone too much. Well, that's his job. He's got to shut Crosby down and that's why I put him out there. For [Couturier] to improve as a player, he needs to understand he needs to get it (the puck) in the offensive zone and get it done."
Berube's comments have since been blown widely out of proportion, causing him to fall even further from grace among the fan base, and possibly even Couturier himself.
While Berube is right in the sense that Couturier's best attribute is his defense, he may want to be wiser with his words. Couturier, who turned 22 last December has played a total of 530 less games than Bergeron, including playoff games as well.
In other news, the "draft bust" and "offensively challenged" Sean Couturier is on his 2nd 5-game point streak.

— Josh Bright (@DaPriceIsBright) April 10, 2015
Bergeron may have hit the 70-point threshold in his second and third season in the league, but his deployment in regard to zone starts aren't really comparable.
At even-strength, Bergeron's relative zone start percentages in his first four seasons look like this:
2003-04: minus-3.8 percent
2005-06: minus-0.1 percent
2006-07: plus-1.4 percent
2007-08: minus-2.8 percent
Sean Couturier's first four seasons may not have been decorated with the same offensive firepower, but relative zone start percentages might just be a factor.
2011-12: minus-14.1 percent
2012-13: minus-15.9 percent
2013-14: minus-12.8 percent
2014-15: minus-15.9 percent
As Bergeron developed to be the star he is today, his relative zone start percentages began to dip to a level that's only comparable to where Couturier's are now. It'd take Boston's two-way stud eight seasons, however, to see a minus-relative zone start percentage in double digits, whereas Couturier has yet to see anything better.
If you were Sean Couturier, how would you feel?
"I'm not going to lie," said Couturier. "It is tough to produce when you start in your end most of the time. I don't want to be known as only the 'shutdown' guy like I've been for the past few years. I want to take a step forward offensively, be a go-to guy when we're down a goal or we need offense. I think it's always going to be a part of my game – big faceoffs in our end late in games – but if I can get more responsibilities at the other end of the ice, that, for sure, can help my production."
That may not be a scathing retort from Couturier in an effort to get his coach canned, but it's unquestionably revealing as to how some of the other players may feel.
Why does Berube have Flyers blocking shots in practice, 80 games into the season? Playoffs or no, can't make players happy.

— Ryan Bright (@philabright) April 9, 2015
Misused? Perhaps. Unfairly criticized? Ask Steve Mason, or even Michael Del Zotto.
The man behind Philly's bench may have been dealt a lacking hand this past season, but based off of how the ship went down, it may just be time for the Flyers to cut ties with Craig Berube.
Andy is a contributor for The Hockey Writers, covering the Philadelphia Flyers. He holds a Bachelor's Degree in Communications from Walsh University. He enjoys spending time with his family, golfing, and reading. He is married with a daughter. You can follow Andy on Twitter @ADudones.