Since breaking into the league as an 18-year-old man-child in 2011, Sean Couturier has been on just about every NHL GM's radar. It's nearly inconceivable to recall any sort of major trade rumor without Couturier's name attached to the stipulation. In an organization that was known for its high turnover rate with prospects, as well as young NHL ready talent, the 21-year-old center has proven his worth alone by surviving the trade bait dangled by other teams. This makes Sean Couturier the most wanted Flyer. But will it, or should it last?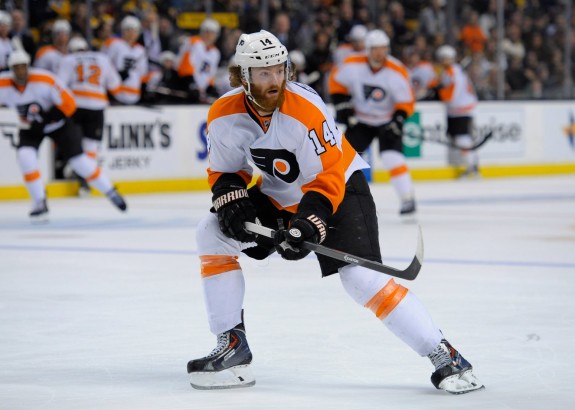 Why Couturier?
Given the correct circumstances, any team would jump at the bit to acquire other names throughout the Flyers' roster. Claude Giroux, Jakub Voracek, and Wayne Simmonds are three gifted talents that team's would do disgraceful things for. Fortunately for Philadelphia, these players are virtually untouchable and GM's around the league know that. Furthermore, players such as these carry a heftier cap hit. Couturier, on the other hand, would pay instant dividends.
Couturier would be a bargain for any team, even for the most cap-strapped teams in the league. He is currently signed to a two-year deal, worth $3.5 million. A player with his talents and attributes for a yearly cap hit of $1.75 million is an absolute steal.
"Per Anthony SanFilippo, the Flyers and 20-year old Sean Couturier have agreed to a two-year extension worth a total of $3.5 million ($1.75 million per year against the cap) that will begin in the 2014-15 season. He'll make $1.5 million in the first season and $2 million in the second season, and the team will retain his restricted free agent rights when it ends." — Broad Street Hockey
Not only is Couturier's contract and length cap-friendly, it also gives the Flyers, or whomever were to acquire him, the instant advantage of having negotiating rights at the commencement of his current deal. In other words, the two sides would have to enter the unrestricted free agency period without an agreement, and another team would have to sign Couturier to an offer sheet so expensive that the team he's with either can't afford, or refuses to pay. It's a win-win for both Couturier's team, and Couturier himself.
https://twitter.com/3DPhillySports/status/474537772938985472
In the latest issue of The Hockey News, Sean Couturier was ranked the best penalty killer in the NHL for the 2013-2014 season #Flyers

— Brady Trettenero (@BradyTrett) May 6, 2014
Despite coming off of a career-high 39 point season, Couturier was streaky offensively throughout the 82 games he appeared in this past season. But with only three seasons under his belt, and at the young age of 21, Couturier's two-way abilities aren't catching anyone by surprise anymore.
"I thought he must be like 24 or 25," said Flyers defenseman Mark Streit. "I was kind of shocked. He's 21, but he plays like he's way older. He's a great skater. He's smart. He's physical. He's always in good position."
All of the characteristics mentioned by Streit were a key factor in Philadelphia overcoming the status of the NHL's most penalized team throughout the regular season. The Flyers' 14.4 average PIM per game were the result of 430 penalties taken all season, leaving them shorthanded a total of 316 times. And although the Flyers were only present in the playoffs for seven games, their 89.7 percent penalty kill leads all playoff teams with the Stanley Cup Final in full swing.
In comparison to this year's Selke Trophy candidates in Patrice Bergeron, Anze Kopitar, and Jonathan Toews, the defensive discrepancy on the penalty kill favors Couturier, despite only a plus-one overall rating.
"Sean Couturier is on the ice for 62.3% of the Flyers shorthanded time. Compare that to 33.3% for Kopitar/Kings, 30.8% for Toews/Blackhawks, 35.9% for Bergeron/Bruins. The Flyers utilize Couturier on the penalty kill almost twice as much as each of these teams utilize their Selke Trophy nominee.

"So is Couturier close to a Selke Trophy nomination? Absolutely, but the Flyers will need to help him out." — David Quackenbos, Broad Street Buzz
While some may say he's offensively challenged, he did match his career high in goals this past season with 13. But as many already know, the trophy intended to award the league's best defensive forward also requires offensive numbers as well. While Couturier develops his offensive touch, his game is, and has been asserted on shutting down the league's best players.
"At the end of the night, if we're 'plus' players, then we've done our job," said Couturier after stifling Sidney Crosby and Jonathan Toews earlier this season.
There's no reason to believe, however, that Couturier won't develop into a more prominent offensive threat as he adds to his size and experience. A likelihood that makes his appeal even more attractive for NHL GM's.
The Trend in Trade Negotiations
Couturier has garnered interest well before his two-year "bridge contract" he recently signed. Before former GM Paul Holmgren signed Nashville defenseman Shea Weber to an astronomical 14-year, $110 million offer sheet in 2012, it was Couturier's name that was brought into trade talks for Weber by Predators GM David Poile.
Won't spent much time scouring for Weber trade details, but I've heard Preds wanted Couturier, Schenn and something else from Flyers. Ouch.

— Darren Dreger (@DarrenDreger) July 19, 2012
Holmgren's unwillingness to part with vital pieces that previously cost him core players in Mike Richards and Jeff Carter led to the mega-offer sheet that Weber would eventually sign. But Nashville isn't the only team that made acquiring Couturier a prerequisite for doing business.
The Anaheim Ducks previously wanted the excelling two-way forward in exchange for Bobby Ryan. The Phoenix Coyotes dangled Keith Yandle to land Couturier in the desert, and the Buffalo Sabres even showed serious interest when using Ryan Miller as bait.
"As far as the trade rumors go, it certainly stands to reason that other NHL teams ask for Couturier in any deal for a defenseman. In my view, I would be hesitant to trade Couturier one-on-one for most of the defensemen in the NHL and it would take a Norris Trophy caliber player coming back this way to even consider for a moment packaging Couturier (or Brayden Schenn) along with other assets." — Bill Meltzer, Hockey Buzz
With newly named GM Ron Hextall allegedly committed to re-signing Brayden Schenn, Couturier's risk of being dealt is once again high. Even though Hextall insisted upon his belief in preserving and developing younger talent, Philly's limited cap space could ultimately lead to Hextall dealing Couturier in order to make other necessary moves in upgrading a roster that is closer to serious contention than their most recent early exit from the playoffs suggest.
As explained earlier, there's a reason why most teams want Sean Couturier. But does pulling the trigger on a deal that would send Couturier elsewhere make for a wise decision when it's all said and done?
Why the Flyers Should Keep Couturier
Couturier's youth, defensive acumen, and large window for growth make for a player that should be considered untouchable, even if he necessarily isn't thought to be. And although anyone could be dealt at the right price, what would that price be for Couturier?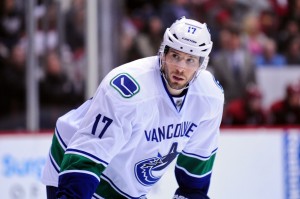 The rumors surrounding Ryan Kesler in Vancouver have been regenerated, but when considering the possibility of trading for him, is it worth parting ways with Couturier?
At 29, Kesler has surpassed the 70 point mark twice in his career, while adding defensive value of his own.
Unlike Couturier, Kesler has not only been nominated for the Selke Trophy, he actually took home the hardware in 2011. But Kesler's qualifications as one of the NHL's top two-way forwards hasn't left him undercompensated, however. With two-years remaining on a six-year, $30 million contract, the financial implications leaves a scenario of Kesler in Philadelphia a murky one at best.
"Getting an everyday player, plus some prospects or draft picks to fill the pipeline seems fair enough for the Canucks, but (Jim) Benning really can't settle for anything less than great. Teams know Kesler wants out, which is going to complicate his value, but that's not Benning's problem so long as he doesn't settle for something below actual value.

"For most teams, Kesler would be an ideal No. 2 center to take on tough defensive assignments, while adding scoring pop and bringing an abrasive game that seems to rub a lot of teams the wrong way." — Chris Peters, CBS Sports
While there's no doubt that Kesler's desire to leave Vancouver hinders the Canucks in getting the maximum return for the star forward, it's not enough to acquire him for a pair of draft picks and a prospect.
The Canucks will either get significant value for Kesler, or simply keep him. If Hextall were to land Kesler for the Flyers, it'd undoubtedly cost Couturier along with other valuable entities, whether it be a number of valuable picks, or other key pieces of the roster as well.
No one would be rioting in Philadelphia upon the hypothetical acquisition of Ryan Kesler, even if it cost the Flyers Sean Couturier, among others. But that doesn't prove anything. Kesler will be 30 at the end of next season, and with both Couturier and Kesler having two-years left on their respective deals, the most bang for the buck aligns with Couturier.
Kesler's $5 million cap hit for the next two seasons would make any possibility of making any relevant upgrades nearly impossible for Hextall, while Couturier's $1.75 million cap hit is irrefutably more flexible to work around.
Both are similar in size and stature, although Kesler has been known to be more physical. Both are highly touted for their two-way mastery, and both have been overall durable.  And although Kesler owns the clear advantage in scoring, Couturier gets the nod at just 21-years-old for penalty killing and comprehensive shut down defense.
"I came in a lot stronger than I was last season," said Couturier this past season. "On the ice I feel it and a little heavier, too. It helps me out in the puck battles and all over the game I think it helps me."
While there'll certainly be several suitors for Kesler this offseason, the number of GM's who have inquired about Couturier's services will turn out to exceed the interest in Kesler. After all, it's not every day a team stumbles upon a skater who can shut down anyone in the league at that young of an age. This makes Sean Couturier special, which is exactly why the Flyers should keep him.
Andy is a contributor for The Hockey Writers, covering the Philadelphia Flyers. He holds a Bachelor's Degree in Communications from Walsh University. He enjoys spending time with his family, golfing, and reading. He is married with a daughter. You can follow Andy on Twitter @ADudones.