Drastic changes were expected in the wake of San Jose's most recent epic collapse, this time to the Los Angeles Kings in the first round, as they watched a 3-0 series advantage vanish into thin air. For their decade or so of playoff misery, never had the franchise sunk this low. Not in 2011, when they nearly suffered a similar fate at the hands of the Detroit Red Wings; and not in 2006, when their 2-0 stranglehold on the underdog Edmonton Oilers seemed good as gold.
This time the team was better. The coach was better. The collapse, historic.
With all the hockey world watching – some with the intention of grabbing the seemingly doomed duo of Doug Wilson and Todd McLellan to fill their own coaching and managerial vacancies – the Sharks have avoid two major missteps. Wilson promptly gave McLellan his vote of confidence, and after somewhere in the neighbourhood of ten days spent meeting with ownership, all parties left content and more importantly, employed.
That's not to say changes haven't been promised. Firstly, Wilson promised an overhaul of the Sharks blueline. He made it perfectly clear that Dan Boyle would not be returning with the club, and that Brent Burns would be making the switch back to defenseman. It was also announced that Martin Havlat wouldn't be returning with the club, to the surprise of no-one.
While ownership managed to save the team from themselves, and avoid the tempting overreaction to their first round exit, I'm curious to see how long this period of clemency will last. As is always the case in San Jose this time of year, Joe Thornton has found himself planted firmly under the spotlight, along with teammate Patrick Marleau. But at this stage, it has gone beyond scrutiny. People want the prolific duo traded.
Something I would argue very strongly against.
And Here's Why
Say what you will about their leadership qualities, or apparently lack thereof (whatever that even means), but the Sharks won't even be so lucky as to choke in the playoffs without these two; they just won't make them entirely. Unless Wilson works some voodoo magic, or bides his time until Jay Feaster finds employment again, he will likely never earn half of what they are worth and the club will suffer in both the short AND long term for it.
[Related: Why Trading Thornton Makes Sense]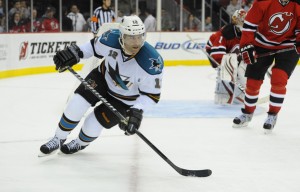 Starting with Marleau, oh how cursed the Sharks are to have in their service. He's only, what, a seven time 30-goal scorer. Equally as impressive as his torrid scoring pace, however, has been his durability. He'll be 35 by the start of next season, yet he hasn't played less than 70 games in a season once in his career… save for the lockout shortened season. How's that for reliability?
Furthermore, Marleau presents the Sharks with a variety of options in their top-six, as he has the ability to slide seamlessly from either wing to center. In his current position, Marleau produces at a first line rate on top-flight second line. That's a luxury not even most contenders can afford. It's also worth noting that last season was the toughest of Marleau's career in terms of zone-deployment and he still came out as a positive possession player – albeit against some of the weaker competition faced in recent history. He's certainly not hurting this club, not by any stretch of the imagination.
But What About Joe?
I can think of no more malleable a line than the San Jose Sharks first, when Joe Thornton is its anchor. Thornton has the ability to turn Jonathan Cheechoo's into 50-goal scorers and – as was made evident this season – make the transition for rookies considerably less difficult. The Sharks have at no point during the Thornton era had to worry about who they played with him, or whether chemistry would be an issue. This a luxury few, if any, teams can afford in the salary cap era.
Speaking frankly from a purely production oriented point of view, it's also worth noting that Thornton is hardly in decline. As a matter of fact, his production from the regular season was more-or-less in line with the last three before it. Of course, one could just as easily point to the fact that his playoff production saw a major dip this post-season – especially when his team needed it most. But while that criticism bares some weight, it blatantly ignores the fact that Thornton had his lowest offensive zone start percentage in the entirety of the BehindTheNet.ca era of hockey analysis.
Thornton's zone start percentage, in combination with a vile on-ice shooting% of 1.96 (!!!) are probably to blame for any perceived choking in the playoffs.
For as long as there will be perceived choking, or under-performance, in the NHL, it's the star players that will always be held accountable. Even more-so when these players captain their clubs. What often gets lost in the post-collapse panics in each fan base is the fact that it's often the tertiary elements of their team that require fixing. Rarely is it the future hall-of-famers or star players. This is definitely the case in San Jose.