Is the 2013-14 season over? Jonathan Quick just devoured the New York Rangers in Game 3. Multiple writers at THW have made the claim that the Western Conference is far and away better than the Eastern Conference. Check out Dan Rice's piece on it. In the Hat Trick Challenge by Enterprise, I'm doing just as well as the Rangers. But, I've got one more chance to make a mark on this season!

In the intermission between the second and third, we announced our third winner. Mike won our prize pack through his retweet of this message by The Hockey Writers:
Enterprise Hat Trick Challenge for SCF Game 3 http://t.co/OQBN05hgyR#THW

— The Hockey Writers (@TheHockeyWriter) June 8, 2014
Questions for Game 4
The Rangers backs are against the wall. And the questions reflect that.
Will Jonathan Quick make 30+ saves in Game 4?
Will Rick Nash score a goal in Game 4?
Which team will win Game 4?
Rick Nash? Rick Nash??! Looks like NHL.com is really looking for a miracle here.
Question 1
Jonathan Quick just made himself the stuff of Rangers fans' nightmares. 32 saves in Game 3 and a stranglehold on the Stanley Cup Final. The thing about Quick is that he tends to step up in big game situations. He has been up and down all playoffs long, but he has been strong in the Final. The Kings have allowed just over 30 shots per game. I can't think that the Rangers will go away quietly. But unless they beat Quick early, they will be demoralized. Because I think the Kings will sweep this series away now, answer this question with a no. Quick won't need to make that many saves.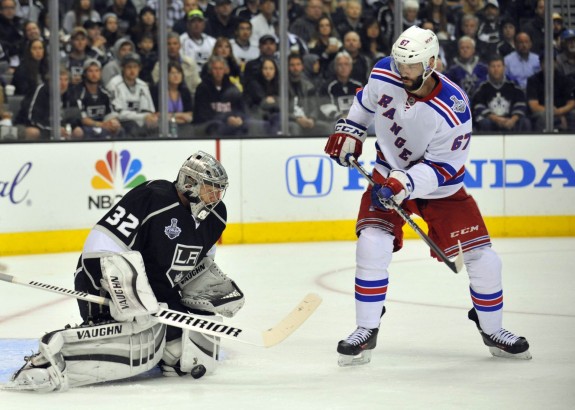 Question 2
Rick Nash. Oh, how the mighty have fallen. The man so used to scoring thirty goals a season (and even forty a couple times) has not reached that mark in either of his seasons with New York. In these playoffs, he only has 3 goals. In this series, he has zero points. He has led the series in shots on goal with 15. But his luck just hasn't been there. He will not score a goal, answer no, and that contract will look very strange to Ranger fans.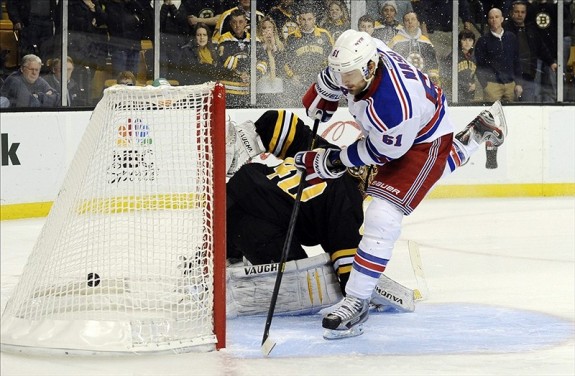 Question 3
I've made the mistake of thinking that the Kings would not be ready to handle a New York Rangers bounce back. I've ignored the idea that the Kings ran the gauntlet of the best teams in the Western Conference. I've forgotten how Anze Kopitar is one of the most dynamic forwards in the league. I've believed that Jonathan Quick was human. No more. The Kings will win Game 4 and win their second Stanley Cup.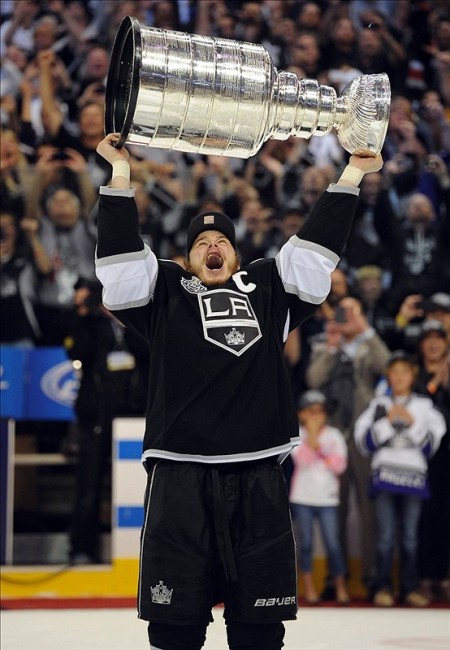 Prize Pack for Game 4
Our winner for Game 3 earned a prize pack that included the power play item of  an Enterprise cooler bag and a ten pack of can koozies. For the final giveaway of the year and the Hat Trick Challenge, Enterprise is giving away $200 towards the NHL online store! And again, this isn't the entire prize pack! All you have to do is follow Enterprise and The Hockey Writers on Twitter. Then, when you see THW tweet with the hashtag #NHLHatTrickChallenge come down the dashboard, retweet or favorite it! You're entered right there! Good luck! And be sure to kick some of that extra moola my way when you win!
Something like this: This is a sponsored post with contest rules and giveaway prizes provided by Enterprise.  I was compensated for this post. All opinions are my own.
Kenneth is a graduate of the University of San Francisco in Politics and Chemistry. But his passion in life has always been hockey. He has played since he was four and even coached a few teams. Kenneth writes for the San Jose Sharks at thehockeywriters.com