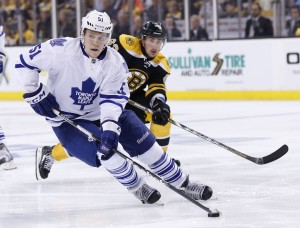 If, as I am, you are find yourself reading a lot of Toronto Maple Leafs content on the internet, you probably find yourself in one of two camps.
1. The Mainstream Camp – You read your Cox, Feschuck, Simmons et.al and find yourself agreeing with their reactionary, sometimes insane, mostly polemic editorializing that is aimed at the lowest common denominator.
2.  The Blog Camp –  You read the more prominent Leafs blogs, such as Pension Plan Puppets, HopeSmoke.  If you're in this camp, you likely consider yourself more of an intelligent fan; one who looks at advanced stats and really applies critical thinking to your thoughts about hockey. No question PPP is a good blog and personally, I think whether you agree with them or not, that they offer perhaps the most interesting and thought provoking Leafs coverage around.
Me, I don't find myself in either camp.  I find both good and bad articles and ideas from Camps 1 and 2.  I don't consider myself superior to either by the way, I just feel like I'm out in the cold with my opinions, which don't seem to fit in anywhere. To whit: I'm a bit of an optimist.
As far as the mainstream media goes, I think they are way to caught up in the immediate now and they intentionally feed on a rabid fan-base. They serve their purpose and while some consider them irrelevant, I think Damien Cox is actually pretty smart and that Simmons is at least entertaining and I respect him for his bravery, if not his wanton disregard for statistics and change.
As far as the bloggers go, I think they are great. Usually they are at least thinking the game through in some interesting ways, but my complaint about them would be that have some pretty heavy opinions which they seem to think border upon being facts (Carlyle is a bad coach, Nonis is an idiot etc.) which they admittedly do a good job of quantifying with statistical data.  Now, of course we all do that (position our opinions as factual)  and most people should be smart enough to know that anything that is not either a quantified statistic or linked to a peer-reviewed journal is by definition an opinion.  I guess I just find that they – and their commenters and followers – are fairly closed off to dissenting views and that like anything else in the world of Leafs coverage, if you say it enough, it becomes true.
Now, I could be wrong here.  Maybe they are more open than I think, but that is at least my perception.
Just to give you an example of what I mean (Leafs alternative media in general, not just specifically PPP):
1) The "Stats guys"  said the Leafs would miss the playoffs, and they take a lot of pride in pointing this out.  They ignore the fact that the Leafs essentially had to have a Mr. Burns Softball Team amount of bad luck in order to do so.  They claim to be more nuanced than others, but yet, just because the Leafs were very lucky from October to March doesn't mean they automatically will get the same amount of bad luck in one single month.
For example, if you flip a coin 9 times and it's heads every time, the odds remain 50/50 that the tenth flip will be tails. The previous luck in hitting 9 straight tails is irrelevant, which is why the Kessel line going cold, Bernier being injured, Reimer being off his game when he came in, losing 9 straight games etc. etc. etc. can't be simply tossed off as a regression to the norm.
So yes, they did end up being right,just not for the right reason. The Leafs are still a young team on the rise who should have made the playoffs.
(For the record, advanced statistics are great, I do not want to come across as anti-stat.)
2) They continue to brag about being right about David Clarkson.  I agree, the Leafs paid too much for him, but he isn't a loser and acting like your prediction was right is completely specious. Clarkson was suspended and injured multiple times, had a very unlucky shooting percentage and as such never got to contribute to the level he is capable.  Yes his contract is massive, but he can still be an effective player and Nonis giving him this contract doesn't make him an idiot.
These are two examples of how they were correct in their predictions. I counter, however, that they just lucked into being right and that extrapolating off these two predictions is both foolish and inaccurate.
 Kool-Aid
But, back to the title. As much of a cliche as "Plan the Parade" is in Leaf-land, telling someone they are "Drinking the Kool-aid" has probably usurped it as THE cliche around these parts. Basically, if you think the team is doing a good job, then you must be a corporate stooge incapable of critical thinking.
Now, I like to think I am better than that, but maybe I'm not.
In the past year or so, here are some things which I have seen printed which I would disagree with 100%, but which disagreement seems to lead people to think you are either a stooge or an idiot:
1) Grabovski and MacArthur
Supposedly this was an example of horrible mismanagement by Nonis and his team, but I happen to think they were right to get rid of them.
The thinking is that Grabovski and MacArthur are useful players who the Leafs gave away for nothing.  While this is true, I think that this view doesn't take into account that there was nowhere for them to play on the Leafs and that in today's game, freeing up salary is often as good as getting a player back in return.
Grabovski isn't ideal for a third line role because despite stats that show he isn't as bad as I thought on defense from watching him, I still don't think he is in anyway a good shut-down player.  Maybe my way of viewing the game is anachronistic, but still think that your third line centre should be able to a plus defensive forward.
I also think his contract was too much and that with the need to play Kadri higher in the lineup that the cap room was a decent exchange for him.
As for MacArthur, he always seems to produce and I am not knocking the guy, but I can't help but feeling that both he and Grabovski fit into that position on a hockey team I call 2B – basically that they are good secondary players but if you want to compete then you need better players on your second line and more defensive-centric players on your bottom lines.  Again, maybe I've been brainwashed into thinking too much like the Brian Burke (incidentally my favorite GM of all time) top-six/ bottom-six style of hockey analysis, and maybe I'll change my mind in the future, but as of today, that's what I think.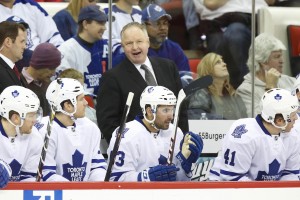 2) Randy Carlyle is an idiot and a terrible coach
There is a lot of data to back this up, don't get me wrong or think me ignorant. I just don't buy it. I think that teams in the NHL play such similar styles of games that all coaches are basically interchangeable. I know that is simplistic, but I maintain that anyone capable of making the NHL as a coach can have success with the right roster. I honestly don't care too much who the coach is, and I don't think Carlyle can be fairly judged when the team he coached has Carl Gunnarsson on its' top pairing and contains 5 offensive defenseman.  (I have also been condescended to for suggesting that you can't win with this many offensive D-men. I think you can, if they are all allstars, but I think that balance does matter. I don't think you can have an effective defensive unit where only one player – Phaneuf – is any kind of physical threat. This doesn't mean that you need to slot in 3 slow moving hard hitters, just that at least half of your defenseman should be able to make guys think twice about going near your goalie and holding on to the puck in the O-zone. )
3) Dave Nonis is an idiot
This is something that is said with such frequency and fervor that it has come to be taken as almost a fact.
The Pension Plan Puppets had a banner on their site for months that said something to the effect of "Breaking News: Leafs Management are F'n Idiots."  Now, I am not one to complain about anything hilarious, but I do think it was inaccurate.
Since taking over for Burke (who I also think did an excellent job and should never have been fired) Nonis has, in my opinion, done a good job. I thought the Bernier trade (which I praised at the time and took some heat for from the same people who would probably be sickened by this post) was excellent. The argument against it was that giving up assets to get an untested goalie was stupid, but I said that the risk/reward was worth it, and I think it turned out all right.
I thought the fact that Nonis didn't or hasn't yet, at least, sacrificed any of his young talent for immediate help is a strong, strong fact in his favour.  I think he could have easily traded Gardiner or Kadri last year at the deadline to ensure the team would make the playoffs, but that he didn't, I think, speaks volumes about his management style – a style characterized by patience, which is exactly what the Leafs have needed for years.
I think the Liles for Gleason trade was dumb, but also that with 5 other offensive defenseman on the team that it was understandable.  However, two more years at a 4.5 million cap hit is insane and I fear they are stuck with him. Who knows, though, stranger things have happened than moving a seemingly terrible contract, and it's not like Liles had a much better contract anyways.
I will continue to defend Nonis' resigning of Bozak, because I happen to think that no matter what people say that Bozak is a solid player. Sure, maybe in an ideal world you don't have him on your top line, but I also think he is really underrated. He has improved every year he's been in the league, he's good on the PK and I think he was worth signing. I am 100% certain that it was the right move to give him Grabovski's contract and buy out Grabovski because it's a better fit, it helped re-sign Kessel, and Bozak, I believe, is a better passer and defensive player, especially on the PK.
If I am not mistaken, the stats actually show Grabovski as a superior player defensively, but I think a caveat is in order regarding that: Bozak plays on a line who's primary directive is to score, and they line up against the best other teams have to offer. He is also put out on the ice in situations where he is likely to be scored on. Grabbo, while with Toronto anyways, faced worse players and wasn't put out in those situations, so of course some of his metrics might be superior.
People might continue to hate Nonis, but I won't join them. I think the Kessel and Phaneuf contracts were both intelligent, good moves and I think that Clarkson was worth the risk. The bottom line is that Dave Nonis is an NHL general manager, he has years of experience and, at the risk of committing the logical fallacy of appealing to authority, I don't think that a bunch of amateur hockey enthusiasts can just write off everything he does as idiot and think they know better. I do not think the guy is above reproach, but acting as if he is a complete moron and that you know better is disingenuous at best.  He might ultimately prove to have been bad at his job, but I think that if we judge him now, after just over a year on the job, when many hockey moves take years to fully understand the implications of, is ridiculous.
Overall, I am not too concerned about last year's collapse. I think Nonis and Burke have assembled the best collection of young talent the Leafs have ever had in my lifetime. I think that they can keep that youth in tact and add a first pairing partner for Dion, along with the continued development of Gardiner,Kadri and Rielly that the Leafs are much. much closer to being a contender than anyone is willing to give them credit for.
So, yeah, maybe I have drank the Kool-Aid, but I remain optimistic about this roster and this management group.