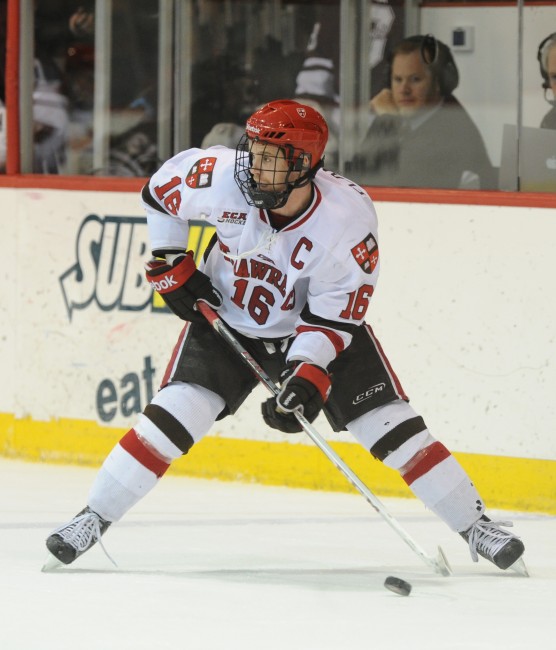 Paul Holmgren is at it again!
It's been the GM's blueprint for a few seasons now: go out and find the next big NCAA player and sign him to a contract.
Although not a star, Matt Read has done relatively well for himself, signing with Philadelphia soon after leaving Bemidji State.  Could Kyle Flanagan be the next big thing?
As Bob McKenzie reported earlier today, Kyle Flanagan of St. Lawrence University was signed by the Philadelphia Flyers.
Flanagan is a shifty player, but a bit on the short side – 5'9″ to be exact.  He uses his size to his advantage by being a quick, speedy skater with tremendous acceleration seen below (goals 2 and 4):
He also possesses fantastic puck skills and great dekeing ability:
And lastly, for such a short-bodied player, he owns a surprisingly powerful – yet accurate – shot:
He was St. Lawrence's second leading scorer this season with 47 points in 35 games.
Sadly, all the spots on Philadelphia's top 4 lines are taken, so he will be playing the remainder of the year with the Adirondack Phantoms.  But don't think the Flyers are done digging around the NCAA.  The Flyers are looking to make a BIG splash – both literally and figuratively.
Andrej Sustr, a 6'8″ defenseman out of the University of Nebraska-Omaha, has decided to forgo his final year of NCAA eligibility in order to pursue his NHL dreams.  And the Flyers are right on his tail.
According to Frank Seravalli of the Philadelphia Daily News:
The Flyers have already begun courting Univ. of Nebraska-Omaha defenseman Andrej Sustr, who officially announced on Monday that he will not be returning to school for his senior season. He's a player the Flyers have kept their eye on for years.

For teams like the Flyers, who aren't opposed to signing free agents to maximum ($925,000) entry-level deals, undrafted college players are an important avenue to restock the farm system.
The Flyers aren't the only pro club in need of defensemen.  Furthermore, just about every team has had interest in Sustr for quite some time.
But that hasn't stopped Paul Holmgren from giving it the good ol' college try (no pun intended), and I doubt he plans on stopping now.
For updates on the Philadelphia Flyers, follow Shawn Reznik on Twitter: @ShawnTHW