Part of this whole COVID-19 pandemic is sitting back and reminiscing about the past when life was somewhat normal. With the 2020-21 Ontario Hockey League (OHL) season in limbo, your mind tends to wander about years and players gone by. You start wondering about what happened to former players and coaches.
The Windsor Spitfires have had hundreds come through their system since the early 1990s. Some are still making huge waves in the NHL, while others have either retired or found their footing in other areas. In this four-part series, we'll look back at former players and coaches who aren't in the spotlight as much in 2020 and see what they're up to now.
In part one, we'll examine the 1990s, a decade that had the Spitfires hitting hard and scoring often. Let's take a trip down memory lane!
Where Are They Now?
Left Wing – Michael Rupp
Drafted 10th overall by the Spitfires in 1997, the 6-foot-5, 230-pound Michael Rupp was exactly what the team and its fans had craved. He could score, hit, and defend teammates with equal ease.
Rupp quickly became a fan favourite with 17 points and 60 penalty minutes in just 38 games. The future was bright. However, things quickly changed when the club traded him to the Erie Otters at the trade deadline for veteran Jason Ward (who excelled for the Spitfires).
What happened with the budding power forward? Rupp played in over 130 games for the Otters — 110 points and 293 penalty minutes (PIM) — before moving onto the pros. From 2000-06, he spent time in the New Jersey Devils' system between the AHL and NHL.
Once he stuck in the NHL in 2006-07, Rupp played for the Devils, Pittsburgh Penguins, New York Rangers, and Minnesota Wild before retiring in 2014-15. In total, he played in over 600 NHL games with 99 points and 855 PIM.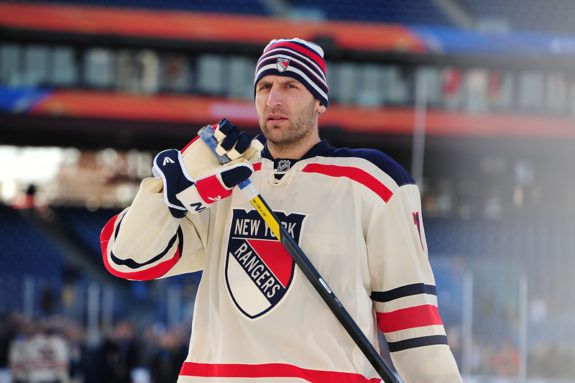 Following retirement, the 40-year-old has found a spot in the broadcast booth, working with the NHL Network and AT&T Sportsnet Pittsburgh. He has also become a regular on Twitter with over 72,000 followers.
Defenceman – Harkie Singh
You don't always need to play a lot to become a fan favourite. Just ask Toronto-native Harkie Singh. The 6-foot-3, 218-pound defenceman was a former 12th-round pick by the Belleville Bulls in 1995 before finding his way to the Spitfires (via two junior clubs in British Columbia) in 1997-98.
What Singh lacked in production, he made up for in heart. The fans loved his underdog persona and willingness to play that physical game. He only had three assists in 23 games, but 75 PIM was right up their alley.
Once the 1997-98 season was done, Singh moved on. What happened to this fan favourite? Singh continued to bounce around Ontario a bit, playing for various junior clubs before joining the University of Ottawa in 1999 to get his degree.
Following his playing time, Singh started on the business side of the game. He was a scout with the New York Islanders (2000-07) and Vancouver Canucks (2007-08), and he was behind the bench as an assistant coach for two Ontario junior clubs in 2007-08 and 2009-10.
In June 2011, he began a new chapter, becoming the Director of Player Recruitment for Uptown Hockey where he was until 2019. That's when Singh, 42, ventured out on his own. He created Live Sports and Entertainment, Inc. where he's now an NHLPA certified agent.
Left Wing – Vlad Krechin
Over their nearly 30 CHL Import Drafts, the Spitfires have had several swings-and-misses. They've also had a few home runs and Russian forward Vlad Krechin was one of them.
Drafted third overall in 1993, the Chelyabinsk-native joined the Spitfires from the Supreme Hockey League (VHL — second level in Russia) with plenty of promise. It took a bit of an adjustment, but he found his groove.
The 5-foot-11, 194-pound winger had 25 points in 45 games in 1993-94 and followed that up with 106 points in 119 games from 1994-96. He even showed some grit, racking up 83 PIM in his final season.
Fans loved his tenacious offensive style and it was tough to see him leave the Rose City. Whatever happened to him?
Despite being the Philadelphia Flyers' fifth-round pick in 1993, Krechin headed back to Russia in 1996-97. He played eight seasons in the Russian Superleague (RSL) with Traktor Chelyabinsk, Mechel Chelyabinsk, Metallurg Novokuznetsk, and Lokomotiv Yaroslav before retiring in 2008.
Following retirement, he became the VP of Hockey Operations with Traktor Chelyabinsk (now in the KHL) from 2011-14. Following that, he was the general manager (GM) with Kulun Red Star (KHL) in 2016-17 before his current position as the GM with Lada Togliatti in the VHL.
Krechin and Lada Togliatti were a part of the KHL through 2017-18, but the league restructured and the team found itself joining the VHL for 2018-19.
Center – Cory Stillman
Finally, we take a look at a legendary Spitfires' producer who made an impact as soon as he hit the Windsor Arena ice.
Drafted in the second round by the Spitfires in 1990, Cory Stillman won over the crowd with a 101-point rookie season in 1990-91 and didn't look back. A leader on-and-off the ice, he added another 170 points in 114 games from 1991-93 with the Spitfires and his hometown Peterborough Petes.
After Stillman left the OHL, he went straight to the pros and his career became the stuff of dreams. From 1994-2011, he dressed in over 1,000 games with the Flames, St. Louis Blues, Tampa Bay Lightning, Carolina Hurricanes, Ottawa Senators, and Florida Panthers.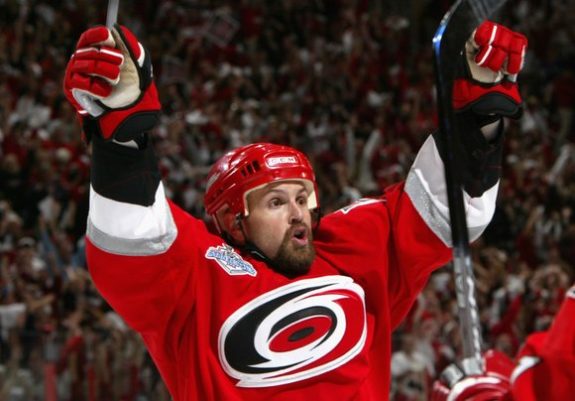 On Sept. 8, 2011, Stillman called it an on-ice career, finishing with 727 points in 1,025 games. What happened with this Spitfires' great?
Upon retirement, Stillman joined the Panthers' as a Development Coach where he stayed for the rest of 2011-12. After that, it was off to the Hurricanes to become their Director of Player Development from 2012-17.
On May 25, 2017, Stillman returned to his OHL roots, becoming the head coach of the Sudbury Wolves. In three seasons, the club has a record of 94-89-13-3, though their first season saw a last-place finish, which led to drafting phenom Quinton Byfield.
In 2019, the club also drafted Stillman's son Chase in the second round of the OHL Draft.
Coming Up in Part Two…
Jut because you retire from playing doesn't mean the game stops. These guys showed that sometimes on-ice retirement is just the beginning of the next hockey journey.
In part two of this series, we'll head to the 2000s, a decade of change and philosophy with the Spitfires. Stay tuned!
---
---