Love is lovelier the second time around.  Reunited and it feels so good.  Life is all about second chances.  Wait, we're still talking about hockey here right?  Well, that theme is no different in hockey and in some cases applies to the New Jersey Devils.  Going all the way back to Gary McAdam in the 1983-84 season, there have been 24 Devils with multiple tours of duty with the organization.  This season alone the team has brought back Alexei Ponikarovsky and most recently Steve Sullivan.
Some reunions have resulted in Stanley Cup runs.  Others in salary cap boondoggles.  In most cases they did something well enough in a Devils uniform and subsequently around the NHL to warrant their return to the red, white and black.
So of those 24, we take a look at the top five Devils to replant their roots in the Garden State.
5.) Mike Rupp (2002-2004, 2006-2009): Score a Cup winning goal and chances are you'll be brought back.  Such was the case with Jim Dowd and Jason Arnott, and it also applies to Rupper.  Rupp, who always played hard and paid his dues with the AHL Albany River Rats, netted the winner in Game Seven of the 2002-03 Finals against the Anaheim Mighty Ducks.  In his first stint with the Devils, Rupp also accumulated 17 goals and 14 assists in 134 games.
Following a couple of seasons with the Phoenix Coyotes and Columbus Blue Jackets, Rupp returned for a second go-round with New Jersey in 2006.  During that time, Rupp netted 12 goals and 15 helpers, racking up 286 penalty minutes in 212 contests.  After departing the Devils a second time, Rupp has skated with the Pittsburgh Penguins, New York Rangers and Minnesota Wild.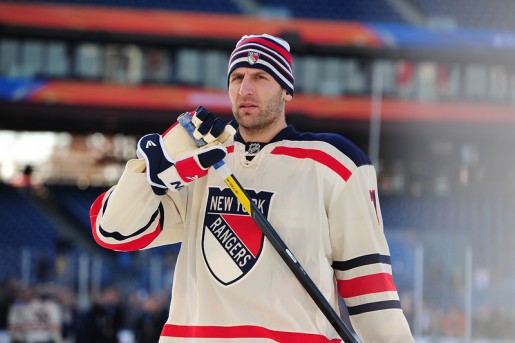 4.) Scott Clemmensen (2001-2007, 2008-09): Clemmer is only one in the long line of goalies who have been stuck behind Martin Brodeur at either Albany or Lowell or Albany again.  During his first stint with the Devils, Clemmensen logged 25 games, posting seven wins and two shutouts.  Following a hiatus with the Toronto Maple Leafs and AHL Toronto Marlies, Clemmensen would help save the Devils bacon in 2008-09.  With Brodeur and Kevin Weekes on the shelf, Clemmensen played 40 games and won 25.  Along with those 25 victories, Clemmensen registered a .917 save percentage, 2.39 goals against average and two shutouts.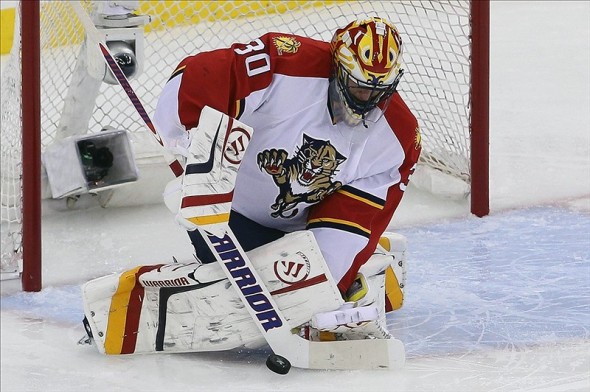 For his efforts, Clemmensen was unfortunately unceremoniously sent down to the Lowell Devils of the AHL, when Brodeur and Weekes returned.  Since then, Clemmensen has gone on to be an amicable back-up with the Florida Panthers.  For one return season though, Clemmensen proved he could carry the Devils.
3.) Brian Rolston (1994-1999, 2008-2011): A heralded young prospect who played for the U.S. Olympic team and Albany River Rats, before joining New Jersey.  Much of Rolston's career trajectory mirrors that of that of fellow former Devils Brendan Shanahan and Bill Guerin, in that his biggest scoring years came away from New Jersey.  One could argue that the defense first philosophy stunted Rolston early in his career.  That being said, Rolston was a member of the 1995 Cup winning squad and totaled 81 goals and 97 assists in his first seasons with the Devils.
In 1999, Rolston was traded to the Colorado Avalanche for Claude Lemieux.  Following a short stay with the Avs, Rolston would put up four 30-plus goal campaigns with the Boston Bruins and Wild.  While Rolston's second time in New Jersey didn't quite live up to those number, as the contract, injuries and age took their toll, he still managed to crack double digits in goals in every season.  After amassing 49 goals and 54 assists for the Devils, Rolston closed out his career in 2012 with the New York Islanders and Bruins.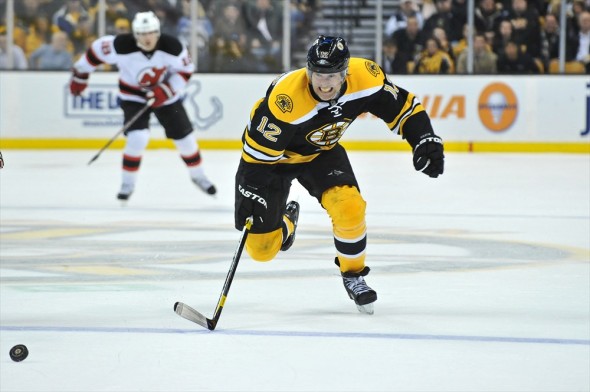 2.) Petr Sykora (1995-2002, 2011-12): Another high flying prospect who came up through the Devils system in Albany, Sykora won a Cup in 1999-00 as a member of the vaunted "A-Line" with Arnott and Patrik Elias.  That season Sykora netted 25 goals and totaled 17 points in the playoffs.  The following year, Sykora helped the Devils nearly win another Cup, reaching career highs in goals (35), assists (46) and points (81).  Additionally, in the playoffs that season, Sykora had ten goals and 12 assists and a high plus/minus rating of +15.  Sykora totaled 145 goals and 205 helpers in his first time with New Jersey.
After being traded to Anaheim, Sykora nearly helped the Mighty Ducks to a title against the Devils, scoring 34 goals in 2002-03.  Then after a couple of years with the Rangers and Edmonton Oilers, Sykora won another Cup with the Penguins in 2008-09.  Sykora then had a brief stay with the Wild and played one year overseas before resurfacing with the Devils last season.  In his return, Sykora was more than steady, scoring 21 goals in 82 contests, helping the Devils to an Eastern Conference title in 2011-12.  While it appears that Sykora's career is over at this point, some wonder if the Devils couldn't have used his scoring exploits this season.
1.) Claude Lemieux (1990-1995, 1999-00): Winner, mercenary, supreme agitator: all words that accurately describe Lemieux.  Already having won a Cup with the Montreal Canadiens, Lemieux was among the players and coaches who brought that winning tradition to New Jersey.  In 1991-92, Lemieux had a 41 goal season, sandwiched around two 30-goal campaigns.  Lemieux's playoff exploits were legendary with the Devils and culminated with him winning the Conn Smythe Trophy in the 1995 Cup Finals.  Lemieux had 30 goals in the playoffs with New Jersey, including 13 even-strength tallies on his way to winning that Conn Smythe Trophy in 1995.
The following year, Lemieux would be sent to Colorado in a three-way-trade and help a budding Avalanche team to their first Cup in franchise history in 1995-96.  With the Devils having suffered a few early round exits in the interim, they reacquired Lemieux in 1999 for Rolston.  While not quite as dominating as his first time with New Jersey, Lemieux played an important leadership role in helping the Devils capture their second Cup.  In 70 contests, Lemieux scored 17 goals and piled up 86 penalty minutes.  Lemieux added four goals and six assists for good measure in the playoffs as well.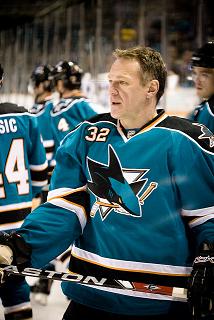 Following that second go-round, Lemieux suited up for the Phoenix Coyotes, Dallas Stars and ended his career with a brief comeback with the San Jose Sharks in 2009.
Who will be the next Devils great to make his return?  Well, I wouldn't bet against Zach Parise making a cameo sometime around 2025.