Let's be honest, the 2015-16 season was a fairly depressing one for Columbus Blue Jackets fans, at least at the NHL level. The team got off to an ugly 0-8 start that led to the firing of coach Todd Richards. They never really turned it around and finished eighth in the division. The silver lining, or refuge, for many fans was the team's AHL affiliate Lake Erie Monsters, who capped off an excellent season with a Calder Cup victory. 
One year later, the players from that team are still well-known to the fan base. Zach Werenski, Joonas Koorpisalo, and Sonny Milano (among others) are on the radar of most Jacket fans as we head into September training camps, and rightfully so, but let's take a quick look at some of the prospects a little further from the media spotlight.
A quick note before we start: All prospect scores are courtesy of Hockey's Future, their system is built around two prongs, the prospect talent score (PTS) and the probability of success (PS). The talent score is a simple number between 1 and 10 attempting to estimate the player's ceiling. For reference, the Blue Jackets' top-rated prospect is Zach Werenski with an 8.5, which is roughly equivalent to an above average top pairing defenceman, think John Carlson or Brent Seabrook. The probability of success is a letter grade from F to A estimating the likelihood of the player reaching that ceiling, it can also be thought of as an indication of the player's floor.
Keegan Kolesar – Right Wing – 7.5 PTS – D PS

At only 19 years old, Kolesar is already listed at 6'2, 219 pounds. His size and strength combine with above-average speed to make up a well-rounded and complete physical tool set. The drawbacks come in the offensive zone as Kolesar is neither a skilled scorer or playmaker, particularly once he reaches the higher levels. Getting back to the positive, Kolesar appears to be aware of his limitations and does not compound them by trying to do too much. Scouting reports say that he possesses an excellent work ethic that should help him continue to improve moving forward.
Kolesar will attend the Blue Jackets training camp, however most experts believe he's certain to return to his CHL team, the WHL's Seattle Thunderbirds, barring an injury or another unforeseen event.
Paul Bittner – Left Wing – 7.5 PTS – D PS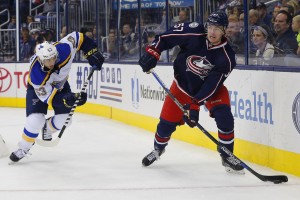 Drafted with the Jackets' 2nd round pick in 2015 (38th overall), Bittner is an alumni of the Portland Winterhawks where he was line mates with fellow prospect Oliver Bjorkstrand. At 6'4/5 (sources disagree) and 198 pounds he has the arm length to break up passing lanes. Despite his height, he lacks bulk, and some say the aggression, to have the physical game of a true power forward. Add in below average speed and it seems unlikely that Bittner will be able to rely on his athleticism to be productive. Fortunately, Bittner has the soft hands and good ice vision required to succeed as a scoring forward in spite of his athletic limitations.
After a solid start for the Winterhawks, Bittner lost most of the 2015-16 season to a hip injury. He made it back in time for the end of the AHL season appearing in two games, though he would play no role in the Monsters' playoff run. He'll likely play the 2016-17 season in Cleveland, though there is some potential for a call up to the NHL depending on his play and how the Blue Jackets season goes.
Blake Siebenaler – Defenseman – 6.5 PTS – D PS
Fort Wayne's Blake Siebenaler working hard to get ready for first real NHL chance. https://t.co/9W9G3v8Glf pic.twitter.com/QTFdUYrYjq

— News-Sentinel Sports (@TheNSSports) June 15, 2016

An offensive-minded defenseman Siebenaler is coming off of his third season with the OHL's Niagra Ice Dogs, producing 29 points and more impressively just 15 penalty minutes in 65 games. The carrying tool here is the pass, both to start the breakout and create chances in the opposing zone. While scouts don't project him to be a total liability in his own zone, it's unlikely he'll ever be counted on to play a shutdown role. At 6'1, 189 pounds, Siebenaler falls right in the middle of the spectrum, not small enough for it to be a concern but not large enough for it to be a plus. He's ultimately a mid-level prospect, but if things go well he could have a solid career as a 2nd/3rd pairing defenseman.
Siebenaler will report to his third NHL training camp later this month, chances are he'll break camp with the AHL's Cleveland Monsters.
Ryan Collins – Defenseman – 7.0 PTS – C PS
The only player on this list from the NCAA, Collins is entering his junior season at the University of Minnesota. Projected as a physical defense-focused defenseman, Collins's 6'5 frame allows him to clog up the zone with ease and has enough bulk to knock players off the puck. Beyond just preventing opposing chances, Collins has the ability to make crisp and effective breakout passes, creating scoring chances for his teammates. With this archetype of a player, the questions usually surround skating ability and Collins is no exception. Lack of mobility has been his stumbling block so far, but at 20 years old there is still plenty of time for him to improve.
Collins will be returning to the University of Minnesota for his Junior season.
That was a quick look at four prospects that could be worth keeping an eye on over the course of the season. They don't have the same pedigree as some of the guys higher on the radar but don't let that fool you, they project to have a chance at being pretty special one day.