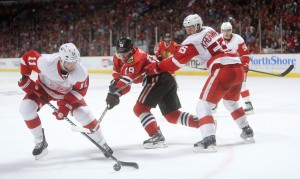 The Chicago Blackhawks had to be aware that the Detroit Red Wings were going to turn up the pressure in game two. After having a 2-1 margin in the shots on goal department, the Red Wings came out firing in a decisive 4-1 victory in game two.
Anaheim Ducks beat writer Eric Stephens said it best when the comes to facing a veteran team like the Red Wings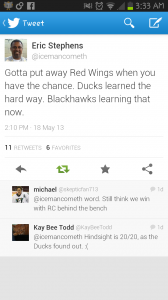 As was stated in a previous blog, Detroit wasn't just going to lie down. They're still a solid, veteran that took it to a team in the first round the Blackhawks couldn't beat at all during the season. There is something to be said about that.
If Blackhawks want to win game three, four things must happen. If these things do not occur, the series will be longer than previously thought.
Get Dave Bolland involved
Bolland is aptly nicknamed "The Rat" for a reason. Every team has a player that fills a certain type of role. He does the things that don't show up on a stat sheet. Creating opportunities for teammates and frustrating opponents by baiting them into penalties is Bolland's expertise. Even though he struggles in his role as second line center, his presence on ice during the playoffs often leads to good things for the Blackhawks.
Put Viktor Stalberg back into the lineup
Whatever Stalberg did to draw the ire of the coaching staff, it seems that he learned his lesson after being a healthy scratch for the first two games of the series. Seeing how things progressed in the game two. It's time to put Stalberg back in the lineup. He is widely regarded as one the fastest skaters in the National Hockey League. The Blackhawks are at their best when they control the puck. Stalberg is one of the best on the team at doing just that.
Treat game three as a must-win
Game three is a must win because it is exactly that, a must win.  The Blackhawks are playing a team that you don't give extra chances to. Detroit is a veteran team that will gain confidence if they get a favorable outcome to in game three. The Blackhawks must play with some urgency if that want to stop that from happening.
Play game three like it was game one
Stella got her groove back. So can the Blackhawks. In game one, the Blackhawks were the aggressor as they dominated Detroit 42 -21 in the shots on goal department. This means they held the puck much longer. In game two, not so much. The Blackhawks have to get back to winning the battles on the boards if they want to win game three.
The Blackhawks are an experienced team in their own right. Also, they are a well-coached team. Expect maximum effort from a team with Stanley Cup aspirations.