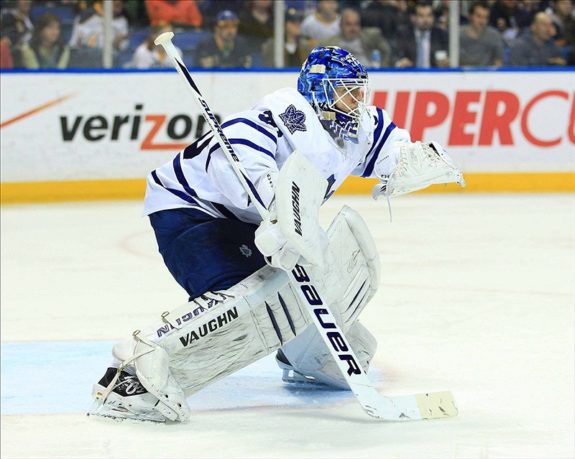 In any walk of life, when there is a split, there are bound to be hard feelings. News surfaced Monday that Toronto Maple Leafs goaltending consultant Francois Allaire had left the club due to a difference in philosophy and while Allaire seems to be very bitter, by all accounts Maple Leafs general manager Brian Burke has no regrets.
Tuesday afternoon Burke's comments on the situation came to light on the Maple Leafs website. Burke didn't mince words, implying that Allaire's refusal or inability to change his coaching style led to a soured relationship between Allaire and the powers that be.
"The position has evolved in the last three to five years," Burke told Mapleleafs.com. "Nobody plays the classic stand-up anymore either. Everything advances."
Allaire, who joined the Maple Leafs as their goaltending coach in 2009, seemed miffed at the organizations intrusions and made it clear by his comments posted on the Maple Leafs website that he resents the interference.
"To be honest, I don't think the Leafs need a goalie coach," said Allaire. "I think they (Maple Leafs organization) have enough of them. They have two or three guys who were making decisions with the goalies. In the NHL, that's not the way it works… If that's the way they want to operate, then I'm not there."
Having brought along the likes of Patrick Roy, J.S. Giguere, Ilya Bryzgalov and Jonas Hiller, Allaire was expected to get results from James Reimer and Jonas Gustavsson. That said, did anyone really think Gustavsson or Reimer would ever be the second coming of Roy? Clearly, Allaire's resume is as strong as they come, but something went wrong in Toronto.
Widely felt to be one of the best goaltending coaches on the planet, Allaire struggled to get a measure of consistency out of his goaltenders in Toronto with failed attempts to mature both Gustavsson and Reimer. The Maple Leafs placed 29th in goals against average last season and while Allaire is not solely at fault, clearly he has to shoulder at least some of the blame.
While Burke points to outdated coaching and has questions about the validity of Allaire's preferred butterfly style, one wonders if the lack of success had more to do with a lack of talent rather than Allaire's methods and approach?
Gustavsson came to the Maple Leafs amongst great hype that he was the best goaltender not playing in the NHL, while Reimer took the Maple Leafs by storm two seasons ago posting a 20-10-5 record to go along with a 2.25 goals against average, 0.925 save percentage and five shutouts through 37 games in 2010-11.
Many educated fans feel both Gustavsson and Reimer are nothing more than glorified second stringers—a stigma Reimer will work hard to erase next season, as will Gustavsson, albeit in a Detroit Red Wings uniform.
With Toronto looking to go with Reimer and Ben Scrivens to start the 2012-13 season (if there is one) perhaps a new voice will be of value to the youngsters, who were likely confused by too many coaches telling them what to do.
With all the turmoil surrounding the Maple Leafs goaltenders Burke can rest easy and should have no regrets about Alliare leaving for greener pastures—wherever that may be.
Going forward the Maple Leafs will turn to former NHL goaltender Rick St. Croix, who was serving as the goaltending coach with the St. John's IceCaps of the American Hockey League.
Through 130 career NHL games St. Croix (a former Maple Leaf and Philadelphia Flyer) posted a 49-54-18 record with a career 3.71 goals against average and a paltry 0.841 save percentage.
St. Croix, who has been running his own goaltending school for 20 years, has worked with Vancouver Canucks goaltenders Cory Schneider and Eddie Lack from his time with the Manitoba Moose of the AHL (working alongside Randy Carlyle). St. Croix also worked with Eddie Belfour and Marty Turco when he served as the Dallas Stars goaltending coach, culminating in winning a Stanley Cup (1999) with Belfour and helping Turco become an All-Star calibre netminder.
With Maple Leafs head coach Randy Carlyle expected to go with a defense-first style of play next season both Reimer and Scrivens should benefit, but it remains to be seen how effective St. Croix will be. Change does not come easy, but change can be a very positive thing for a young goaltender, a fact Burke is clearly banking on.
While Toronto is counting on Reimer for a big season, Scrivens, who worked with Allaire for a number of years, could be the wild card in all this. Scrivens posted spectacular numbers during last seasons Calder Cup run with the Toronto Marlies, registering an 11-6 record with a sparkling 1.92 goals against average and a solid 0.935 save percentage. Should Reimer falter Scrivens will be waiting in the wings for his shot as he has all the physical attributes and mental toughness to be a number one goalie at the NHL level.
Clearly, St. Croix's teaching will go a long way in determining both Reimer's and Scrivens' futures. We can only hope he has the same influence on them as he did with Belfour, Turco and Schneider.