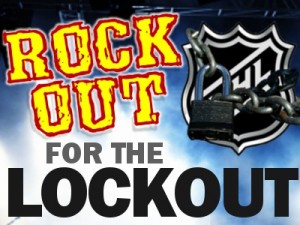 With the NHL lockout firmly in place and both sides entrenched for what may be a long, drawn out battle, we're taking this opportunity to explore the musical side of the National Hockey League. Each week, we'll see what happens when hockey and music collide. Join us as we Rock Out for the Lockout.
---
Phil Esposito and the Ranger Rockers ! ! !

"Hockey Sock Rock"
Alan Thicke is best known as the dad from the long-running ABC sitcom Growing Pains.  He's also been the host of both game shows and talk shows.  Before all that, though, he was a songwriter.   The prolific Thicke penned quite a few memorable numbers, including the theme songs for such classics as Diff'rent Strokes and The Facts of Life.  Nothing, though, compared to the song he wrote for the New York Rangers in 1979.
The Rangers were hot off a trip to the Stanley Cup Finals – only their second Finals appearance since 1950 – when Alan Thicke and Phil Esposito decided to create this monstrosity.  Sure, it was for a good cause, the Juvenile Diabetes Research Foundation, but, well, just take a listen to Phil Esposito and the Ranger Rockers!!!  (Yes, those three exclamation points are part of the name.)
The Ranger Rockers!!!, by the way, consisted of the always-colorful Ron Duguay, Dave Maloney, and John Davidson.  Pat Hickey was there for the recording sessions and the album cover, but was traded to Colorado (the Rockies, not Avalanche, kids!) before the song was released, saving him from forever being immortalized in all his 1979 disco-era glory in this spectacular music video.
There's a lot of amazing things going on in this video – Duguay's amazing purple satin jacket, J.D. playing a sax solo on a ketchup dispenser, and backup vocals by the Unknown Comic.  Of course, behind it all is the artful craftsmanship and lyrical mastery of Alan Thicke, bringing us classic lines like:
You're my favorite chick, you're my first draft pick
Come and be my dream, come and join my team
Sweet, sweet cookie, you're my rah-rah-rookie
Can't you see you're my MVP
Come on and fill my soul, you're my only goal
Rock, rock, rock, rock, rock, a puck-a puck-a…
Rangers radio analyst – and willing participant in this musical diversion – Dave Maloney talked about the experience with New York magazine:
"There was an emphasis [from Madison Square Garden management] on, 'Okay, we gotta get these guys out there.'  So we go to the Finals, and that summer, Phil Esposito was good friends with Alan Thicke, the Hollywood guy, whose son has juvenile diabetes. […] Phil had coordinated it with Alan Thicke that we were going to record this 45 and any money that was raised was going to benefit juvenile diabetes. So that's how it all kind of evolved."

"It is fun to look at now. I must admit, when I originally looked back and saw it, I was like, "Oh my God." But yeah, I think it's cool."

"We did sing it, but I think they fixed it up. A lot of the final copy is Phil, because Phil and Alan Thicke were good buds. Most of what I can recognize of my participation is basically background yelling."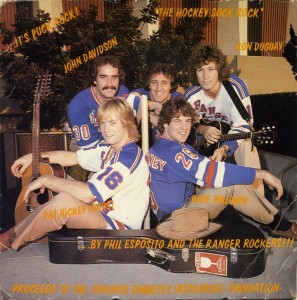 The Associated Press deemed "Hockey Sock Rock" to be a hit, claiming it could be the biggest since Disco Duck.  That's high praise.
The article also gave us this gem of a quote from Espo.  He said the record proved that "hockey players can do more than just hit guys over the head with their sticks."  I'm not sure I'm sold on that.  
Repeated listening of this song would drive anyone to hit someone – or themselves – over the head with a hockey stick.
"Throw down your stick, take off your gloves. Grab that sweater and you're ready for love."
Indeed you are, Phil.  Indeed you are.
Josh is a life-long hockey fan. He grew up as a fan of the New York Rangers, but thanks to their general mismanagement and years of mediocrity, has developed a great appreciation for every team across the league.
He's been writing about hockey on various sites since 1995. In addition to his work at The Hockey Writers, he also keeps tabs on the referees over at ScoutingTheRefs.com.