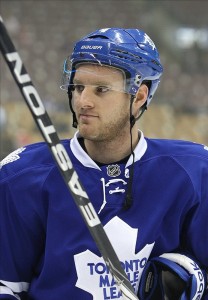 It's a storyline that continues to develop, yet has gone completely unnoticed. Some consider it major while others don't quite see it that way and the impact the answer will have on the Toronto Maple Leafs' success isn't fully known.
That is, what exactly will the Maple Leafs do with restricted free agent defenceman Cody Franson?
Franson, a native of Sicamous, British Columbia, joined the Leafs last summer when general manager Brian Burke pulled off the unthinkable by trading away defenceman Brett Lebda. Creating even more joy among Leaf fans at the time was the fact that Burke not only dealt Lebda, but he got a half decent return out of it. This didn't exactly please followers of the Nashville Predators, who Franson was acquired from in the Lebda deal, but life went on.
Since that trade, Franson has had an up and down career with the Maple Leafs, albeit that career is only 57 games young. With a lethal shot and swift puck handling abilities, Franson has proven to be an offensive force from the back-end at times. He remains inconsistent defensively, though, giving Leafs brass an off-season headache.
The departure of Luke Schenn makes it easy to assume that Franson will be back no matter what when training camp opens, whenever that may be. However, it's now September and a lockout has been imposed upon the players making it impossible for Franson and the Leafs to work on a new contract at the time. That doesn't mean the Leafs won't be able to re-sign him eventually, but would it make sense to do so when the opportunity arises?
At age 25, Franson would be a restricted free agent under what would now be considered as the old collective bargaining agreement. It's unclear exactly what category he'll fall under when a new agreement is signed, but you can place him with elite names (although maybe not quite at that level of talent) when speaking of restricted free agents.
That, his age, his potential and what he has shown to be capable of are all things he and his agent can and surely will use when trying to crank out a new deal with the blue and white, one that is expected to garner Franson upwards of $2 million per season.
Is that amount, two million, too much for a player of Franson's level? Possibly, but given the contracts players have recently been handed, there's no reason to doubt he would find that amount on the open market quite easily.
No matter what, someone is needed to fill Schenn's role on the blue line. Some say that player should be Franson, while others would tell you Jesse Blacker or Korbinian Holzer are better suited. There's competition on the Leafs' back end with few positions available, perhaps creating room for, dare it be said, a trade.
Let's try not to stir the pot or anything here, but the reality is that a trade could become very possible once a new collective bargaining agreement is signed. Players may fall under different categories, roster sizes may be changed and various other parts of a new agreement could alter the way some GMs elect to structure their teams.
And let's face it, if the Leafs don't re-sign Franson at some point, they must either trade him or let him go, whether that is by the same procedure followed under the old CBA or a new one. (Under the old agreement, players had until December 1 to sign a contract or they weren't eligible to play in that season.)
So what could Franson fetch for the Leafs on the trade market? Some teams would love to add another defender, most notably the Detroit Red Wings. It's unknown if they would be in on Franson if he were ever placed on the trade block, but one would have to assume so given their current make up.
Immediately decreasing Franson's value is his lack of a contract, meaning his new team would be forced to sign him as soon as possible or risk getting nothing in return. In this case, the return on trades are generally very minimal as proven by the Jonas Gustavsson trade that saw him go to the Winnipeg Jets, granted he was headed to unrestricted free agency. Surely Franson would bring a valuable bottom-six forward to the Leafs, but we all know they have enough of those.
It's clear the Leafs are currently in a logjam with Franson and the lack of a CBA isn't helping. All Leaf fans and brass can do at this time is sit and wait and see what a new CBA will bring, then they can worry about Franson.
Twitter: @LukasHardonk | Email: lukas.hardonk@gmail.com | Lukas' archive
For every Leafs article on THW, follow @THW_MapleLeafs on Twitter.
Check out Maple Leafs Central, a THW Network site.