Much like a first date, first impressions for athletes are extremely important. When a new player makes their way to Boston, people in the city work to find out information and watch their first few appearances very closely. These first impressions are critical to how the city decides to receive an athlete.
In the case of Frank Vatrano, he crushed his "first date" with Boston over the Green Monster and across Lansdowne Street. But how exactly did Vatrano manage to win over Bruins fans and the media so quicky?
Vatrano's First Impression
http://gty.im/497594582
A good starting topic for a first date is figuring out where you and your partner grew up. Growing up in similar places usually results in establishing a strong connection.
Vatrano hails from East Longmeadow, a town roughly 90 miles from Boston. The people of this city love a homegrown player, so Vatrano passed the first test being from Massachusetts.
Figuring out what school your date went to can further an initial connection. Vatrano spent his college hockey years with the University of Massachusetts at Amherst. UMass Amherst is arguably the most popular school in the state and everyone has a story about "The Zoo" whether you went there or not.
One final question you will come across on that first date is what you do for work. Vatrano introduced his profession to Boston in a big way. In his first NHL game, he scored his first NHL goal. Scoring your first goal is a big deal, but this goal came at the Bell Centre against the Montreal Canadiens. He followed that up by registering a hat trick against the Pittsburgh Penguins in his 17th contest.

Vatrano combined being from Massachusetts, attending a popular in-state university and scoring his first goal against Montreal to win over the Boston faithful. The city looked at Vatrano the same way a person does when just found their new love. He could not have started his relationship with Boston any better.
A Deeper Look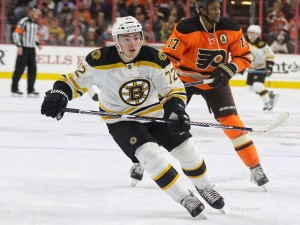 Vatrano spent two seasons at UMass Amherst. In his sophomore campaign, he registered 18 goals and 28 points. The following season with the Providence Bruins, he posted big numbers, netting 36 goals and 55 points in 36 games. It became apparent that he was ready to be called up to the big club.
With the Bruins, he dressed for 39 games, registering eight goals and 11 points. His performance led many to believe he would be a favorite to land  a top-six role for the 2016-17 season. Unfortunately, he suffered a freak injury to his foot during training. The injury required surgery and he has not been able to play at all this season.
Vatrano has recently been cleared to play and will get his chance at a top-six role with the Bruins soon. Many people are expecting him to have an immediate impact on the struggling offense. However, these expectations may need to be lowered.
What to Expect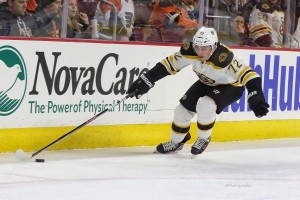 Since Vatrano came into Boston with a bang, the majority of fans have forgotten some issues from last season. The biggest thing forgotten is Vatrano went without a point in 31 of his 39 games.
This fact was hidden behind his hat trick and a three-game point streak. If he had played an 82-game schedule, he would have been on pace for only 24 points.
There is a lot the Bruins still have to learn about Vatrano. They do know he is a good skater with a dangerous shot. They also know that he is not a strong defensive player, a component Claude Julien harps on. His strength has always been his ability to score goals, but that is no easy task in the NHL.
To expect Vatrano to crack a top-six role and revive the Boston offense immediately is not entirely realistic. He should get every chance to do so, but he still has a long way to go before he becomes a potent goal machine at the NHL level. Boston fans would be wise to curb their expectations down before they end up disappointed. He has the talent to become a big player, but it could take some time.