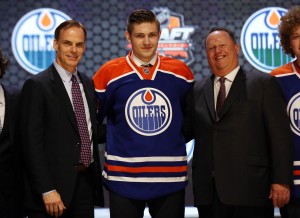 The first day of Free Agency is over, and there have been many changes in Edmonton. The Oilers bid to improve their roster started at the NHL draft, when they made the wise decision to take Leon Draisaitl over Sam Bennett. The German prospect is a bigger body with a lot of offensive upside, and will add a much-needed new dimension to their roster. But that was only the beginning.
The Gagner Era is Over
Sam Gagner was one of those junior stars who was never a lock to be an impactful NHL player. The Oilers rushed him into the pros at 18, and perhaps with a little more development he could have been much more effective. But hindsight is 20/20, and Gagner's tenure in Edmonton finally came to a much-needed end. Gagner isn't a bad player. He's a character guy and a strong leader, but he was no longer a fit with the Oilers.
Edmonton probably could have gotten more for him last summer, but the return for Gagner was decent. They got a legit NHLer in Tampa Bay Lightning forward Teddy Purcell. The 28 year-old winger had a career high in goals (24) and points (65) back in the 2011-12 season, and certainly has that potential to be a 20 goal guy in Edmonton. But the key with Purcell is that he's 6″3 and 202 pounds. The Oilers clearly covet size. Gagner was eventually shipped by the Lightning to Arizona.
Who is Benoit Pouliot?
The Oilers made a few signings during the free agent frenzy, but the most notable was the five year, $20 million dollar contract to journeyman Benoit Pouliot. Originally drafted by Minnesota fourth overall in 2005 by Minnesota, Pouliot has been labeled by some as a bust. His skill is undeniable, but he does little when he isn't scoring, and goes into slumps too often. His boneheaded penalties were a source of frustration for the Rangers during the playoffs, but he contributed with some big goals.
One thing about Pouliot, though, is his size. The Oilers wanted to get bigger, and they're doing that. Some might say it's not worth the trouble just to get a bigger body, but the team was far too easy to play against, and Pouliot has a nasty streak in his game, something the Oilers lack up front. Five years is a long time, and this has possible regret written all over it. But the Oilers addressed some of their needs, and no one can fault them for that.
Edmonton Welcomes New Blueliners
The other signing of note for the Oilers was that of shut-down defenseman Mark Fayne. The former New Jersey Devil isn't a point producer, but at 6″3 he's a big body on the back-end who will be effective against the oppositions top lines. His four year, $14 million dollar contract is a solid one, and the 27 year-old will be a great fit on the Oilers top pairing.
The Oilers also brought in farmhand Keith Aulie, who's even bigger than Fayne at 6″6 and 228 pounds. Aulie played under coach Dallas Eakins in Toronto so the familiarity is there. Aulie has the size, but not a lot of point production. He will be another bruising defenseman, and the Oilers are hoping he can find his game in Edmonton. He has struggled to be an NHL regular, but the tools are there.
The Oilers didn't add any real big names so far over free agency, but they got bigger and that was a huge key. They were able to move Sam Gagner and they got the guy they wanted in the draft. Craig MacTavish certainly gets a passing grade for now, but it remains to be seen what the results on the ice will be.