I can't help but wonder over the past month and a half, if Penguins' GM Jim Rutherford even knows what year it is.
Does he know that he's the GM of the Pittsburgh Penguins? Does he even know he's in Pittsburgh?
For the love all things holy and pure, does he know what he's doing?
Stay with me and I assure you that by the end of this article, you'll understand where I'm coming from.
Rutherford almost seems to be doing the exact opposite of what he says he's going to do. When introduced as new Pens' GM back at the beginning of June, he said that he wanted a team with more grit, more character. A tougher team. One that will win puck battles along the boards and isn't afraid of hard work.
Then he hires new head coach Mike Johnston (after his first two choices turned him down), who prefers a skill/speed/puck possession game. Not that you can't have all of these traits, but at no point did Johnston ever mention the same qualities in a player that Rutherford had mentioned previously, and vice-versa.
So are the two on the same page? Does Rutherford know anything about Mike Johnston the coach? His system? His preferences in a player?
After Johnston's press conference, it certainly didn't seem like it.
The James Neal Draft-Day Trade
I've said it before and I'll say it again here: I'm not totally opposed to the James Neal trade. I just think Rutherford could have gotten a bigger return in terms of quantity.
I don't know much about Patric Hornqvist or Nick Spaling, but all indications so far of the two say that they're exactly the types of players that Rutherford covets for this team.
So out goes James Neal, a skilled sniper with an edge, but not much in the way of grit and toughness. Okay, I get it.
After the deal, Rutherford made the comment that he would search for a winger for Evgeni Malkin through the free agency route. No doubt Malkin is probably upset at the trade of his rifleman, Neal.
Alright. We heard plenty of names in the days leading up to yesterday's opening of the NHL's free agent signing period, and plenty more on which were speculated. It shouldn't be too hard to find a guy willing to come to Pittsburgh and play alongside one of the best in the world in 71. Nikolai Kulemin seemed to be the match made in Heaven.
Free Agent Frenzy: Day One
At just past 12 o'clock noon in the eastern time zone, it was announced that the Penguins had signed former Buffalo Sabres defenseman and buy-out victim Christian Ehrhoff to a one year/$4M deal. I like Ehrhoff, and I think he'll fit in nicely here. More on that later.
The Pens didn't exactly a lot of room under the $69M salary cap with which to work before Ehrhoff's $4million. Which begs the question of Rutherford:
WH-What (yes, that's me stuttering)?
After trading James Neal, Rutherford said this team needed at least one more top-six winger. Said top-six winger would be sought after via free agency.
Then out of nowhere, in comes Ehrhoff and takes the money that had been earmarked for a winger for Malkin, supposedly.
Not to mention the bottom six forward depth is, and has been, atrocious for at least the past three seasons.
So, Rutherford spends $4 million on a defenseman. A DEFENSEMAN. The Penguins currently have nine defenseman that are considered to be NHL-ready, and one more is who is hoped to be NHL-ready. Here they are, see for yourself:
Kris Letang
Paul Martin
Olli Maatta (injured, doubtful for the start of the season)
Rob Scuderi
Robert Bortuzzo
Brian Dumoulin
Scott Harrington
Simon Despres (RFA)
Philip Samuelsson (RFA)
Derrick Pouliot (same injury as Maatta, doubtful for start of the season, only one of this grooup with no NHL experience)
Assuming that Despres and Samuelsson are re-signed, that's ten NHL-caliber defensemen. Ten.
Allow that sink in… TEN.
When you consider the glaring holes this team has at forward all over the lineup, was another defenseman really the way to go?
Now bring up the comments that Jason Botterill made to the Pittsburgh Tribune-Review's Josh Yohe over the weekend in Philadelphia, and this leads to even more head-scratching:
"We're extremely excited about these young defensemen," associate general manager Jason Botterill said. "Brian Dumoulin. Scott Harrington. Simon Despres. It's time for them to get an opportunity."
So much for that idea.
Christian Ehrhoff a Penguin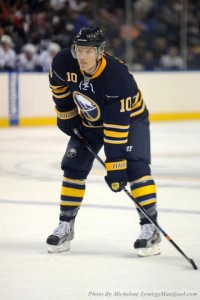 Christian Ehrhoff is but one man, capable only of taking up one roster spot.
The list above is the order in which I think the Penguins view their organizational depth chart for defensemen (the exceptions being Despres and Samuelsson, based on their RFA status).
Let's make the same list, only now include Ehrhoff and forget the RFA statuses of Despres and Samuelsson:
Kris Letang
Paul Martin
Christian Ehrhoff
Olli Maatta
Rob Scuderi
Robert Bortuzzo
Brian Dumoulin
Scott Harrington
Simon Despres
Philip Samuelsson
Derrick Pouliot
Botterill mentioned three names to Yohe in the interview: Dumoulin, Despres, and Harrington. The Pens are said to be very high on what they feel Scott Harrington can contribute both in performance and leadership (he was captain of the London Knights when they were runners-up for the Memorial Cup in 2012).
That is but one example. With Ehrhoff now in the mix, Dumoulin figures to be the odd man out in the NHL. Although it should be Scuderi based on his play from a year ago, and the fact that no one seems to think he'll fit very well in Mike Johnston's system.
Harrington and Despres could be mired in the AHL again because of veteran depth. While depth is a good thing to have (admittedly so by Penguins' brass when asked about the forward group), you can have too much of it. Which is exactly the case here.
This is where I need you to understand me. I'm not saying that Ehrhoff is a bad player. Quite to the contrary. I think he'll fit in very nice with this group of defensemen, and especially on the power play (think Sergei Gonchar).
He was an assistant captain in Buffalo and is a tremendous teammate by all accounts. A good quality character-type to have in the locker room.
My problem here is that I think the money should have been delegated elsewhere. Think of it this way: The Penguins have a nasty leak in their roof. But instead of fixing the roof, you use the money on an addition to the house. Sure it's nice to have, but was it a necessity?
In my opinion, its a bad way to spend $4 million when you began the day in need of not one, but TWO bona fide top-six wingers for Crosby and Malkin.
Now, the Penguins have even less cap space, and the logjam on defense hasn't gotten any better.
The Worst of It
Rutherford stuck his foot in his mouth again later on Tuesday afternoon when addressing the media. When asked point-blank by Josh Yohe about not adding a top-6 forward, Rutherford said that there wasn't a need to add any more forwards at this time. His reasoning? The team doesn't have to be constructed for a playoff run in September.
Do with that what you will.
Other Moves
The Penguins did add (well, one add and one re-sign) two players to the bottom six group later in the day Tuesday. Blake Comeau (1-year/$700K), most recently of the Columbus Blue Jackets, and Marcel Goc (1-year/$1.2M) whom the Pens acquired at the trade deadline back in March.
German goaltender Thomas Greiss, most recently with the Arizona (formerly Phoenix) Coyotes, was also signed to a 1-year/$1M deal.
Comeau and Goc are solid additions to the fourth line (unless the Pens don't being any other forwards, then Comeau will slot up to the third line), and Greiss has apparently been brought in to compete with Jeff Zatkoff to back up Marc-Andre Fleury. I could go on about bringing in a backup goalie at $1 million when Zatkoff is a plenty capable reserve, but let's just leave it at the analogy used above with the Ehrhoff deal.
Who knows, maybe next June I'll be eating my own words here, but right now, none of this feels right.
I'm very confused. I hope Jim Rutherford and the boys in management know what they're doing.