What is more Canadian than NHL Free Agency on Canada Day?
It's a day many fans have circled on their calendars to see where their GMs will make moves to sign big name players (and small ones), fill out their roster, and hopefully bring in the necessary talent that will help lead their team to Stanley Cup contention. It's without fail that each year GM's will overpay in length and in salary to players who flat out don't deserve it. This year was no different and boy was it a doozy.
We saw GMs throw money all willy nilly at some of the leagues most average players, so why not try to make a NHL top-six lineup (three forwards, two defensemen, and one goalie) of the worst, most overpaid signings on first day of free agency.
G – Ryan Miller – VAN – 3 yrs./$6M
Many goalies who were signed today were given reasonable contracts. Still, for the price tag, Ryan Miller wasn't a great signing. We know he's had a successful NHL career, but Miller is past his prime and not getting any younger. He may still have some good years left in him, but his play slipped after he moved from a worse team in Buffalo to a better team in St. Louis. His playoff numbers weren't impressive either. With a 2.70 goals against average and a .890 save percentage, many thought he played his way out of a solid contract, but Jim Benning fooled many with his eagerness to sign a legitimate starter. Vancouver still has much work to do before they build a contender around Miller, but in the meantime, they'll have to do with a 33-year old goalie with a $6M/yr cap hit.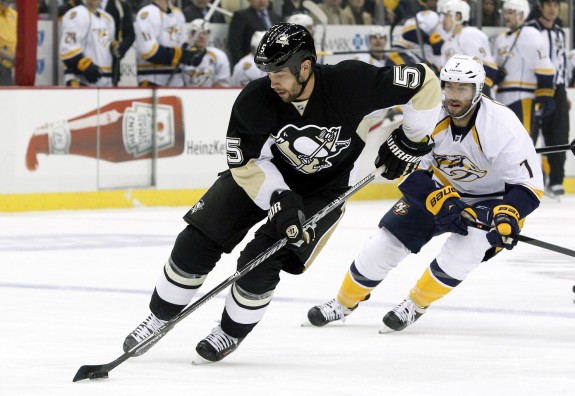 D – Deryk Engelland – CGY – 3 yrs./$2.9M
That's not a misprint. Deryk Engelland did indeed sign a 3-year deal worth $2.9M per year. While there were other players on this list who signed terrible contracts, this one takes the cake. When news broke of the signing, there were a vast majority who didn't understand what Brian Burke could possibly be thinking – and probably still won't. He's a 3rd pairing defenseman at best who made $575k last season. He scored a measly 12 points, which apparently is reason enough to offer him close to $3M a season…NOT! If Brian Burke is trying to get the Calgary Flames to tank for Connor McDavid, he sure got the wheels moving in the right direction with this signing.
D – Brooks Orpik – WSH – 5 yrs./$5.5M
Another former Pittsburgh Penguins defenseman that cashed out big on July 1st was Brooks Orpik. We know Washington is desperate for defensemen who can actually play defense, but $5.5M a season for a shutdown defenseman who can't skate and worries about the big hit more than positioning himself well to break up a play? Not sure about you, but for my money, you could've found a much more productive defenseman for a cheaper price tag. Plus, Orpik will be 38 by the time the contract is done, assuming he makes it to the end of the contract…
F – Leo Komarov – TOR – 4 yrs./$2.95M
Now I like Leo Komarov a great deal. I think he's a great player and has the skill to be a dangerous scorer with grittiness. But as it stands now the Maple Leafs signed a 4th line player to nearly $3M per year. Komarov played a checking line role with Toronto two years ago before jumping ship to the KHL. He went on a tear in Russia and has shown he can be an offensive threat, but the Maple Leafs are log-jammed on the wings. If he makes his way up the depth chart, it'll look like a solid deal, however it looks like he'll be in the bottom-six for now.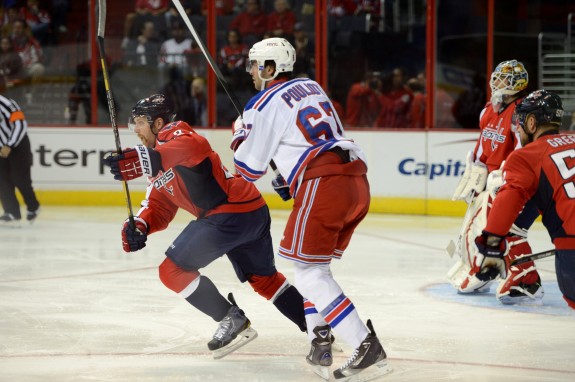 F – Benoit Pouliot – EDM – 5 yrs./$4M
Pouliot has played for a different NHL team each of last the five years. Next season he'll make it his sixth with a different franchise. The Edmonton Oilers signed Pouliot roughly $2M more than what he deserved. A former 4th overall selection of the Minnesota Wild, Pouliot hasn't been the point scorer many projected him to be. He has flashes of skill during games, but isn't consistent in his efforts. He was able to make it to the Stanley Cup last season with the Rangers, but may have been one of the worst players for the team. Pouliot was berated by fans for taking a few too many boneheaded penalties in the offensive zone during their run and ultimately wasn't going to be welcomed back to the Big Apple with open arms. Lucky for him, Edmonton was willing to great him with open wallets which may help ease the transition.
F – Dave Bolland – FLA –  5 yrs./$5.5M
Dale Tallon decided to get to the salary cap floor as quick as possible on July 1st signing Willie Mitchell ($4.25M/yr), Jussi Jokinen ($4M/yr), and putting the cherry on top by signing Dave Bolland to this egregious contract. Bolland was fortunate enough to play on some great Chicago Blackhawks teams and win two Stanley Cups, but by no stretch of the imagination is Bolland worth $5.5M dollars a year in the NHL or any other professional league. The best defensive forwards (Bergeron and Datsyuk) are also the ones who can put points up on the board and get paid good money. Bolland can't really attest to being a great point scorer, but can now say he gets paid well. That leads us to the question: Does Dave Bolland have incriminating photos of Dale Tallon? Because there's no other explanation for this ludicrous salary.