How far are the Toronto Maple Leafs willing to go to win playoff series? That's the question many are asking when it comes to this season's NHL Trade Deadline and the answers vary based upon who the Leafs might be willing to give up and how "all-in" the team is in an effort to finally get over their postseason slump. Are they a team that will only add complimentary pieces? Or, are they a club that is primed to go for the big fish, move prospects and picks, and potentially sacrifice their future should the plan not play out as intended?
---
---
Different insiders have outlined different agendas, but there's no shortage of conversation surrounding the organization. As GM Kyle Dubas waits to hear word on the status of defenseman Jake Muzzin, and in turn discovers how much cap space he actually has to play with, there are endless scenarios likely being diagrammed on an office whiteboard.
Recently, Elliotte Friedman suggested Dubas is the kind of GM who would try to do something out of the ordinary and he specifically mentioned a scenario regarding Timo Meier that has caught some attention.
What is the Bold Strategy the Maple Leafs Might Try?
While speaking with Leafs Morning Take, Friedman was discussing speculation that the Maple Leafs might be a team interested in Meier. It was asked directly if there was a shot Toronto could be in on this and what it would take. Friedman responded, "Like the thing with the Leafs is, you can do it and then flip him." He added, "And Dubas is the kind of guy who would think like that."
The reason this is such a bold strategy is that most teams rumored to be considering Meier as a trade target are doing so because they want to retain the forward long-term. Meier is a pending RFA and is due a qualifying offer of $10 million. He's not a rental for most teams because the cost associated with acquiring him is going to be astronomical, especially considering the teams that will line up if he's willing to talk contract and sign.
Should the Maple Leafs have no desire to extend him, they'd be paying a very high price for a rental, with the hope they can move his deal and recoup some of the cost, letting teams again talk to Meier about an extension in the offseason.
What Is the Risk Of Doing This?
There are plenty of risks associated with a deal like this.
---
Latest News & Highlights
---
First, and as Friedman points out, there will be a number of teams also in the running to acquire Meier at this season's NHL Trade Deadline. Among the favorites are the New Jersey Devils who are rumored to be ready to commit to the player. The Buffalo Sabres have also been mentioned and there should be a few other teams in the mix. Toronto will have to outbid them all because San Jose is going to take the best deal. Meier doesn't have trade protection worked into his contract, so there's no leverage from the player's side, nor the acquring team to speak of. This is a player that will come at a premium price.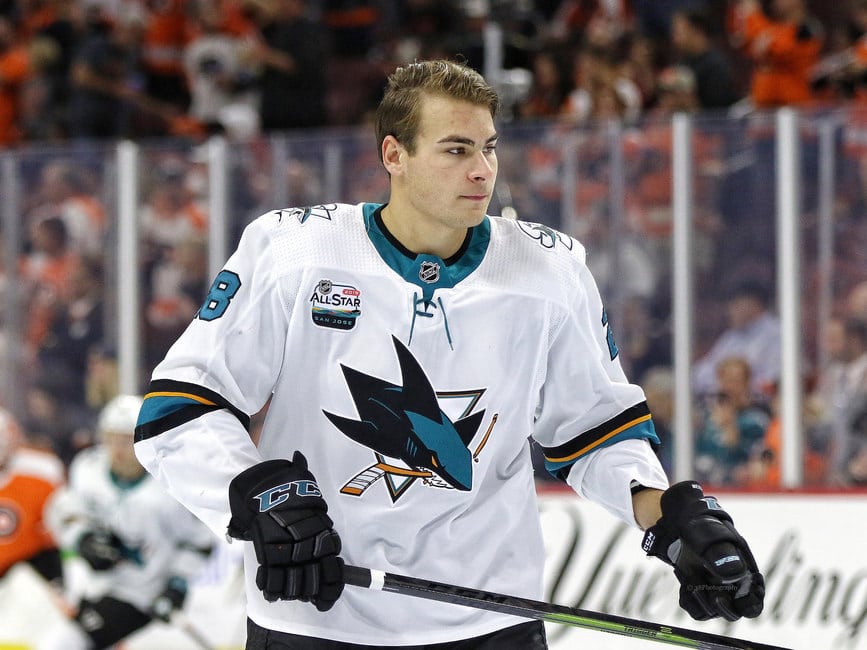 Second, the Maple Leafs will need to hope they can reacquire equivalent assets (or close to) that they'll be forced to give up to land Meier after they get their run out of him to end this season. That means exploring trade options with teams in the summer and hoping one pays well before the NHL Draft or free agency (the priority would be the draft to recoup some picks). Should they not be able to convince a team to give up those assets, they'll have mortgaged a good chunk of their future for a rental that leaves.
Meier Won't Be With the Maple Leafs Long-Term
For fans suggesting the team can just sign Meier to an extension, there is no shot of that happening in Toronto. They can't afford him and they likely wouldn't give up any of their top-four forwards to try. He's going to command north of $8.5 million on a new max-term deal and that's not in Dubas' budget… not unless the playoffs go so poorly that a complete overhaul is in order. Even then, keeping Meier wouldn't be a given because he'd likely have underperformed along with the rest of the team if they don't get out of the first round.
Adding Meier is 100% the team deciding he's the rental they want and going all-in to get him. This will take picks, the Leafs' best prospect and potentially more. And, there's no guarantee the plan works out. If it doesn't, jobs will be on the line.