Earlier this week, the Colorado Avalanche unofficially kicked off trade season in the NHL with a four-player swap involving two former first-round picks. The Avalanche sent forward Martin Kaut and defenseman Jacob MacDonald to the San Jose Sharks in exchange for defenseman Ryan Merkley and forward Matt Nieto.
---
---
While the end of Kaut's tenure with the organization and the start of Nieto's second stint with the Avalanche are interesting enough, the biggest wildcard in the deal is the 22-year-old Merkley.
The polarizing blueliner flashed tremendous offensive potential during his time in the Ontario Hockey League (OHL), accumulating 269 points (54 goals and 215 assists) in 248 games. His output was tantalizing enough for the Sharks to pick him 21st overall in 2018, although numerous on- and off-ice transgressions contributed to many teams hesitating to draft him higher.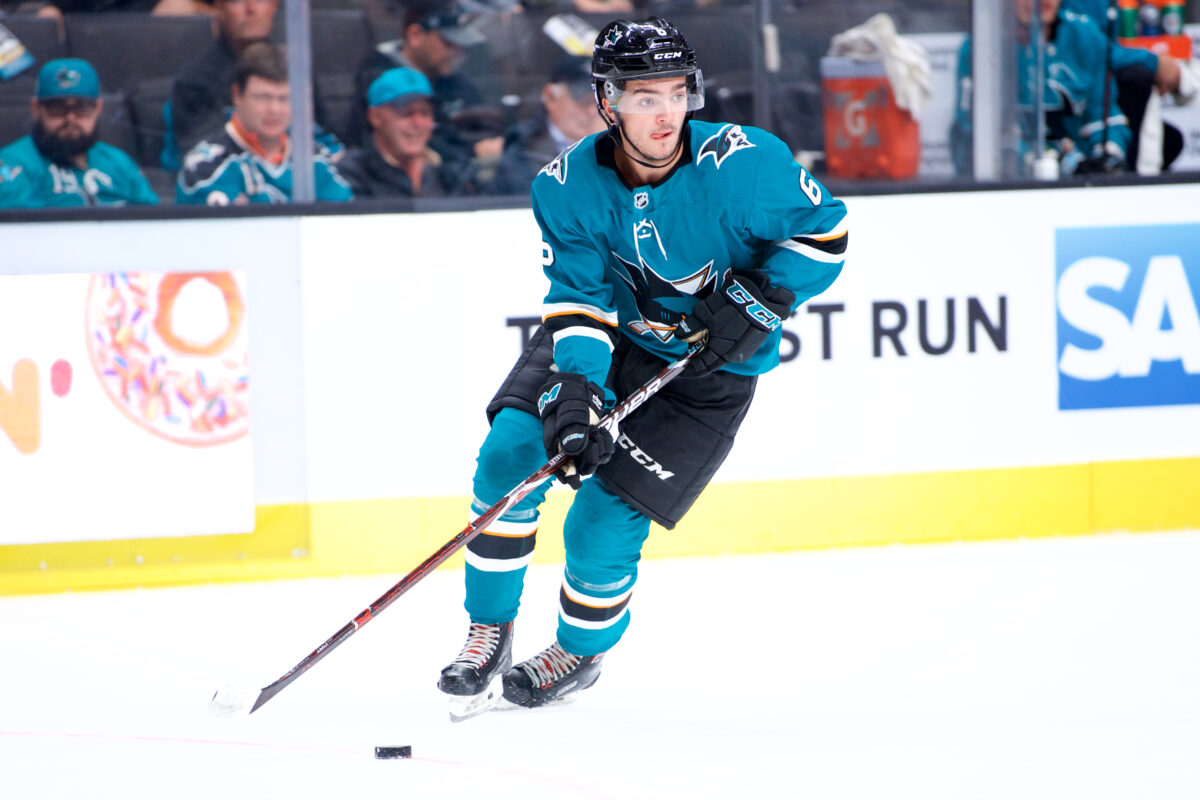 Since then, Merkley has spent most of his professional tenure to date in the American Hockey League (AHL), where he has scored 44 points in 93 games with the Sharks' minor-league affiliate. Aside from a 39-game audition (one goal and five assists) with the Sharks last season, the young defender doesn't boast much of an NHL resumé, and he's played the entire 2022-23 campaign in the AHL.
Merkley will begin his Avalanche tenure in the AHL with the Colorado Eagles, but a strong showing could produce a quick call-up for the promising blueliner. He is in the final year of his entry-level contract (ELC), and will become a restricted free agent (RFA) upon its expiration this summer, but is ineligible for salary arbitration given his lack of requisite professional experience.
A fresh start should help Merkley find motivation while trying to extend what has been an underwhelming professional career to date. Still, if he can find success anywhere, it's in Colorado. Let's dive into how, and why, the Avalanche can likely take another depreciated asset and fashion it into something useful at the NHL level.
Avalanche System Could Play to Merkley's Strengths
The AHL doesn't keep very detailed stats when it comes to metrics other than simple boxscore numbers, so we'll have to stick with analyzing Merkley's 39-game performance in 2021-22. Digging deeper into his underlying metrics, it's arguable he should have been given a longer look with the Sharks.
One of Merkley's clear strengths is his ability to use his skating to his benefit at both ends of the ice. During his half-season stint with the Sharks last season, he drew seven minor penalties while taking only four, posting a plus-3 penalty differential in all situations.
Looking at results from recent seasons, the Avalanche clearly place an emphasis on the type of defender who has to compensate for being out of position. Between 2020-21 and 2022-23, Cale Makar (plus-11), Samuel Girard (plus-5), Merkley (plus-3) and Devon Toews (plus-1) all rank within the top 50 of all NHL defensemen in penalty differential.
Even though I'm stating the obvious, it bears repeating that being a net-positive when it comes to penalty impact is an underrated and invaluable skill for a team that often feasts on the powerplay. One doesn't need to be a great skater to draw penalties at a high rate, but it definitely helps to have the tools needed to evade oncoming forecheckers.
Given that the Avalanche expect their defensemen to drive breakout and transition efforts, adding Merkley gives them another blue line option who can leverage their mobility and skating to create offensive zone mismatches. Even with a severely depleted roster, the Avalanche have still completed the second-highest rate of zone entries and sit 10th in shots taken off of the rush. With a fully healthy lineup, one would expect those rates to skyrocket.
Corey Sznajder's tracking data had Merkley as the Sharks' second-best defenseman in terms of zone entries completed per 60 minutes, and the percentage at which those entries were facilitated while maintaining possession of the puck.
At the other end of the ice, Merkley completed the third-highest rate of successful zone exits off of defensive zone retrievals on the Sharks. He trailed only Erik Karlsson and Brent Burns but like the rest of San Jose's blue line, posted an equally high rate of botched attempts.
Merkley's effectiveness hasn't been limited to just carrying the puck in, he's been able to wield his playmaking chops even if his six career NHL points don't exactly scream offensive supernova.
According to Sznajder's data, Merkley ranked third among Sharks defensemen – once again trailing Karlsson and Burns – in both primary shot and scoring chance assists per 60, the final completed pass prior to a shot on net or a scoring chance. His vision is one of his most effective tools, and he flaunts it with regularity.
Merkley's output in both categories was above-average relative to other blueliners and demonstrates that his offensive skillset can translate to the NHL level. With appropriate usage and favourable deployment, his flaws can be mitigated to the point that his strengths can provide positive value on an everyday basis.
Youthful exuberance, inexperience, and team strategy likely contributed to Merkley's high-risk, high-reward style. That aggressiveness is something that can hopefully be fine-tuned and effectively harnessed with greater professional seasoning in a more structured environment.
Merkley Has Obvious Defensive Limitations
Merkley's negative defensive impact has – and continues to be – his biggest flaw and roadblock when it comes to cementing himself as a full-time NHL defenseman. Just like the previous section, his efforts in 2021-22 are the focus of this defensive analysis.
You may also like:
---
Latest News & Highlights
---
With how much the NHL has evolved to reward quick and fluid play in transition, defending zone entry attempts have become just as important as being able to create them going the other way. Merkley struggled with this part of his game in his rookie season, grading out as one of two Sharks defensemen to allow an above-average rate of entries resulting in a scoring chance while also being targeted more often than his teammates.
Understandably, that leakiness at the blue line combined with his shaky in-zone defensive play generated some abysmal possession metrics at 5-on-5, even when accounting for the Sharks' shallow roster depth last season.
According to Natural Stat Trick, the Sharks only accounted for 47.5% of shots (SF%), 46.4% of scoring chances (SCF%), and 43% of expected goals (xGF%) with Merkley on the ice at 5-on-5.
Those results are poor in isolation and considering he posted negative relative results (how the team fares with him compared to without him), Merkley can't fully pin the blame on a weak supporting cast.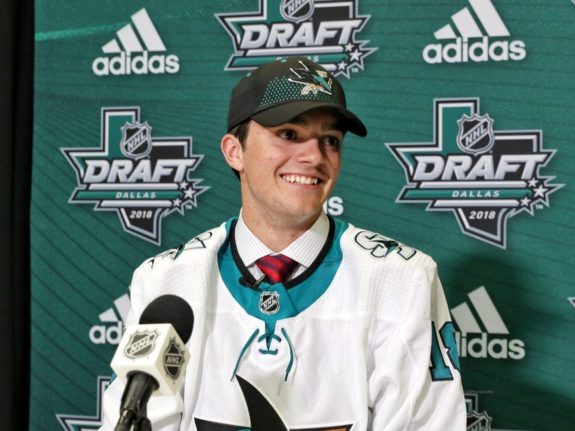 Merkley's on-ice offensive generation graded out as around average but his concession of scoring chances tanked his overall share of opportunities to well below the league median.
At this point in time, Merkley appears to need significant sheltering and favourable matchups to positively impact the run of play. For now, his biggest detractors have the upper hand.
Merkley's NHL Career Hangs In the Balance
It's difficult – and foolish – to entirely write off a 22-year-old before he's even experienced a full season's slate of games, but this trade feels like a referendum on Merkley's NHL future.
Merkley clearly possesses the tools to generate offence at even strength and on the power play, and his player archetype is one that is currently in vogue around the league. However, defensive shortcomings have caused similar blueliners to flame out of the NHL and seek refuge in the AHL or in Europe, so even joining the Avalanche doesn't guarantee success.
Colorado's top decision-makers likely expect that the presence of strong role models and the organization's newly-minted championship pedigree will rub off on Merkley and iron out the issues that have plagued him thus far. It's an uncertain gamble to be sure but given the low acquisition cost, it's a low-risk bet that could pay relatively immense dividends down the road.
Data courtesy of AllThreeZones, Evolving Hockey, Hockey Reference, and Natural Stat Trick.