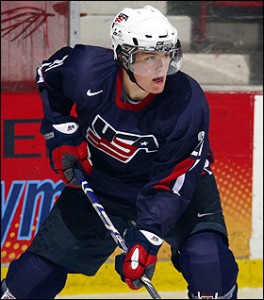 When teams have a terrible season the eventual payoff for a year at the bottom can change a whole team's fate. The Carolina Hurricanes turned their 2nd overall selection in 2003 into a Stanley Cup Championship on the back of Eric Staal. The Columbus Blue Jackets got Rick Nash 1st overall in the 2002 Entry draft and the Washington Capitals got Alexander Ovechkin 1st overall in 2004. The Chicago Blackhawks scored Jonathan Toews 3rd overall in 2006 and Patrick Kane 1st overall in 2007. Pittsburgh has reshaped the entire face of its organization with Marc-Andre Fleury (1st overall in 2003), Evgeni Malkin (2nd overall in 2004), Sidney Crosby (1st overall in 2005), and Jordan Staal (2nd overall in 2006).
So when the Flyers had their blemish of a year for the 2006-2007 season many in Philadelphia were excited at the opportunity failure brought with it. The high draft selection was a prize for the fans who endured the roughest season ever in Philadelphia, but with their bottom of the barrel #30 position in the NHL rankings they failed to get themselves the first overall selection. The team that had made its career off of picking later in the first round couldn't even net the coveted first choice when they were last in the league. Instead the brilliant invention known as the NHL Draft Lottery awarded the first pick to the Chicago Blackhawks who chose Patrick Kane. Everyone knows what a wonderful player Kane has become, and the very thought of him added to the high gear offense of the orange and black should send shivers down the spine of any other head coach in the NHL. Call it fate, bad luck, or the even more humorous conspiracy theory that claims the league hates its Philadelphia team; the Flyers were stuck with the 2nd overall selection and James van Riemsdyk for better or for worse.
So as other players from van Riemsdyk's draft class continue to make their NHL debuts in solid fashion such as Jakub Voracek, Columbus winger taken 7th overall, Kyle Turris, Phoenix center taken 3rd overall, Sam Gagner, Edmonton center taken 6th overall, Karl Alzner, Washington defenseman taken 5th overall, and of course the now All-Star Patrick Kane taken by Chicago, many are beginning to wonder just where James has disappeared to.
The less knowledgeable hockey fan would have declared van Riemsdyk a bust already since he has failed to appear in any NHL game since being selected 2nd overall two years ago this June. In fact many are just now being shocked at Bobby Ryan's mention among the rookie of the year nominees after being drafted 2nd overall by Anaheim in 2005. Ryan is another big bruiser of a hockey player who grew up just south of van Riemsdyk in New Jersey (and a couple towns over from the place I call home). All this means is that you shouldn't expect every forward taken in the top 3 draft selections to come out and score 82 points at the ripe old age of 18. In fact Bobby Ryan is just making his NHL debut in spectacular fashion this season and will be 22 on March 17th. Van Riemsdyk, on the other hand, will be turning 20 on May 4th.
His age hasn't stopped this power forward from making a name for himself among other levels of competition though. While people continue to claim his World Junior Championships performance this past winter was less than impressive they only need to look at his stats to see his full impact. The year before this past World Juniors Tournament in Ottawa JVR led the tournament in scoring with 11 points 6 games. This year at the tournament, his "down" year, he scored only 10 points in the same amount of games while being overshadowed by players on other teams. Though he failed to lead USA to a medal in his only two lifetime appearances at the tournament he certainly left his mark. Van Riemsdyk's 11 total goals in the two tournaments were good enough to put him second on the USA all-time list for the tournament just behind USA Hockey legend and former Flyer Jeremy Roenick. That's certainly no stat to scoff at.
Then people immediately bring up the fact that James never once managed to bring his team a medal so he must not be clutch enough to put the puck in the net when the game is really on the line. To that there is only one reply:
httpv://www.youtube.com/watch?v=Tq1XIwykvJ8
It never fails. People will always forget the reason that team USA was even able to finish in 5th place this year. Medals, or lack there of, will always speak more about an individual's performance than that of his team. For the Flyers fans there will always be worry. For the fans of other teams there will always be doubt. For myself there will only be that feeling knowing that I got to watch a kid play before he ever made it to the big time; knowing that I stood by him when no one else would.
His tournament "letdown" did not go away from there. Instead the phenomenon of those that thought van Riemsdyk was going to be another first round bust only grew. When using his tournament performance as an explanation failed these same people turned to his performance in college hockey.
Of course no good player would ever play hockey in college after being drafted so high by a professional organization as good as the Philadelphia Flyers. They should be in the NHL with their team or at the very least getting valuable experience playing in Canadian Juniors against more talented competition.
While it is true that he would be getting more games a season in Canada with the OHL, WHL, or QMJHL it is very important to remember that van Riemsdyk is playing against juniors and seniors at the college level. He is the number one player on a limited (depth wise) University of New Hampshire team, and of course, as with any level of hockey, the number one player on the team goes up against the number one players on the opposing team. He is playing against the best that collegiate hockey has to offer, most of whom are older, bigger, stronger, and faster than their younger counterparts. On top of that JVR plays in currently the toughest NCAA hockey division: Hockey East. In this division the University of New Hampshire must compete with teams such as the #1 ranked Boston University and the #4 ranked Northeastern as well as the ever-tough Boston College and Vermont.
Ignoring his age, the mark on his back as the 2nd overall selection, the lack of help from his team, and his tough division many of those doubters out there still claim that his offensive performance in his sophomore season is disappointing. He is pretty far down the list of point producers in the entire NCAA. Even other sophomores are above him on the list, but many of those players have been involved in more games (up to 4 more) than James who has improved on his freshman season by 4 goals and 3 points. He continues to soldier on among the college ranks as by far the leading point producer on his team. The next closest forward has 10 less points than JVR while he continues to produce more than a point per game.
Still the struggles for the elite NHL prospect don't end there. Up to the trade deadline there were many reports claiming that he could be used as trade bait for a high end defenseman or goaltender such as Jay Bouwmeester of the Florida Panthers. Rumors spread that Flyers general manager Paul Holmgren was unhappy with his NCAA performance, unhappy with his World Juniors performance, and even more unhappy at the number of games he was getting and the level of competition facing his highest prospect in college competition. It remains no secret that he and Holmgren have discussed the issue of joining the Flyers or at least the AHL Phantoms on numerous occasions, but van Riemsdyk has remained solid on his decision to go to school and get an education thus far. That though could all very easily change in the future.
In a recent article on Flyers.NHL.com van Riemsdyk reacted to the hype surrounding his future at the NHL Trade Deadline.
"It first started on my Facebook with people saying there are trade rumors and you're going here and there and blah, blah, blah," said vanRiemsdyk. "Hockey's a business and the NHL is a business. GMs are going to do what's best for their team."
The same article mentioned that many of these rumors were unfounded. James is just worried about his #9 Wildcats going into the NCAA tournament, his education, filling out his power forward frame, and becoming the best hockey player he can be. Paul Holmgren agrees that JVR has his priorities in line, but he, like thousands of other Flyers fans, would love to see "vanRiemsdyk" written across the back of an orange and black sweater in the near future. I don't blame him. In fact I'm right there with him. Right now the kid is the number one prospect not currently playing in the NHL as listed by Sports Illustrated, HockeysFuture.com, SchoolYourPool.com, as well as virtually every other group that grades hockey prospects. There's no question that the kid has potential. Those that think the Flyers are willing to give up someone who could turn out to be an American hockey legend for a rental aren't using their heads.
Right now though JVR is busy building his college hockey legend. On March 8th his #9 UNH team (3rd seed in Hockey East) drew 6th seed Boston College as its first round partner for the Hockey East Tournament. The winners of each best of 3 series among the top 8 teams in Hockey East will move on past the quarter finals to the tournament to proclaim a division winner at the 25th Annual Hockey East Championships to be played at the TD Banknorth Garden in Boston. The winner moves on eventually to the Frozen Four which is set to take place at the Verizon Center in Washington, DC. This year van Riemsdyk has thousands of fans in Philadelphia cheering his Wildcats on as they look for an NCAA championship. The road will be tough, but JVR has been in this situation before; tons of pressure as the biggest face on the team against the best competition his opponents can offer. Though he may not lead his team to victory his growth as a great hockey player continues.
To those orange and black maniacs out there pushing van Riemsdyk to come out early, relax. Be patient. Power forwards take time to develop. We all want everything now, but if we just sit back and watch things unfold we will realize that it was all for the better in the end. Let James run his course for however long he wants to take in college. The last thing the Flyers need is another gigantic contract since entry level deals for high end draft picks are running anywhere from $2.00 to $4.00 million these days. Take note from the Anaheim Ducks and Bobby Ryan. How much better will it be after all of this waiting when JVR finally puts on the Flyers jersey and takes the ice at the Wachovia Center? We waited patiently for Claude Giroux to get into a rhythm and look at what he's doing for the Flyers now. I'm getting goosebumps just thinking about what Giroux and van Riemsdyk will be able to do with Mike Richards and Jeff Carter some day very, very soon.