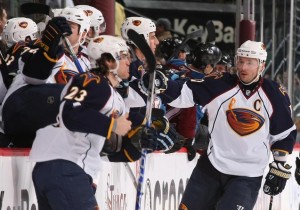 There are 10 teams in the NHL that should take this advice for the remainder of the season: Do not play your backup netminder against the Thrashers. Do not water down scoring against the Thrashers. Do not undermine these Thrashers.
Atlanta has undoubtedly been an embarrassing team to lose against, but in the new year 2009, it's becoming less of a disappointment. Today, a loss to the Thrashers is a warning sign to other teams: these guys can play tough. The offense of a hot Ilya Kovalchuk, Bryan Little, Todd White, and Rich Peverley is putting too many pucks in net for teams to handle, and the surging defense is not only keeping the puck out of Atlanta's zone—it's scoring some goals along the way. Just ask a couple Northwest division teams. Calgary still has yet to win in Philips Arena with the help of Enstrom's goal last Sunday, and the Thrashers remain perfect in Pepsi Center since 2002 with help from Bogosian's second period goal.
Here are the not-so-good stats Atlanta can't escape due to their rough start. The Thrashers give up the second most goals in the league, only a few behind Toronto. Their PK, though improving, was too horrible for the first half of the season, and they still sit at 30th. Too many consecutive losses in 2008 and January 2009 give the Thrashers quite a climb from 13th place in the East which would be 14th if not for Tampa's unchanging mediocre performance. Ottawa's hot performance doesn't help the Thrashers.
The Thrashers inexcusabl[y horrible] performance for over half the season leave them in a statistical hole that they will struggle to hoist themselves out, but make no prejudgment based on numbers. The boys in blue are hot, motivated, and ready to build from these recent experiences.
These numbers may or may not convice anyone. Atlanta is on a three game winning streak right now, two of them shutouts by Kari Lehtonen, one a 3-goal victory (5-2 win against Calgary). 6-3-1 (.650)  in their last 10 games, 9-6-1 (.633) since February 3rd, 14-14-1 (.500) since 2009. The powerplay is still mediocre at worst: 19.5%, 13th in the league.
Individual stats?
Lehtonen's GAA, while again still one of the league's worst, is falling considerably. It rests at an even 3.00 while his SV% is 23rd in the league at .912—faring better than Nabokov, Fleury, Bryzgalov, Kiprusoff, and Turco to name a few with no mention of Carey Price whose SV% is falling faster than the stock market.
In two months, Kovalchuk managed to move from being second best on his team in scoring and points (topped by Bryan Little and Todd White) let alone unnoticed in the league to leading his team in points, ranking 6th in the NHL with 78, league's 4th in goals with 36.
Colin Stuart has only played 18 games with 3 shorthanded goals to show for it. Had he have played a whole season, he would have been on pace lead the NHL in shorthanded goals. He's on pace for 5-6 by season end. In a whole season, to this point he'd have 11 SHG and end the season with 13-14.
Todd White and Marty Reasoner are two vets in double-digits NHL seasons that are on pace to set career records. White needs one more point to tie his career record of 60 points with Ottawa. Reasoner needs one goal to tie his career scoring record of 11. 8 more points will tie his record at 31. For a checking line center, that's not bad.
Rich Peverley is still playing at a point-per-game since his claim off waivers from Nashville. In 24 games, he has more than doubled his best NHL season in points (10 points in 33 games). He has 10 goals, 14 assists (24 points) and is a +10 since joining the Thrashers.
Bryan Little is turning heads around the league. In his first full NHL season, taking away 3 games with an injury, he's on pace for over 30 goals this season. He scored his first career hat trick against Carolina on December 26, 2008.
There is no stat for confidence, determination, and heart. If there was, Atlanta would be a league leader right now. John Anderson's finally happy, the players likewise.
These guys are playing .500 hockey and better. Individual players are improving, a few having the best seasons of their careers in Atlanta. Nothing is stopping them, and they don't need no stinkin' high draft pick. They want to win, and they want to prove to the NHL that they're going to play 82 games of dangerous hockey next season.
And may it be so. This writer supports this underdog.