The NHL's Combine week is all about getting to know the future of the league. Some of the top prospects expected to go in the upcoming draft meet with teams and are put to the test – literally – as they go through a thorough series of fitness testing on the Saturday of the Combine week.
But this isn't your regular NHL offseason. As of next season the NHL will have 31 teams with the Vegas Golden Knights set to make their debut when the regular season rolls around. Before then, the Knights and their management team headed by George McPhee have some big decisions to make.
For McPhee, this past week wasn't strictly about the NHL Entry Draft. While the first ever GM of the Vegas franchise thought it would be less about expansion and more about the entry draft, he was surprised to find out that a lot of the conversation came back to what his plan was for the upcoming expansion draft. To his credit, he answered every question posed to him in as much detail as possible and didn't shy away from any topic presented during his media availability at the HarborCenter in Buffalo.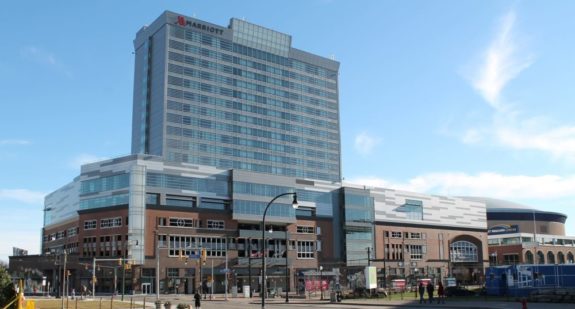 "The attention this new franchise has garnered is amazing," said McPhee during his media availability. "It's certainly special for all of us and stimulating. It's been a real positive experience all year long, but we're at that point now where we've planned and prepared a lot and now we have to deliver."
McPhee Playing the Waiting Game
It might come a surprise to some that the words "wait and see" were thrown around a lot with McPhee when it came to what his plan was for the expansion draft and Vegas' extended free agency period. But that's exactly what he wanted to emphasize with media asking for an idea of how he was going to approach the period.
"Well, there's certainly been a lot of discussion and most of the guys have been very forthright in what they want to do, who they'll probably expose and who they'd like to protect and we're just trying to find ways to accommodate each other," said McPhee. "We won't be able to do that with everyone, but there will be some deals that happen beforehand and teams get protection as a result."
He continued by saying that his team has had some great discussions with other clubs and that things could get rolling as early as next week.
George McPhee is currently addressing the media at the #NHLcombine. pic.twitter.com/se0EEUImJQ

— Vegas Golden Knights (@GoldenKnights) June 3, 2017
"Until we see everything, it's hard to know," he said regarding their free agent window. "If that's the best asset with a particular team then we're going to be aggressive and negotiate with that player. It was really helpful that the league gave us another day to work on that sort of thing because most expansion teams in the past have had three to five days and we only had two. But until we see everything, it's hard to know just exactly how many free agents we'll try to sign or sign."
What about the expansion draft itself, you ask? For McPhee, it's about – you guessed it – waiting.
"We're going to take a look at everything and we've planned as much as a club can plan for this," he said. "We know the players really well. If you tell me we're going to stockpile goaltenders, you could go to a team and like the goalie, but we could like a defenceman better. That's why we need a few days to do this."
McPhee also touched on a few names specifically. While he wasn't set to comment on them and the potential they head to Vegas in some cases, he did shut down any speculation regarding two big name Russians.
McPhee on Russian Stars
As it goes with anything of this magnitude, speculation has swirled around the possibility of Vegas bringing in players like Ilya Kovalchuk and Alexander Ovechkin. While McPhee wasn't prepared to comment on other players like the possibility of acquiring Michal Neuvirth or the future of Evgeny Dadonov, he did make it quite clear how he felt about the rumours that had Kovalchuk and his former captain, Ovechkin, going to the Golden Knights.
"We haven't had any discussions and I don't imagine we'll go down that path to talk to a player like Kovalchuk," said the Vegas GM. "We'll be looking for younger players and people that will be with us three or four years from now."
As for Ovechkin, McPhee made it pretty clear that he can't see Washington moving a player of that magnitude at a time like this.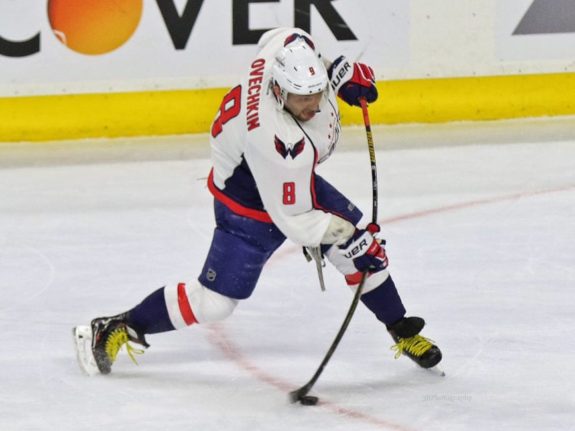 "Doesn't surprise me because of our relationship," he said about the rumours of Ovechkin rejoining him in Vegas. "I don't think anything will be happening there. There's too many jerseys with number eight on them in the seats in Washington to be moving that player."
While McPhee did bring up the notion that he will be looking at younger players, that doens't mean that the Golden Knights won't be looking for some veteran presence during their first few years in the league.
"We're going to need a little bit of everything," he said on the issue of veterans in Vegas. "Of course you'd like some young players and some young assets, but we're going to need veteran players. We want to have a really competitive team and we want veteran players who compete and provide some leadership."
McPhee also noted that the Golden Knights are prepared to take on some big contracts from other teams, but that it would cost them prospects or picks – something he'd like to be in the surplus of over the next couple of seasons.
He also didn't shut down the idea of being a kind of middle man for teams that want a player on another club's protected list – noting that teams might be willing to move pieces for a guy with two years left on his contract that can fill a whole on their roster rather than trying to sign a free agent for five or six years.
But McPhee is also focused on what comes after the expansion draft – the real reason the teams gathered in Buffalo over the past week. He knows that to become competitive he will need to build a good team through the entry draft as well.
McPhee Talks Combine, Prospects
With all the chatter about the upcoming expansion draft, the real reason for being in Buffalo kind of got put on the back burner when it came to all the talk surrounding the new NHL club. But for McPhee and the Golden Knights, nothing was lost on them.
"It's always an amazing process to come and talk to these kids," he said. "It gets better every year and I mentioned to someone else there's hope for this world because of these kids. They're humble. They're bright. They're polite. They're athletic. They take care of themselves and each year you come and you talk to these kids and you're so impressed. You come back the next year and you've sort of forgotten about it and you go through it all over again and they're just fantastic kids and we're really fortunate to have those kinds of kids coming into the league every year."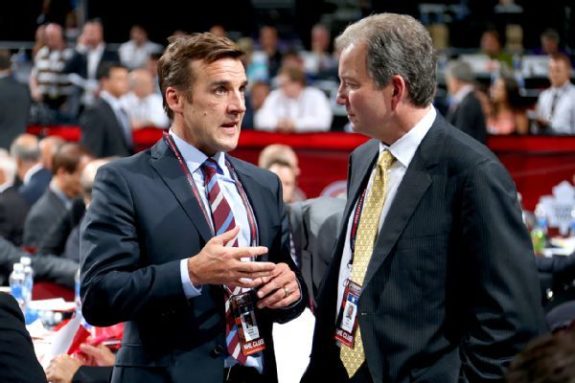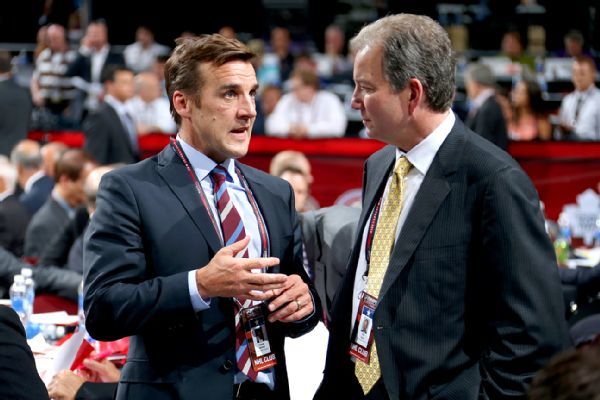 But does the Combine itself alter a team's list when heading into the draft?
"Some players will move up a bit, some players will move down," he said. "That's what this week's about. We've been scouting all year long and having our meetings all year long, but you've got to use all the information you can get and that's why we come here, interview these kids and then take a look at them and sort of apply the data that we learn from the testing here."
While they will be focused on the expansion draft, McPhee knows that there has to be more importance placed on the entry draft as he begins building a whole new franchise.
"[The entry draft] is going to be our most important draft," he said. "We've got to get better players out of the entry draft than the expansion draft if we want to be a good team and compete for a Cup one day. We're going to have to be really good at the entry draft."
While he wouldn't disclose any deals in the works, he did say that it wouldn't be long before the Golden Knights started making a splash. Whether it be larger contracts and the acquisition of more picks or starting talks with free agents, the next couple of weeks will be important for McPhee and the Vegas franchise.
"We're far enough along with a few teams that my plan is to work the phones to see what we can accomplish," he said. "I'm going to travel Wednesday and we'll get back at it later in the week. Nothing is decided yet. I didn't want to do anything prematurely. Again, I wanted to see everything that might be out there and talk with everyone about what might be available before we started making commitments."
As for the face of the franchise, McPhee said that belongs to the franchise's logo.
"That's the way we're going to try and do things and be team centric and we'll get as many good players as we can," he said. "But as we all know, it's about building the right team, the right chemistry and all those cliches but that's real."
Following his media availability on Saturday, McPhee could be seen on the testing floor amongst the scouts of other teams walking up and down the row. For a short period of time he was even sitting off to the side on his phone. While there was no fly on the wall so to speak, speculate however you must on what was being discussed. Either way, we'll find out quite soon what McPhee and the Knights have in the works to get their team off the ground.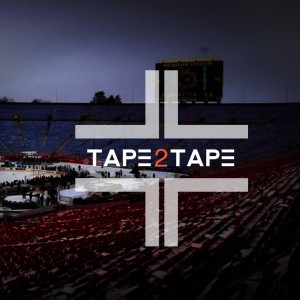 Have thoughts about the column? Let me know on Twitter at @AndrewGForbes or @Tape2TapeTHW.
Tape2Tape is a column looking at some of the biggest stories from around the world of hockey. Discussing different topics, it focuses on delivering some opinion to hockey's biggest fans. Whether you agree or disagree, we would love to hear your thoughts.