It has been a tough 12 months for Vancouver Cancuks' winger Mayson Raymond. His year of misery started with a horrible back injury suffered in the Stanley Cup Finals last June and seemingly hit rock bottom last night in Minnesota, where he was a healthy scratch.
In between he has seen his production plummet and has been juggled up and down the line up. His speed gets the best of him sometimes and he finds himself fallen on the ice too much for anyone's liking. He even managed to fall during a shoot-out attempt lately.
He should stay a scratch right?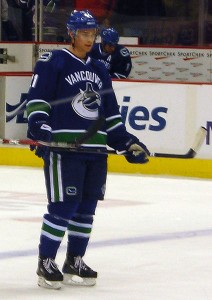 According to Sportsnet's Dan Murphy (via twitter) Raymond was back on the ice today skating with the Ryan Kesler line and seemingly will play in that spot against Chicago on Wednseday. Many fans may look at that and scratch their heads.
Why would they break up what has been the most productive line for the Canucks, lately, for a guy who can't even stay on his feet?
Despite how it may look, the Canucks and coach Alain Vigneault are making the right decision with Raymond.
You may remember that after scoring 25 goals in the 2009-2010 season Raymond seemed to be an up and coming star. He had speed and a scoring touch. There was a lot of gnashing of teeth that he might bolt from the Canucks when his contract came up that summer.
Raymond stayed in Vancouver but his game has wandered somewhere else.
His goal production has dropped drastically since that season, down to 15 goals last year and only eight so far this year. The Canucks have tried everything to resurrect his scoring and confidence. He has spent time on every line the Canucks have, including a recent two game stint with the Sedins.
He was unable to collect a point with the Sedins and ultimately ended up in the press box last night.
Now the Canucks are putting back in the lineup with Ryan Kesler's line. It is easy to see how this might make fans crazy. For the fans it is easy to keep him as a scratch, or better yet just flat out cut him.
While that kind of thinking would work great in a fantasy league, the Canucks need Raymond. Trying to get him some confidence headed into the playoffs only will help.
Now, that's not to suggest that the key to the Canucks making another long playoff run is Mason Raymond, but the playoffs are a war of attrition. Someone is going to get banged up. Vancouver will need Raymond to step up and perform.
They don't want him to come in gripping his stick too tight. Worried about if people are going to continue to rip him for every move he makes. These next ten games could result in the difference between him having the confidence to step up and score a big goal and him continuing his vanishing act.
So play him with the Kesler line, let him use his speed to get some good chances with Kesler and Booth. Let him see some power play time. He needs to score and he needs to feel good about his game again.
If he does that he gives Vancouver that much more depth and if we learned anything last year, depth is key to winning it all.