The stakes for Oilers' goalie Cam Talbot are higher than Edmonton's Stantec Tower, which will be Canada's tallest building outside of Toronto when construction of the skyscraper wraps up this fall.
And, if he hopes to appease the Oilers' rabid fanbase and silence his critics, he'll need to stand almost as tall.
Coming off his worst season in the NHL, the 31-year-old left many wondering what exactly the Oilers have between the pipes moving forward.
Is Talbot nothing more than a superb backup goaltender? That's how he started his career with the New York Rangers. During his rookie season, Talbot appeared in 21 games behind future Hall-of-Famer Henrik Lundqvist – 19 of those were starts – and he assembled a 12-6 record, while posting a sterling .941 save percentage (SV%) and a 1.64 goals-against average (GAA).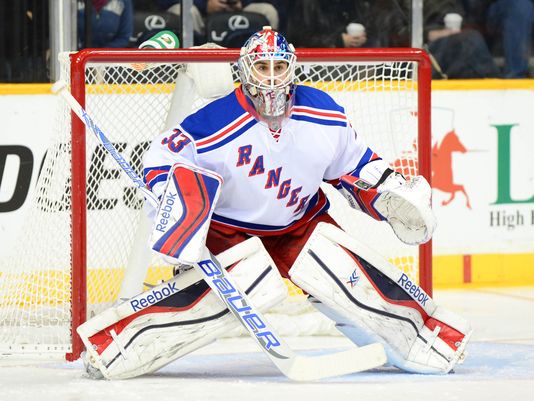 His sophomore campaign with the Blueshirts in 2014-15 was also impressive. An injury to Lundqvist late in the season opened the door to more playing time for Talbot and he took advantage. In 36 appearances and 2,095 minutes in the crease, the Caledonia, Ontario native notched 21 wins – five of them shutouts – and nine losses. His SV% went down from the previous season to .926, while his GAA inched up to 2.21.
The body of work with the Rangers, while limited, was enough to convince people that Talbot could be a No. 1 goalie in the National Hockey League (NHL). And when he was traded, some in New York questioned whether or not the Rangers traded the right netminder.
Starting Role in Oilers Net
The Oilers acquired Talbot and a seventh-round draft pick for a second-round pick, a third-round selection and a seventh-round pick on July 26, 2015 with the intention of making him their starting goaltender.
His three seasons in Edmonton since then have been a mixed bag.
With his workload increasing by 20 games and over 1,000 minutes in 2015-16, Talbot's overall numbers were solid enough. His .917 SV% and 2.55 GAA were right in line with league averages for goaltenders, but his win-loss record of 21-27 told the story of another losing season in Edmonton – the Oilers 11th straight season of no playoff hockey.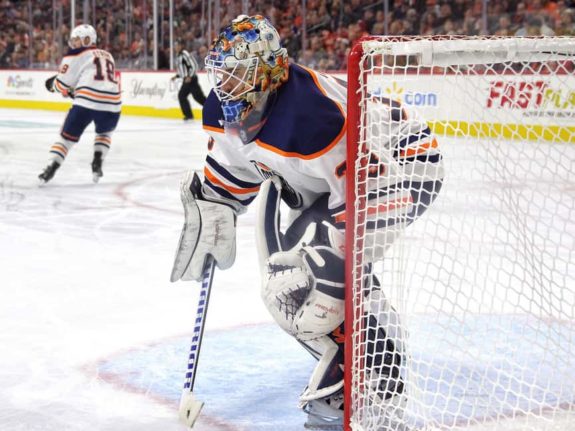 Talbot wasn't necessarily the cause of the Oilers' woes, but he didn't seem to be a major solution either. Not that he had much assistance behind him, or in front either – backup goalies Anders Nilsson and Laurent Brossoit provided little relief to the new starter, while regular shifts for the likes of Mark Fayne, Justin Schultz and Eric Gryba didn't help to keep the puck out of the Oilers net. Only the Flames, Blue Jackets and Coyotes allowed more goals that season.
One year into his time with Edmonton, Talbot still showed enough promise to be a starting goalie, but he also had a propensity for giving up soft goals that deflated the young team playing in front of him.
Vezina-Calibre Season in Edmonton
Entering his second campaign with the Oil, Talbot still had plenty to prove – and he did just that, putting in the best season of his career.
Once again, the former University of Alabama-Huntsville twine protector saw his workload increase significantly.  He led the NHL in games started, with 73, and his 42 wins were tops in the league, along with Braden Holtby of the Washington Capitals. Talbot's seven shutouts, .919 SV% and 2.39 GAA helped the Oilers break their playoff drought and saw him finish fourth in the Vezina Trophy race behind nominees Sergei Bobrovsky, Holtby and Carey Price. He also set a new wins record in Edmonton, surpassing Grant Fuhr's 40-victory total from 1987-88.
When the pressure ratcheted up in the playoffs, Talbot responded, backstopping the Oilers to a six-game series win over the San Jose Sharks before losing to the Anaheim Ducks in controversial fashion. The most crucial goals Talbot surrendered in that seven-game battle were heavily scrutinized, not because he was scored on, but because goaltender interference appeared to be a major factor in the series.
After the sting of that playoff loss wore off (well, maybe it hasn't worn off in Edmonton yet), a look at Talbot's numbers revealed a netminder capable of handling the rigours of postseason hockey. A 2.48 GAA and a .924 SV% through 13 games are stats that coaches can rely on.
Forgettable Cam-Pain
Everything appeared to be trending up for the Oilers heading into the 2017-18 campaign. Superstar Connor McDavid and emerging force Leon Draisaitl were looking like the one-two punch at centre that every team dreams of, while defensemen Oscar Klefbom and Adam Larsson had played like legitimate top-pairing defenders. Along with a supporting cast that seemed to be hitting its stride, Talbot had solidified his standing among the league's best goaltenders.
Add in the fact that the Oilers were so close to making the Western Conference Finals the previous season (many observers thought blown goalie interference reviews in the 2017 playoffs were the only thing that denied Edmonton a shot at playing the Nashville Predators), and their was cause for optimism at Rogers Place.
And then … well, it's still not entirely clear what all went wrong, but if it wasn't everything, it was a lot of things.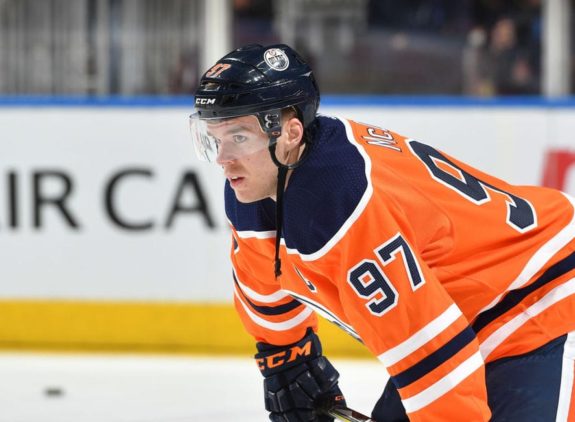 Talbot was not immune to what was ailing the Oilers. For a goalie who had been trending to a level of dependability and elite play, it was surprising to see Talbot struggle to provide Edmonton with quality goaltending – but that's just what happened. He had the worst season of his career, with his GAA climbing over three goals per game (3.02, to be precise) for the first time ever and his SV% coming in at .908, below the industry standard of .912.
With a .500 record of 31 wins and 31 losses, and his teammates in front of him collecting minuses at a frequent rate, it was a lost season for Talbot and the Oilers. Once again, he had no help from the backup goalies brought in to lighten the load for him, as Brossoit and Al Montoya were ineffective in the crease.
What Now for Cam Talbot?
Last year at this time, Oiler fans weren't throwing question marks at their goaltending situation. But a dismal year for Talbot – and much of the team – changes things.
Talbot has every motivation to improve in 2018-19. He has the financial incentive of a contract year and the personal drive to perform better for himself and his teammates.
So, what can we expect from Talbot? He will tell you that last year was the anomaly, and the statistics tend to back that up. If he's able to return to form and even put up the kind of numbers he did in his first season with Edmonton (OK, maybe not the win-loss record, but the SV% and GAA), while the team in front of him improves defensively and on special teams, the Oilers should be competing for a playoff spot once again.
Talbot better hope that's what happens – because the stakes have never been higher.
Ian Wilson is a life-long hockey fan who was initially drawn to the sport by the Edmonton Oiler dynasty of the 1980s. He brings decades of journalism to the table as a former editor and reporter with the Calgary Sun.