When there's a ton of talent to pick from, of course there's going to be some tough decisions on which choices are the right ones. It couldn't have been easy for the Chicago Blackhawks to choose and reassign new powerhouse Scott Darling back to the Rockford IceHogs on Tuesday night after the performance he has put on. Of course this couldn't have been too much of a surprise with the fan-favorite Corey Crawford most likely returning this weekend after suffering an injury, which left one spot left to the lucky player. The question is though when it came down to finalizing the plans for the better backup contender, was sending Darling back to make room for Antti Raanta the better decision?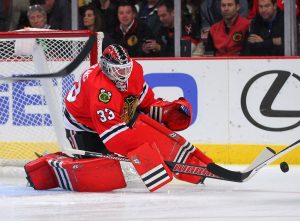 Two tough customers
When it comes down to it, both players are about equal in just how valuable they are for Chicago but shouldn't the team go with the person that has been around with them longer?  Raanta has some more seniority because he signed a one-year contract in 2013 while Darling signed his just a little over a year later. He also came in with a bang during his NHL debut on Nov. 19, 2013 against Colorado by stopping 14 out of 16 shots. Just about a month later, Raanta recorded his first career shutout by beating the Los Angeles Kings. He got quick recognition after being named Rookie of the Month for Dec. 2013. The 2014 season has been pretty impressive for him so far with a save percentage of .938 and a GPI of 7 after taking over Crawford's duties. Logically, it's almost completely expected for coaches to stick with a goaltender that has been with the big league for a tiny bit longer but could the Blackhawks  handle a few sacrificed chances to get the ball rolling with Darling?
Darling isn't new to the hockey world but barely made his NHL debut this season on Oct. 26 against the Ottawa Senators. He impressed the crowd with 32 saves in the 2-1 win. After being reassigned to the IceHogs back in early November, he was recalled on Nov. 15 following Crawford's upper-body injury. Darling was getting the Blackhawks higher on the ranks and with their eight-game streak still going before he was reassigned, there was major pressure on him to excel, especially with him being the new guy. Even with his final loss against the Islanders, his stats still go right up against Raanta's. He has a save percentage of .937 and also a GPI of 7. He was a good choice along with Raanta in the net to mix things up and get the best advantages while Crawford was out but there is no way he'll be ready for a cup run if he doesn't get more NHL game time.
Raanta takes the cake
It's great that the Blackhawks took a daring leap with Darling and started the momentum towards his NHL future but with what they want this season, it may be too soon for him to even get anymore time in the net. They're looking for another Stanley Cup this season and with their pride and determination to get it, they're not going to take many more chances with the goaltender side of the roster, especially when they already know who can be useful in the playoffs and who can't. That's not saying that Darling couldn't ever be used in the playoffs but he just needs more experience to get to that point. Darling has the size and skills that have already shown that he can handle most challenges for his team but with him only having played for a few months, it's just not enough time to get a real feel of things. That's where Raanta comes in for the win. Raanta also hasn't been with Chicago very long but it's just enough time and wisdom learned to give him a slighter edge that the team needs.
I'm from the sunny sides of Anaheim, CA. I currently go to college and am majoring in journalism. I talk hockey in other places so check out my Twitter.