The 2021 World Junior Championship is in the books, and Team USA forward Brendan Brisson has officially earned bragging rights to lord over Team Canada's Peyton Krebs and Kaedan Korczak, two of his fellow prospects in the Vegas Golden Knights' system.
While it was hardly a surprise to see the US and Canada square off in the tournament's gold medal game, it surely pleased Vegas brass to see their three draftees at the tournament all come away with medals after making their presence known throughout the event.
Indeed, none of Brisson, Krebs or Korczak did anything to lower their stock as rising prospects and future NHLers. They gained invaluable experience in big-game situations and further established the confidence achieved by playing alongside and against an array of blossoming, young hockey talents.
Let's take a closer look at each of their performances, as well as where they go from here.
Brendan Brisson
Leading off with the organization's newly minted gold medalist, Brisson likely wasn't particularly overwhelmed by the moment nor by some of the other big names he shared the ice with. After all, the 19-year-old has practically grown up alongside some of the NHL's biggest stars through his father, super-agent Pat Brisson.
As part of the Team USA fourth line with Landon Slaggert and Patrick Moynihan, Brisson assumed more of a grinder role, using the bulk of his limited minutes to shut down opposing top lines. He did have two goals on the tournament, both of which came in his country's 11-0 preliminary-round shellacking of Austria. Though that was it for his offense, USA Hockey executive director Pat Kelleher was among those who saw how Brisson excelled in his role.
"[Brisson] is an example of a player who found a role on that team," says Kelleher. "He played on the second power play, but then he was probably on the fourth line and he gave the effort needed to win a gold medal."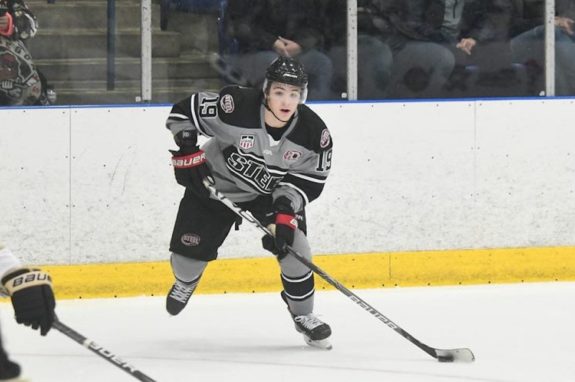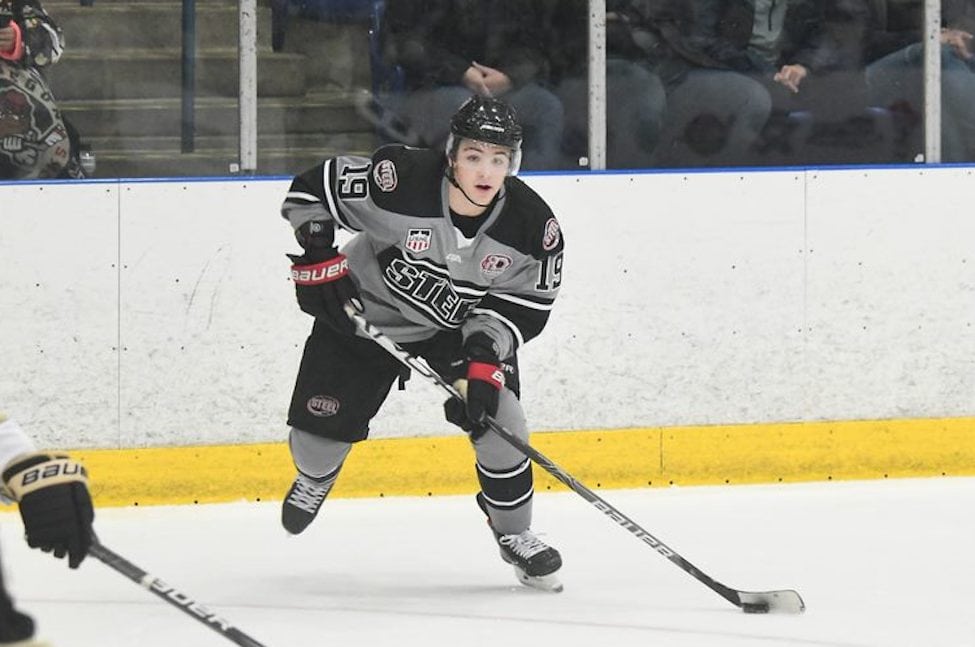 The California-born forward is expected to rejoin his Michigan Wolverines in the coming weeks, where the Golden Knights will closely monitor his development under respected head coach Mel Pearson.
Peyton Krebs
Apart from a gold medal game they'd surely like to forget, Krebs and Team Canada tore through their competition at the tournament. And the soon-to-be 20-year-old was a significant part of that dominance. Alongside linemates Alex Newhook (when he was healthy) and Jack Quinn, Krebs tied for second on the team with eight points (three goals, five assists) in seven games.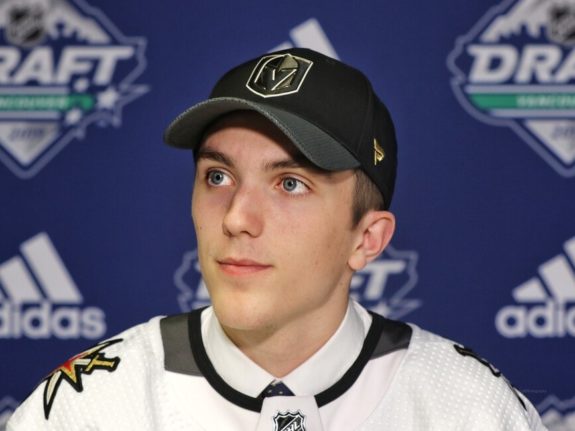 While well behind the 16 points posted by teammate Dylan Cozens, Krebs' eight points tied him with Connor McMichael and put him one ahead of Quinton Byfield, the second pick of the 2020 NHL Draft. While much of that production came in blowout victories over Germany and Switzerland, he did produce an assist on a critical insurance goal by Bowen Byram in Canada's 3-0 quarterfinal win over the Czech Republic.
Krebs will soon be Vegas-bound, but he isn't expected to factor in with the big club just yet. His mandatory week-long quarantine upon joining the Knights will force him to miss training camp and, thus, rule him out of an immediate roster spot. Still, his arrival will offer the chance to get familiar with his future Vegas teammates after already spending time living with Mark Stone and experiencing life in the Edmonton bubble. Many options, including taxi squad duty, a return to the WHL, or even a stint with the Henderson Silver Knights, are on the table for Krebs this year. (from 'Vegas? Henderson? Winnipeg? Examining the Golden Knights' options with prospect Peyton Krebs,' Las Vegas Sun, 12/25/2020)
Kaedan Korczak
On Canada's loaded, veteran-laden blue line, Korczak was never going to be a top-four presence. Still, he did well to carve out a role as a depth defender, even earning more than 10 minutes per game in each preliminary round contest until his ice time dwindled to the point of not playing in the semis or gold medal game.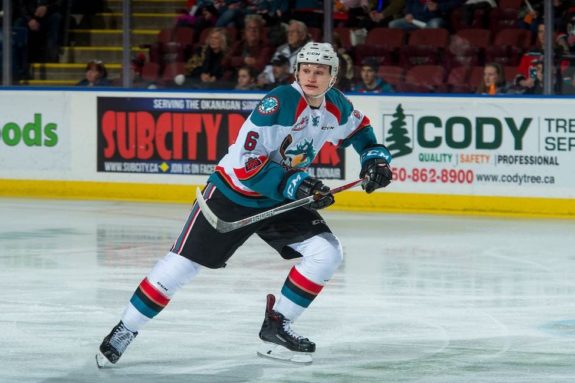 Still, when he did play, Korczak provided a physical edge that complemented his more offensively gifted teammates. Beyond his specific role, the 2019 second-round pick benefited from the experience of playing for his country and bonding with the next generation of Canadian hockey stars.
"We got to be super close," reflected Korczak. "It was definitely a great experience with that group of guys."
Korczak will quickly be reunited with at least one Team Canada teammate, joining Krebs in Vegas for something of a belated training camp. Much like his fellow 2019 draftee, he doesn't know where his immediate playing future lies, but it can only help his development to train alongside bona fide NHLers.
For as uncertain as their immediate futures may be across a hockey landscape completely shaken up by the pandemic, there are certainties that Vegas' World Juniors trio can hold onto. For one thing, their showing at the 2021 tournament, medals included, can never be taken away (that may feel better for Brisson than Krebs and Korczak, but still). And their long-term futures at hockey's highest level look pretty encouraging at the moment.
---
---