When one thinks of the 2021 NHL Draft, they are bound to think of names such as Brandt Clarke, Owen Power and Matthew Beniers. These players' names have been heavily talked about over the past few months and rightfully so, but there is another name that most people may have heard of: Carson Lambos.
For those who follow prospects closely, Lambos has always been talked about as one of the better prospects eligible for the upcoming draft but his name has fallen off a bit due to the amazing results his fellow peers are putting up. It also doesn't help that the WHL has not been able to resume due to the pandemic and he has had to go overseas to play. He still has immense skill and will be a solid addition to the team that calls his name. With all that being said, here is why Carson Lambos is still one to watch for the 2021 NHL Draft:
Offensive Play
While Lambos is a defenseman, his impact in the offensive zone is still felt whenever he steps out onto the ice. Currently playing for JYP U20 of the U20 SM-sarja, he has managed to score two goals and add three assists for five points in seven games. He has also suited up for JYP U18 of the U18 SM-sarja where he has three assists in two games.
One of Lambos' strongest skills is his skating. Blessed with a quick, compact stride, he is able to use his great edge work to weave in and out of open lanes with ease. He is so good at picking up speed in the neutral zone and attacking the middle of the ice. Some defenseman his age are afraid to do this but he does not shy away from attacking those open lanes where chances are bound to be plentiful.
In the offensive zone, Lambos is great at being able to set up teammates in the slot for scoring chances. He sees the ice at a high level and is able to open up passing lanes with his hands and playmaking ability. He walks the blue-line incredibly well. He is great at waiting for the right moment to get a shot off and when he does it is hard and accurate. His offensive play is definitely going to attractive to many NHL suitors.
Defensive Play
While Lambos may be better known for what he can do in the offensive end, he is no slouch when it comes to defensive play either. Standing at 6-foot-1, he has good size for today's game and when called upon, can play a physical game. He plays with an active stick and his defensive positioning is really solid. When the opposition transitions the puck into the defensive zone, he plays his angles really well and can keep opponents to the outside.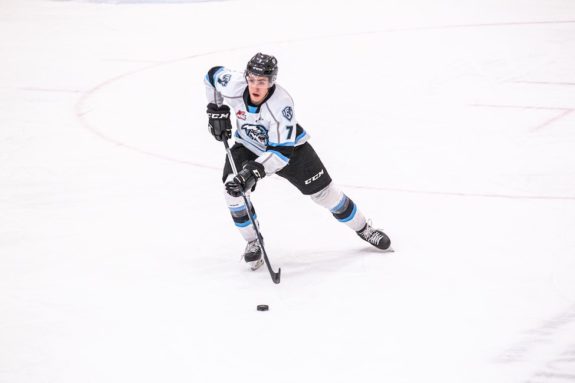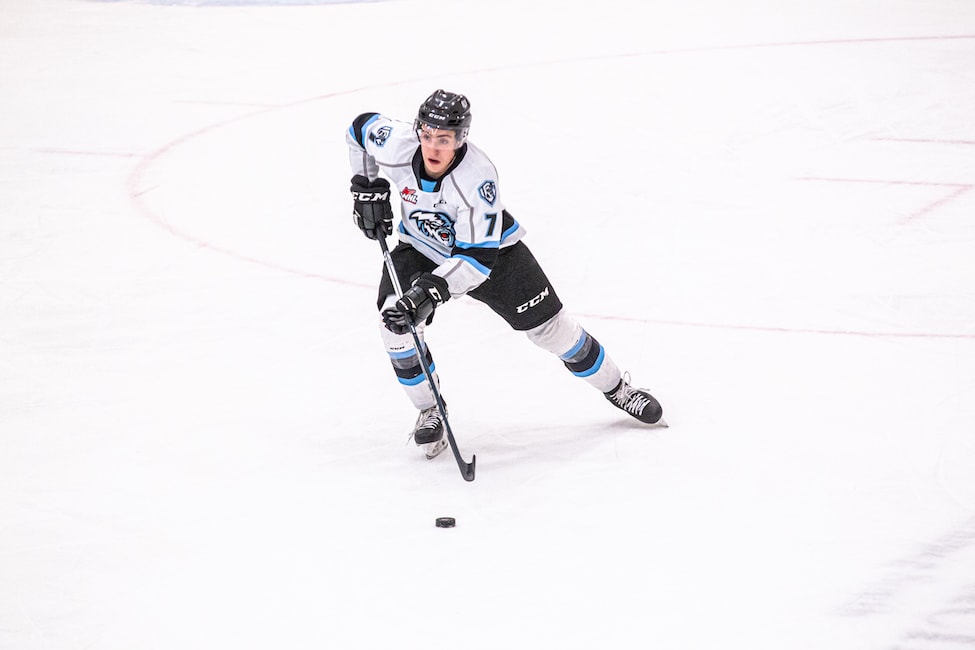 Lambos is also really good at clearing the front of his net of any danger posed. He is able to outmuscle opponents and limits their space in front. He battles hard in the corners and make a great first pass out of the defensive zone to his forwards breaking through the neutral zone.
Projection
Lambos has all the makings of a future top-pairing defenseman in the NHL. He is a great skater and can make an impact in all three zones. He has the skill to run a power play at the next level and can adapt to almost any situation on the ice. When the time comes for a team to call his name on draft night, fans can rest assured that they got a player who will help them for a very long time.
---
---
My name is Mathieu Sheridan. I am a writer here at THW who covers the OHL and prospects in general.