Vegas Golden Knights' general manager George McPhee may have the hardest job in the National Hockey League.
Certainly, the work to be done by any NHL GM can be daunting. McPhee has been assigned the staggering task of building a team from the ground up. This summer he'll begin to construct the inaugural Vegas squad, first through the expansion draft, then the NHL entry draft. Before those days come, though, the Vegas GM must determine who will be the first bench boss in Golden Knights' history.
Foley Wants a Winner Now
And he'd better move fast. This week owner Bill Foley said that it's "50-50" that the Golden Knights have their coach hired by the end of the season. Additionally, he raised the hopes of all Vegas hockey fans when he declared it's his desire to deliver a Stanley Cup to the Vegas Valley in the first six years of the franchise's existence.
That means that McPhee's pick for head coach had better be a winner. Anyone who takes Foley's timeline seriously knows it will mean winning, early and often. The Minnesota Wild and Columbus Blue Jackets are the last two teams to be added to the league via expansion. Minnesota's first head coach, Jacques Lemaire, was with the club for eight seasons. Columbus went through four coaches in its first six years.
So McPhee needs to hit it out of the park with hire number one. On Wednesday, the Golden Knights' architect joined Stellick and Simmer to identify exactly what he's looking for in a head coach.
"I personally would like to hire someone with NHL experience. Someone that's proven themselves behind the bench. In Washington I went with a lot of guys that it was their first time around and my preference would be an experienced guy because it's not an easy process to evaluate players when you're just getting going like we are. I don't want to be evaluating a coach and players at the same time. I'd rather have the coach be someone who we know has done the job and can do the job. We're going to be focusing on players for the next few years."
McPhee Wants Style Points
Experience is one thing, but George McPhee also wants to build a team that is fun to watch. Citing multiple examples from around the league, he states it's his goal to find a coach that can fit that style. A wise goal for sure, since along with winning, building a product that the Las Vegas locals are interested in consuming will be critical to the long-term success of the Golden Knights.
"The coach certainly has to fit the model that we're looking for, and as you know I like putting together high-scoring, entertaining teams. I just think that's a fun way to play the game, it's a fun way to watch the game, and you can win. Chicago's proven it. Detroit's proven it. Pittsburgh's done it. The coach has to fit that model."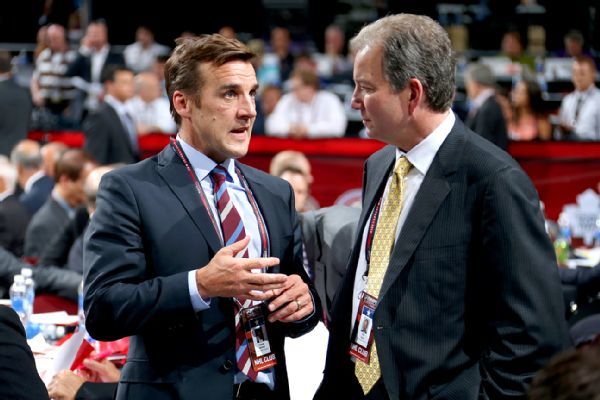 He must be talking about a Detroit team from a few years back. Get your guesses in hockey fans — there have been a couple of head coaching casualties already this season.
Could former Florida Panthers head coach Gerard Gallant find his way to Vegas? Perhaps the recently dismissed Jack Capuano? McPhee has a lot of mock drafts ahead of him, so we're likely to learn the first head coach in Golden Knights history before the temps hit triple digits in the southern Nevada Desert.
Las Vegas local covering Golden Knights hockey since 2016.
Ball State University '05
Other work:
Credentialed NBA writer covering the Phoenix Suns,
Credentialed NCAA football writer covering the UNLV Rebels