It was just over a month and a half ago.
The Philadelphia Flyers were riding a 10-game winning streak, the goalies were playing like Vezina candidates, and the offense was scoring at a wicked clip.
Those days are a far-away memory now. Since that winning streak, the Flyers have struggled to put together any type of consistency.
They were in great position for the second half of the season, but now inconsistency has led to a significant drop in the standings. That being said, the Flyers now sit in familiar territory.
A Winning Streak Wasted
A few weeks ago, I wrote about how the Flyers had gotten themselves in a good position to play down the stretch. They weren't going to win every game, but becoming a consistent team would almost certainly have left them with a divisional playoff spot.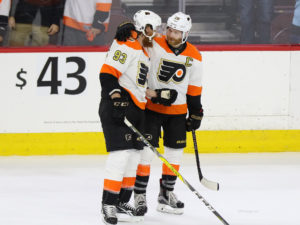 As I said, those days are long gone. Instead of hanging with the top teams in the league, they're now struggling to keep themselves in a playoff spot. Despite being right on the fringe, nearly every other team in the conference is competing for that spot alongside them.
After the Flyers' winning streak came to an end, they were in excellent shape to contend for even the top spot in the division. They had 41 points in 32 games, one of their best starts to a season in recent memory. That should have meant that they would not have to pressure themselves down the stretch, whereas in seasons past, they had to fight tooth and nail to get into the playoffs.
Well, they will have to do that again.
The Flyers have only managed 13 points in the 16 games since that streak came to an end. That was all happening while teams around them, such as the Washington Capitals and Columbus Blue Jackets, rode long winning streaks and stayed consistent after they ended.
Fight to the Finish
As I mentioned above, the Flyers now sit in familiar territory. They are going to have to play extremely well down the stretch to even smell a playoff spot.
Twenty-four of the last 33 games come against teams from their own conference and 17 of those games are within their own division. Right now, the Flyers have a 6-6-1 record in their own division and a 14-13-3 record in their own conference.
If you remember correctly, a majority of the victories from the winning streak came against the far inferior Western Conference. That isn't a bad thing, but it means the Flyers will have to play better in their own division.
Since most of those games are in their own conference, the Flyers will certainly be fighting to the finish this year, and that certainly isn't something they wanted to have to do.
Steve Mason carried the Flyers down the stretch last season, but when he got to the playoffs he looked drained and out of energy. It got so bad that Michal Neuvirth needed to come in for the last two-and-a-half games.
The Flyers now sit in a position where that may happen again.
The Flyers probably need to win at least 20 of their last 33 games to have a shot at the playoffs. They will need great goaltending to do that against some of the most high-powered offensive teams in the league. Considering Neuvirth hasn't played all that well this season, most of that weight will fall on Steve Mason's shoulders. That could lead to another tired goalie if the Flyers make the playoffs.
Regardless of what will happen, the Flyers now sit in that oh-so-familiar spot.
The Flyers could have some very tired players if they find themselves in the playoffs this season because they will need to throw everything at opposing teams to get as many points as possible.
Regardless of where they are now, the Flyers are going to need to play some very good hockey against some very good teams to find themselves in the playoffs.