The Vegas Golden Knights' return to the postseason was spoiled in their opening game at T-Mobile Arena after a dominant performance from the Winnipeg Jets, losing 5-1 and trailing 1-0 in the series. The Jets' top six forwards proved to be too much for the Golden Knights to handle in this game, with Kyle Connor, Pierre-Luc Dubois and Blake Wheeler combining for six points, along with Adam Lowry potting two goals from their third line.
In their last six playoff appearances the Golden Knights have lost the first game in a series just two times, with one of them being in the 2017-18 season against the Jets in the Western Conference Final. They of course went on to win that series, leading to their first and only appearance in the Stanley Cup Final.
Golden Knights' Offense Comes Up Short
This was a historically bad offensive game for the Golden Knights. They were held to one goal just two times over their last 20 regular season games and only put up 17 shots, which was the lowest total that they have had in all of their 14 all-time games against the Jets, and the lowest shot total that they've had since Dec. 12, 2018.
One of the biggest issues was that they struggled with breaking out of their own zone throughout the majority of the game. Missed passes and turnovers in the neutral zone gave the Jets a lot of transition opportunities, which is when they are at their best, and it proved to be costly. Kyle Connor opened the scoring in this game with a heavy one-timer in the slot after a great feed from Dubois, who then rifled one past Laurent Brossoit to extend their lead a few minutes later.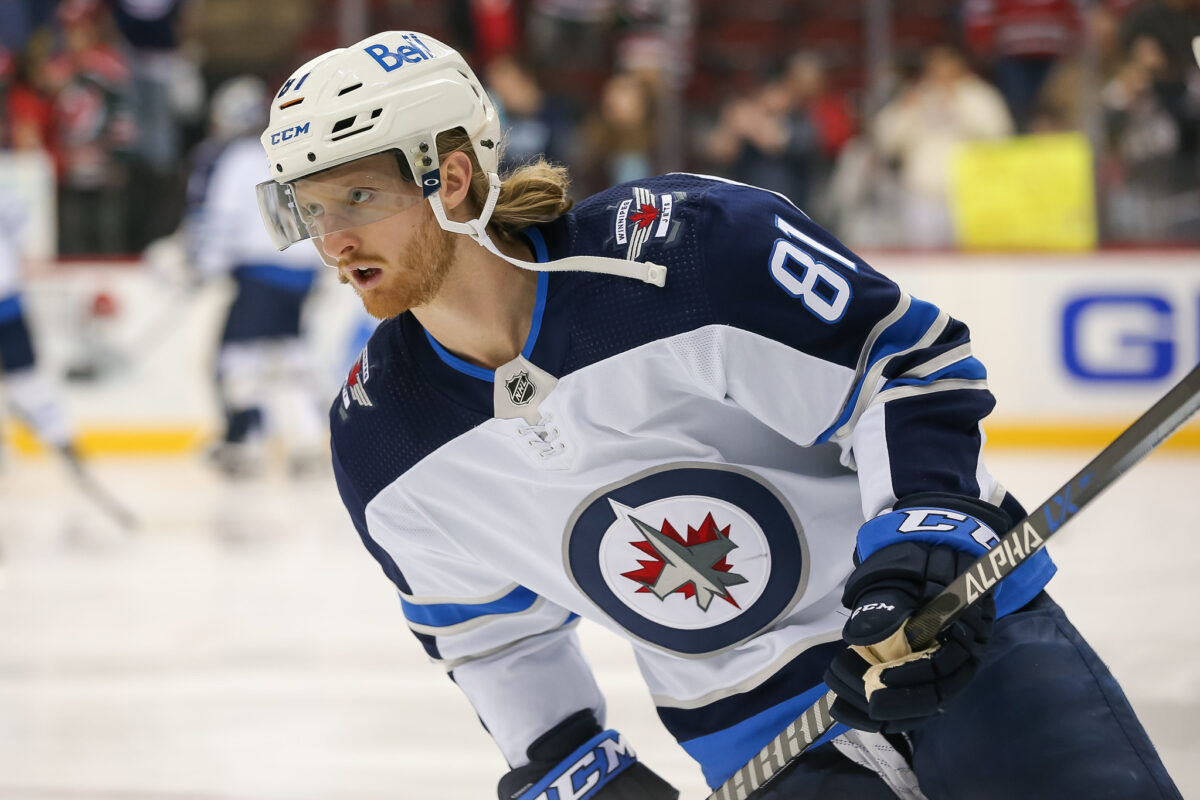 The Golden Knights are used to generating offense opportunistically with how much attention they give to their defensive game, but they lacked urgency in the most important moments. They failed to record a single shot on their final power play opportunity of the game when they were down 3-1 and only had one shot in the final two minutes with their goalie pulled.
Aside from maybe Chandler Stephenson, the Golden Knights don't have the personnel to outpace the Jets and make stretch passes that result in effective scoring chances. They are going to have to simplify their game plan for the remainder of this series in order to test Connor Hellebuyck and find more offense.
Jack Eichel's Lackluster Playoff Debut
One of the most highly anticipated storylines of this NHL season was Jack Eichel's long-awaited debut in the playoffs after being acquired by the Golden Knights, and it turned out to be a pretty disappointing one. Despite having the second-most ice time among forwards on the Golden Knights behind Mark Stone, Eichel was held off the scoresheet, had just two shots on goal, and had a 37.93 Corsi For percentage (CF%).
Eichel quickly went from being a non-factor offensively to being detrimental to the team's defensive game, where he repeatedly turned the puck over and was being physically outplayed on every shift. He created just one high danger chance throughout the whole game while giving up four to the Jets' top offensive unit.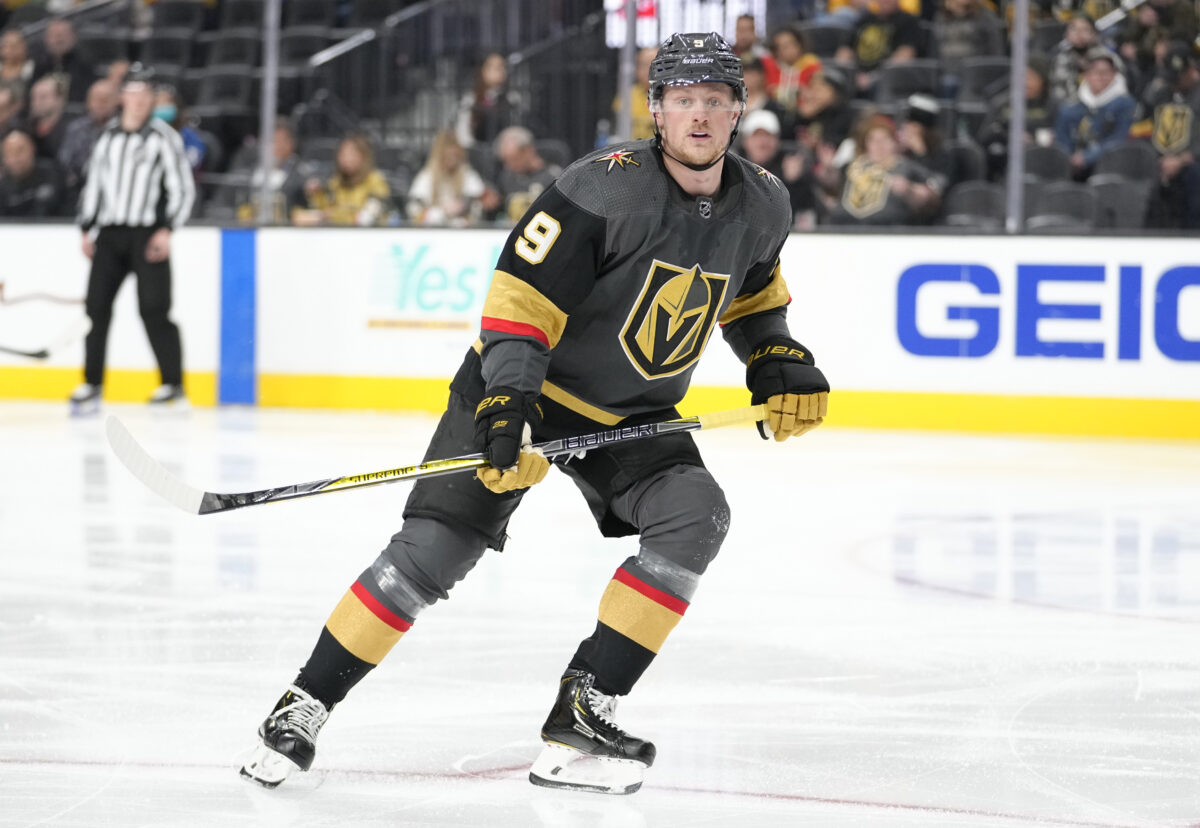 The Golden Knights have invested a lot of their future into Jack Eichel as their number-one center and their highest-paid player. While this was just one game and nobody really stood out, he is going to have to be an offensive performer for this team throughout the rest of this series if they want to compete with Winnipeg's offense.
Laurent Brossoit Causes Goaltending Concerns
Following an incredible 7-0-3 run to finish the regular season, Brossoit's playoff debut did not go as planned, giving up four goals on 26 shots for a .867 save percentage (SV%).
Related: Golden Knights' Playoff Success Possible Despite Goalie Questions
---
Latest News & Highlights
---
Despite a couple of sequences where he was wildly out of position, Brossoit had a pretty solid opening period. The Golden Knights took two penalties, killed both, and he did a good job of keeping rebounds away from the front of the net during those sequences. However, things got pretty shaky throughout the remaining 40 minutes.
There were many instances where Brossoit had pucks bounce out of his glove, slip past his body, and he was misreading routine plays. It felt like he became less confident with every shot he faced, and the Golden Knights gave him no inspiration to change his mental state. The perfect example of this came on Dubois' 2-0 goal, where Brossoit was beaten on a routine shot with no traffic in his way.
Just one minute later and Pierre-Luc Dubois makes it a two-goal lead! ✌️ pic.twitter.com/aSCKPXfwuj

— Sportsnet (@Sportsnet) April 19, 2023
Goaltending hadn't been an issue for the Golden Knights all season, but after this performance it's apparent that it could prove to be the deciding factor for them in this series. While they didn't provide the offense to support Brossoit in this game, it's worth questioning what head coach Bruce Cassidy will decide to do with his limited options in net over the next few games.
Final Thoughts
The good news is that history shows things couldn't go any worse for the Golden Knights moving forward. After finding so much success against the Jets this season, putting up historically low offensive numbers in this game, and adding in the fact that the Jets won the first game in the series the last time these two teams met in the postseason, everything points to the Golden Knights finding a way to bounce back.
The Golden Knights will get a day off before getting an opportunity to tie the series at home on Thursday at 7 PM CT/10 PM ET, before heading to a much more hostile environment in Winnipeg on Saturday for Game 3.