With the 2022-23 season over, the Vancouver Canucks held their end-of-season media availability. On April 15, players from the organization spoke to the media, while general manager (GM) Patrik Allvin and head coach Rick Tocchet spoke on April 17. Each member reflected on the 2022-23 season and discussed what's next for the organization and themselves.
In this edition of the Canucks' News & Rumors, Allvin discussed the team's plans for the offseason. Meanwhile, Tanner Pearson talked about his hand injury. Also, Elias Pettersson and the GM discussed potential contract extension talks this offseason.
Allvin on Offseason Moves
Allvin said there will be changes to create cap space this off-season. One of the ways to create space discussed this season has been buyouts. Although the Canucks have a few buyout candidates this offseason, Allvin said he prefers not to use any buyouts this summer.
"I don't want to use buyouts if we don't have to, I don't want to use buyouts if it's going to effect us down the line when we could be a contending team. My intention is not to use buyouts."
Related: Canucks: Third-Line Centres to Target in Free Agency
---
Latest News & Highlight
---
In terms of adding to the team, the Canucks will look at a third-line centre. Allvin said they are discussing whether they have one internally or if they need to go out and find one. Tocchet added the third-line centre slot is a pivotal role within the organization, and he wants someone taking faceoffs other than Pettersson and J.T. Miller. Elliotte Friedman mentioned Tampa Bay Lightning forward and restricted free agent (RFA) Ross Colton as a potential target.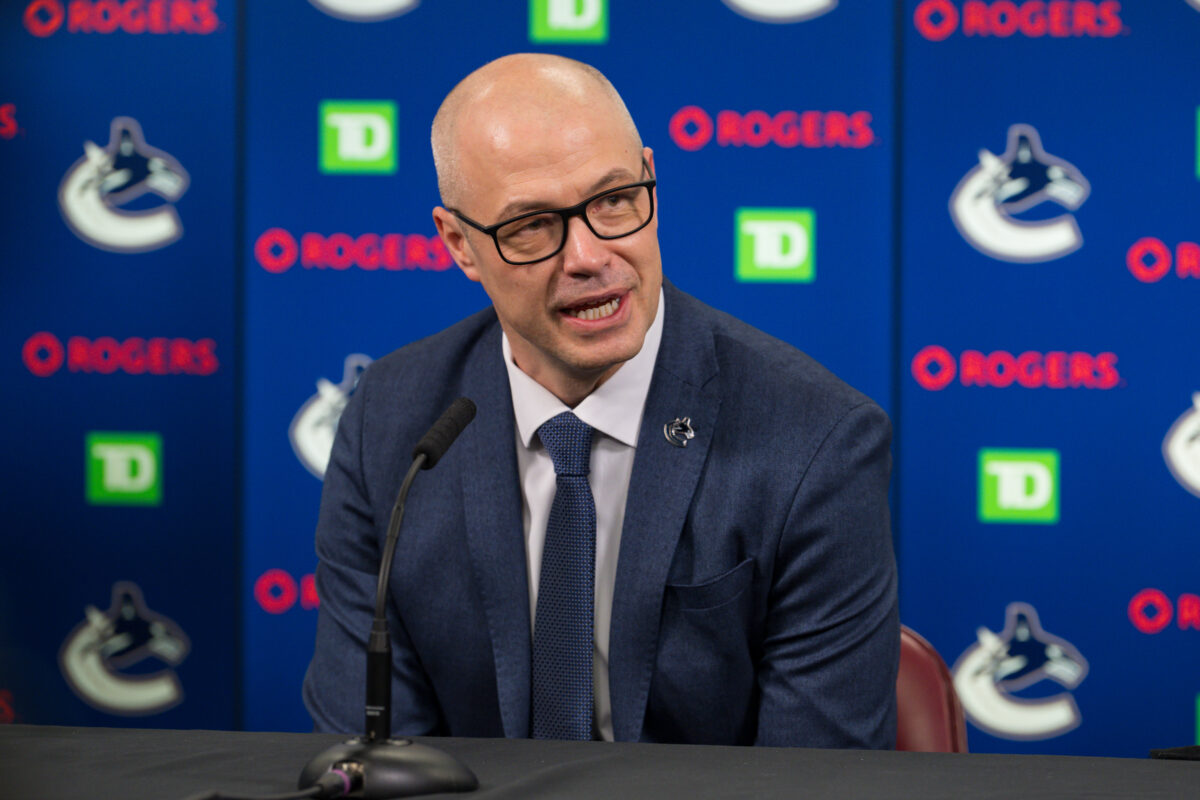 Nils Hoglander is set to be a RFA this summer. The 22-year-old spent the second half of the NHL season in the American Hockey League playing in Abbotsford. Many wondered about his future in Vancouver. However, Allvin said the Canucks are excited and believe in the forward. He added they are excited about seeing him play in Abbotsford, and he is a good player. The Canucks will likely keep him, as the organization needs a young forward. Hoglander impressed in Abbotsford, scoring 14 goals and posting 32 points in 45 games.
Pearson Comments on Injury
Pearson suffered a hand injury on Nov. 9. Initially, he underwent surgery soon after the injury and expected to miss four-to-six weeks. Instead, he underwent multiple surgeries, missing the remainder of the season, which led to an internal investigation from the front office on the handling of Pearson's injury. The forward didn't provide any thoughts on how the team handled his injury. However, he did discuss the timeline of his injury.
"There's timelines in my mind that I would like to hit, and hopefully we do," Pearson said. "It would make everything way better. It's still such a slow process that I don't have a specific time or date.
"I'm still going to approach this summer like I'm a hockey player," he said. "I have to."
Pettersson's Contract Extension
Pettersson is slated to be an RFA in the 2024 offseason. However, the Canucks can negotiate an extension on July 1, 2023. On Saturday, the forward commented on a potential extension, noting he hasn't thought about it and likes to live in the moment. He added he does like it in Vancouver.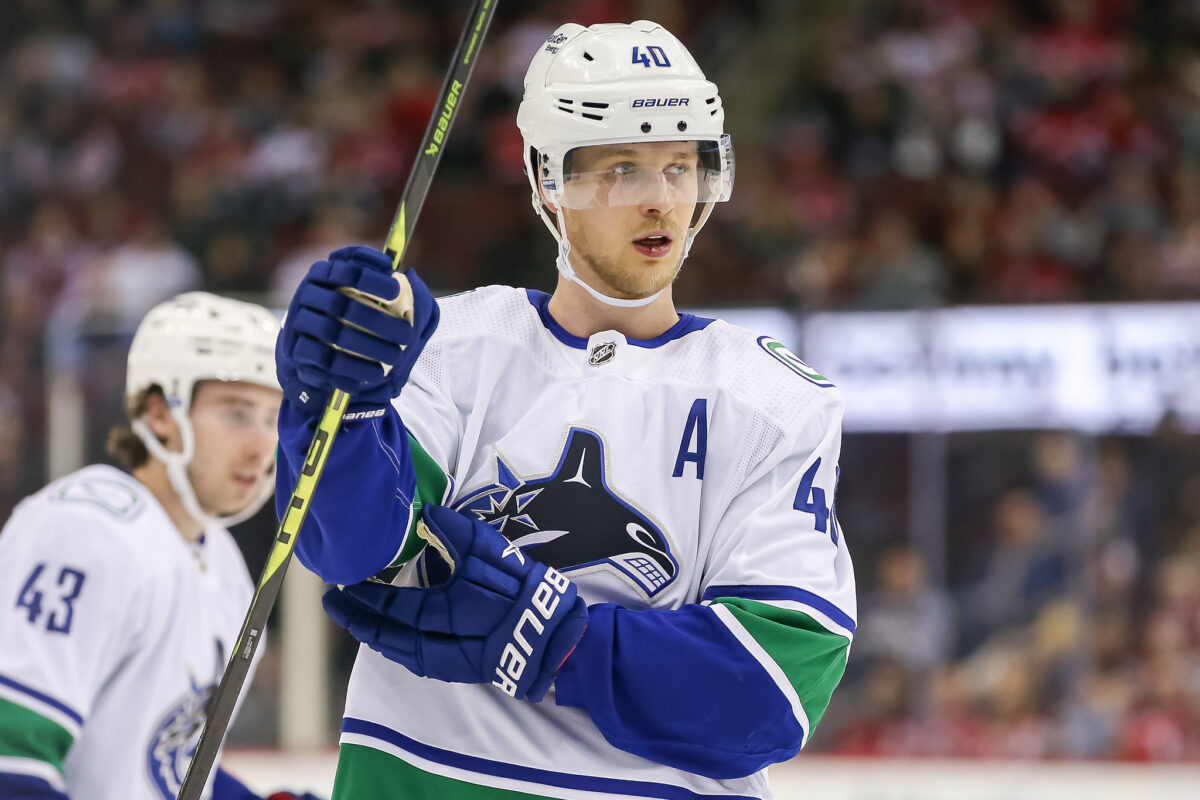 Meanwhile, Allvin discussed the extension on Monday. He said Pettersson is just scratching the surface after posting a 100-point season for the first time in his career, and there is more to come from him.
"I have good communication with Elias here," Allvin said. "I think he really took a big step here in maturity and for most of the year, really impressive two-way hockey. Really impressive how he carried this team and also helped other players around him get better."
Related: Canucks' Pettersson Joins Organization's Elites in 100 Point Club
Pettersson's agent J.P. Barry added there's no rush to start the negotiation, and they'll open a dialogue to discuss all the issues. He added the two sides will talk about a longer-term commitment this time.
Canucks Trade Updates
Throughout the 2022-23 season, multiple players were involved in trade rumors. Miller was the biggest name of the group, and on Saturday, he said he doesn't think he's getting traded. Allvin added although he's pleased with how the forward finished the season, he will continue to listen to calls for him. Additionally, Friedman revealed what the Canucks asked the Pittsburgh Penguins for during talks mid-way through the regular season. The organization wanted two first-round picks and a good prospect, something the Penguins couldn't do.
Boeser is another one of those players, and on Saturday, he said he doesn't want to be traded. Despite struggling for most of the season, Allvin said the forward played his best hockey over the last two months. He added the forward could take the next step if he's willing to sacrifice the summer and needs to change his off-season preparation.
Another player involved in trade rumors is Thatcher Demko. Friedman said the goaltender is no longer available after how he played once returning from injury. Demko returned to the lineup in late February after suffering a lower-body injury in early December. In the final 17 games of the season, he posted an 11-4-2 record, a .918 save percentage, 2.52 goals against average and one shutout.