Every hockey fan is aware of how successful the Vegas Golden Knights are in their inaugural season, outperforming expectations by a wide margin. Although projected to be a .500 team at best, they are in first place in the Pacific Division and on the cusp of clinching a playoff spot. Most expected them to be sellers at the trade deadline, but they acquired Ryan Reaves and Tomas Tatar and were one of the last teams in on Erik Karlsson.
At the time, acquiring Tatar was questionable given the three draft picks it cost them, but he provides the team with protection against the loss of free agents this offseason. In the Expansion Draft, the Golden Knights selected nine players who were going to be unrestricted free agents (UFA's) at season's end, not including Mikhail Grabovski.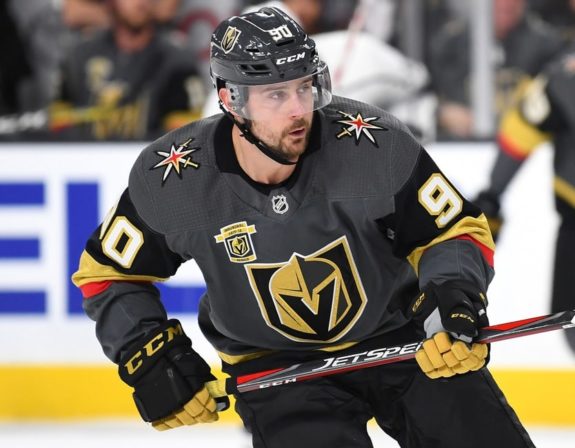 The team's ability to compete right away led to the front office extending four of their pending free agents, defensemen Deryk Engelland, Brayden McNabb and Jon Merrill, and forward Jon Marchessault. Extending these four, plus those already under contract after this season and their restricted free agents (RFA's), gives the Golden Knights a solid core to build on.
Leaving Las Vegas
The Golden Knights have UFA's at season's end, not including anyone eligible for Long-Term Injured Reserve (LTIR). The best of these is forward David Perron who is playing the best hockey of his career in his 11th season. Viewed as a sniper for much of his career, Perron's goal total plateaued with 28 during the 2013-14 season when he also posted a career-high 57 points.
After Vegas took him in the Expansion Draft, they converted him into a playmaker and passer rather than scorer. That plan has paid off with Perron having a career-high 50 assists to go along with 16 goals to set a new career high in points. Playing primarily on a line with James Neal and Erik Haula, Perron hasn't had to be the primary scorer on his line and his vision and passing skills have allowed his linemates to thrive.
Neal is a fellow pending free agent and before the season was all but guaranteed to be used as a trade chip. Neal has been good this season with 24 goals and 41 points in 62 games but hasn't been lighting the lamp at the rate many thought he would. Although still an important part of Vegas's offense, they haven't had to rely on him as heavily as expected after the Expansion Draft.
The remaining three pending UFA's — Reaves, Luca Sbisa, and Clayton Stoner — have a combined 24 points, including the eight Reaves had with the Pittsburgh Penguins. Reaves has never been much of an offensive contributor and Sbisa, who received consistent playing time on the blue line early in the season, hasn't played since Feb. 27 with an undisclosed injury. Stoner, also a defenseman, hasn't played this season due to an abdomen injury.
It will be interesting to see what the front office does with its UFA's this offseason. Neal and Perron have combined for 107 points, 16.6 percent of the team's total points. Of the two, Perron is more valuable given his ability to be a playmaker and not having to rely on goals. There are 34 players with at least as many points as Perron's 66 while there are 54 players with at least as many as Neal's 24 goals.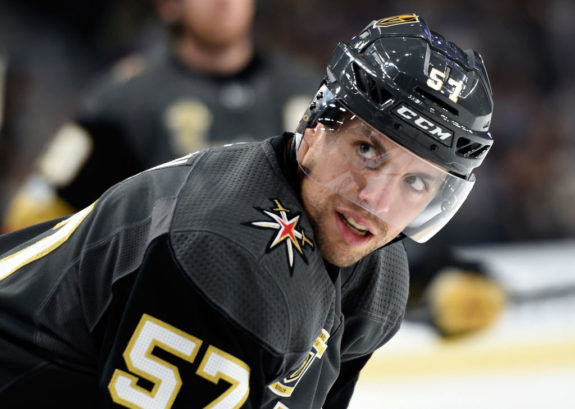 With goalscoring up 6.9 percent this season, it is easier to find a player to replace Neal than Perron. There have been 96 players to score at least 20 goals this season including six rookies and more than 100 games left in the regular season. By comparison, there were 96 players and the same six rookies who scored at least 20 goals last season.
Given the quality of Vegas's prospects including Cody Glass and Nick Suzuki, both with at least 35 goals and 100 points in the CHL this season, the Golden Knights could replace Neal's goals internally next season.
Career Seasons Abound for Returning Golden Knights
Of the 19 returning skaters likely to be on the 2018-19 Golden Knights roster, 74 percent or 13 of them, have set new career highs in at least one offensive category. William Karlsson, Erik Haula, Nate Schmidt and Shea Theodore are having the best seasons relative to career highs. Karlsson has career highs in points, shooting percentage, shots, 5-on-5 points, Corsi For percentage, and has doubled his career goal total this season. Haula has set career highs in shooting percentage, shots, 5-on-5 points, and has eclipsed the 20-goal and 50-point marks for the first time.
Number one defenseman Nate Schmidt has surpassed his career bests in goals, points, shooting percentage, shots, 5-on-5 points and takeaways while playing over 22 minutes per game, the highest of his career. Theodore, the 22-year-old blueliner Vegas acquired from the Anaheim Ducks last offseason, has flourished this season averaging just over 20 minutes of ice time. In 52 games, he has already surpassed his career highs in goals, points, shots, 5-on-5 points, and Corsi For percentage.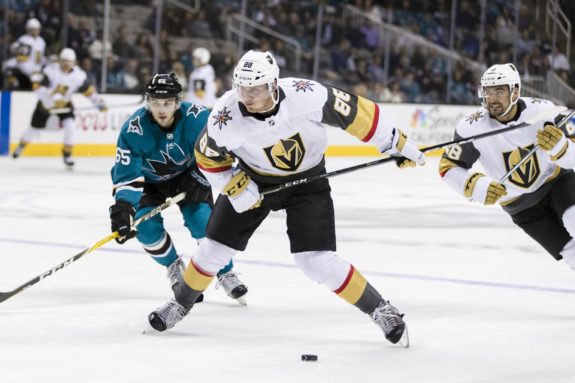 In net, Marc-Andre Fleury and Malcolm Subban have both been superb. In his 14th season, the 33-year-old Fleury is having the best season of his career. His .930 save percentage and 2.18 goals against average are both career bests and has saved over 20 goals above average in 41 starts.
Subban, whom Vegas claimed off waivers earlier this season, has been Fleury's backup and was the team's starter in November and December. In 17 appearances, he has an 11-3-1 record with a .914 save percentage and a 2.55 goals against average, all career bests. Both netminders have been great at 5-on-5 with save percentages above .920 and playing behind a defense that lacks an elite, shutdown pair.
Will 2018-19 be Less Golden for Vegas?
As a team, the Golden Knights have vastly outperformed previous career averages. Using players expected to return next season, their 2017-18 stats projected over an 82-game season are well above their career per 82-game averages before becoming a Golden Knight. Not factoring in players without enough experience to generate such an average, there were 13 players who fit the criteria, eight forwards and five defensemen.
Each of the 13 players is averaging 5.6 goals, 13.4 points and 20.9 shots per 82 games higher this season than his career average while shooting 1.8 percent better. For the eight forwards, each projects to score 7.7 more goals and produce 15.6 more points over an 82-game season compared to career averages. This is occurring while attempting 15.2 more shots with a 2.3 shooting percent increase. For defensemen, it gets interesting. Each has 2.4 more goals and 10.1 additional assists this season with increase of 30.1 shots per 82 games. This uptick in shots has led to just a 0.9 percent increase in shooting due to the high volume.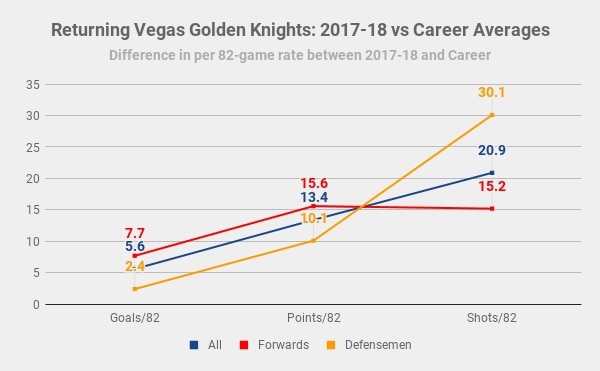 To me, this information reveals a couple of things. One is that, per player, the outbreak in offense from the Golden Knights isn't all that drastic. An average increase of six goals and 13 points isn't out of the ordinary from one season to the next. The other is that when it comes to defensemen, there was clearly a goal in mind of putting pucks on net. No Golden Knight blueliner better exemplifies this than Colin Miller. Miller averaged 114.3 shots per 82 games before joining Vegas and already has 162 shots this season.
Now I realize that he has yet to play a full season and had a total of 103 NHL games before this season. But, by dividing his number of games by 82, we get a rate used to reveal per-82 game averages. This season, in 73 games, Miller has 162 shots which projects to 182 for a full season. That increase of over 67 shots shows just how much head coach Gerard Gallant wants to generate offense from his blue line and it has paid off. With 19 5-on-5 points, Miller is one shy of tying his career total entering this season.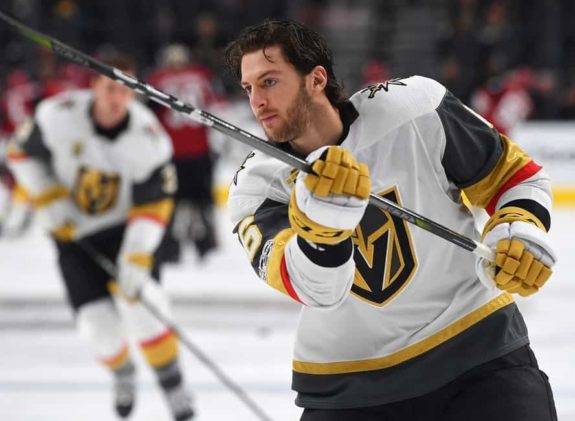 Another standout is William Karlsson, the most surprising player in the league this season. Never averaging more than 14 minutes, 28 seconds of ice time in a season, his ice time has jumped to over 18 minutes in a first line role. That increased workload and opportunity has resulted in 39 goals. Averaged out over a full season, Karlsson projects to score over 43 goals and 73 points.
Prior to this season, he averaged eight goals and 22 points per 82 games. Again, like Miller, Karlsson's growth in production is the result of increased shot generation. He is attempting 186 shots per 82 this season while he averaged 104 shots previously. Gallant's trust in Karlsson and the latter's willingness to shoot the puck has culminated in him moving from a bottom six center to centering one of the most productive lines in hockey.
While the team's increase in shot generation is sustainable, the rise of the team's shooting percentage may not be. Typically when a player shoots the puck more, his shooting percentage will regress due to higher volume. This can still lead to an increase in offensive production due to the total number of shots but it is rare for a player to raise his shooting percentage alongside an increase in shots. Yet, that is exactly what several of the Golden Knights have accomplished this season.
Karlsson, with his team-leading 39 goals, has shot 23.5 percent this season, best in the league by 3.5 percent, and 15.5 percent higher than his career average entering this season. His season's shooting percentage is significantly higher than the league average of 9.3 but a lot of players have better than league average shooting percentages. Most of the league's elite goalscorers shoot well above league average, that's what makes them elite. This season, Patrik Laine is shooting 19.9 percent and Evgeni Malkin is shooting 19.0 percent and both have more than 40 goals.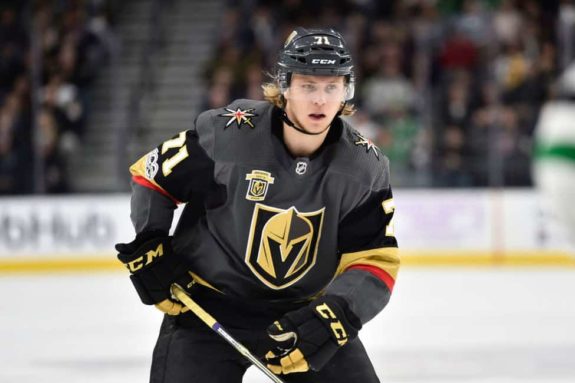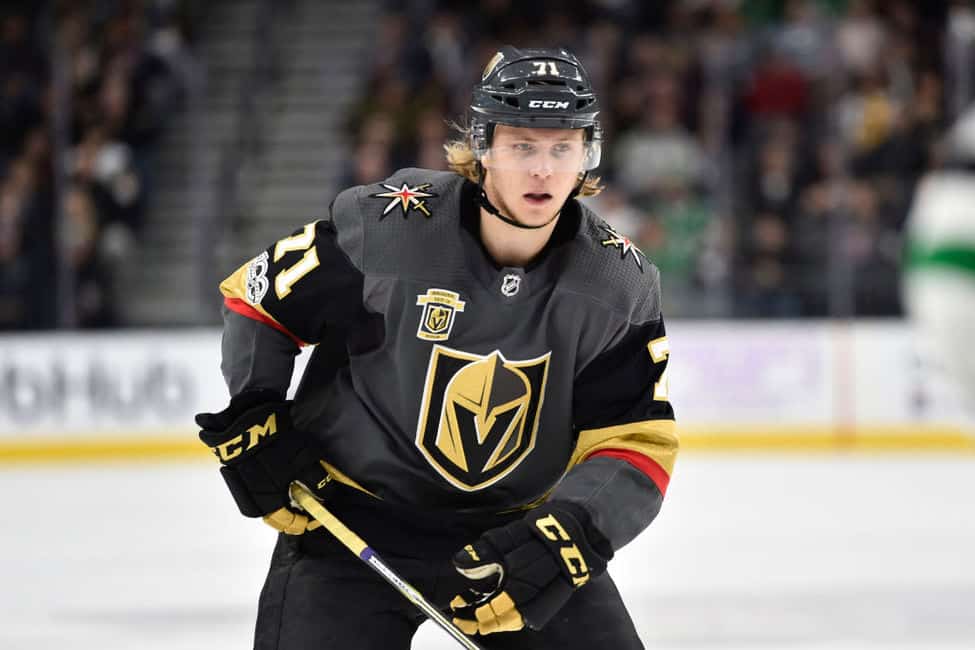 The difference between they and Karlsson is that Laine and Malkin have track records of high shooting percentages while Karlsson does not. Even when he played in the SHL, he shot 11.4 percent in his best season. So unless Karlsson became one of the game's best snipers in his age-25 season, he is likely to experience some regression.
Even if he was shooting 15 percent this season, still well above league average, he would only have 25 goals given his current number of shots. I feel confident in predicting a regression for Karlsson which, in turn, will lead to a regression in production for his linemates, Reilly Smith and Jon Marchessault.
To counteract the Golden Knights setting career highs, there are also several not meeting career averages. Tatar was having a down season prior to the deadline with 16 goals and 28 points in 62 games and has yet to find his scoring touch with Vegas. In 11 games since the trade he has two goals and three points. Cody Eakin is another Golden Knight having an underwhelming season. With 10 goals and 25 points in 72 games, he is off his 82-game averages of 14 goals and 33 points.
In total, if all Golden Knights were to regress to their per-82 game averages before Vegas, the team will score 71 fewer goals next season. That doesn't include the loss of scoring from free agent departures Neal and Perron. It's unlikely that all returning players will regress to career averages but if even a few regress, it will impact the team's offense.
Options to Combat Regression
With a solid farm system that is top-heavy, even if all returning Golden Knights regress a bit, the team can overcome a loss in production. As mentioned above, top prospects Cody Glass and Nick Suzuki could both be in the NHL next season. Both have the potential to score 20 goals in their rookie seasons and will provide a boost to Vegas's offense when called up. The Golden Knights also have talented defense prospects Erik Brannstrom and Nicolas Hague both of whom will be 19 when next season starts and likely still a year away from the NHL.
Another option to combat regression is being active on the free agent market. Vegas currently has more than $27.5 million in cap space for next season based on the current salary cap upper limit of $75 million. That upper limit is projected to increase to between $78 and $82 million for next season, giving the team even more cap space. They also have David Clarkson's contract which is eligible for LTIR to create even more flexibility.
With that cap space, they do have to re-sign Karlsson, Miller and Theodore, all restricted free agents and could receive high cap hits if Vegas want to sign them to long-term deals. If the three combined for $15 million next season, that still gives Vegas roughly $17 million in cap space. That much money allows them to be in the free agent market this offseason. James van Riemsdyk and John Carlson both make sense for the Golden Knights and would help overcome any potential offensive regression.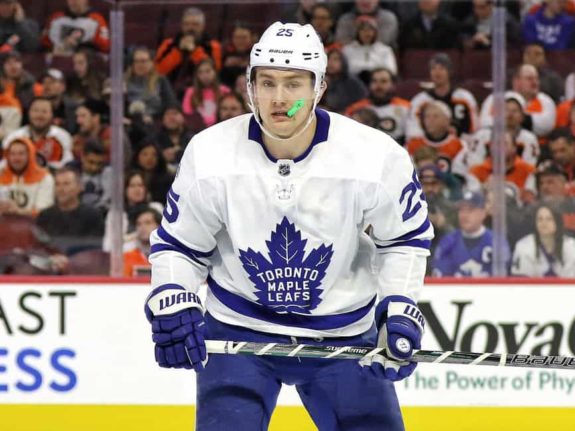 Another option to help create more offense next season is re-visiting the Erik Karlsson trade this summer. Several insiders reported that Vegas was the last team involved in the trade at the deadline and they still have the assets and cap space to make the trade a reality. Bringing in an elite blueliner like Karlsson instantly creates protection against a regression on the blue line. Ultimately, any regression for Vegas will come down to whether or not their players have set unsustainable scoring totals this season or if their production is the result of increased workload.
Is William Karlsson one of the most accurate shooters in league history? Probably not. Only 44 players with 150 or more shots in a season have had a shooting percentage equal to or better than Karlsson's. Even if Karlsson shoots 15 percent and regresses to 25 goals instead of the 40 he will score this season and Haula is a 20 goal, 45 point player, the Golden Knights will still be good next season.
Most of Vegas's potential regression will occur in relation to what the rest of the league does. As teams have an entire offseason to watch video and learn the Golden Knights' trends they will be able to play against them better. Another way regression will happen is the Pacific Division won't be as bad next season. The Edmonton Oilers are going to overhaul their roster this offseason to allow Connor McDavid to excel and the Calgary Flames are a couple of pieces away from being a true contender.
So, Vegas will still be good next season. It's hard to not see them as a playoff contender next season unless there is a drastic drop-off in production and injuries happen. At the same time, though, they are unlikely to run away with the division next season as they are this year.
*All stats came from Hockey-Reference, Natural Stat Trick, and Elite Prospects