What's The Grind Line? Apart from the once-famous line of Kris Draper, Kirk Maltby, and either Joe Kocur or Darren McCarty, The Grind Line is also The Hockey Writers' weekly column about the Detroit Red Wings. This week, Devin Little and Patrick Brown are the muckers who make up THW's forechecking unit and sound off on Red Wings topics.
The trade deadline is getting closer, and though it comes as no surprise to anyone, the Red Wings are clear sellers. The team is full of candidates to be traded, but that begs the question: Is anyone truly untouchable? In this week's edition of The Grind Line, Devin and Pat sit down for a fireside chat to discuss that very topic.
---
Untouchable Players Currently in the Organization
Patrick Brown: OK, so we all know there's no way Dylan Larkin gets traded – that low-hanging fruit is officially off the table. So are there any untouchable players, other than Larkin, with the Red Wings? Remember, Any currently rostered player OR prospect is fair game to protect.
Devin Little: When we briefly touched on this topic during the latest episode of THW Grind Line, I mentioned anybody who is 22 and younger is more than likely off the table, but I think that goes without saying.
As for the rest of the roster, I don't think anyone is truly untouchable. I think guys like Anthony Mantha and Tyler Bertuzzi are close to it, but if the right offer comes along, I can't see general manager Steve Yzerman turning a blind eye to it.
PB: I think if you look at the roster and where the Red Wings are in terms of their rebuild, it's fair to say Yzerman should listen to just about any offer. I do think, though, I'd rule out a Bertuzzi trade. For one, he has only played in nine games this season. Given the uncertainty around his status for the remainder of the year, teams aren't likely to take a chance on him. That, coupled with his RFA status, makes him an unlikely target.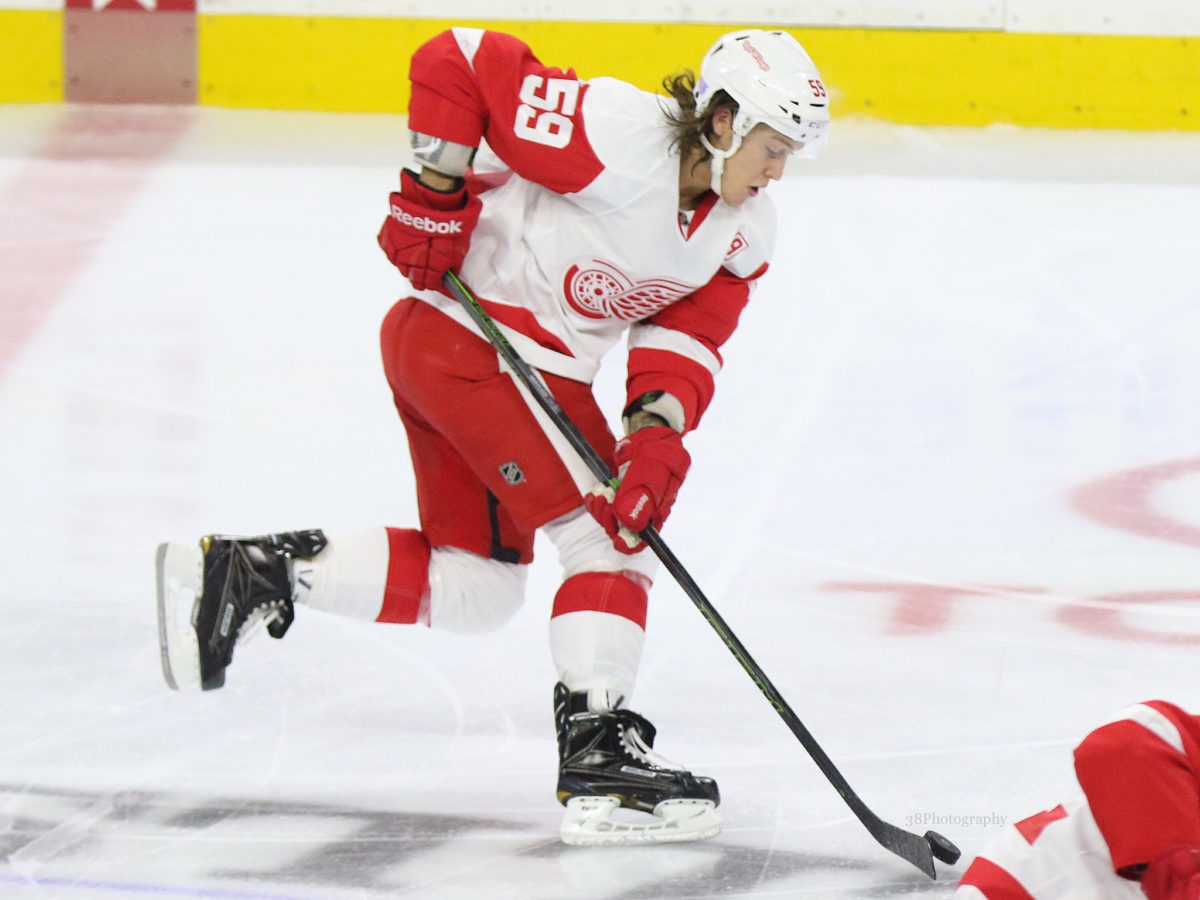 That said, let's talk about Mantha for a second. It's amazing that neither you nor I would mark him as untouchable, and that's super interesting considering, despite his slow start, he's second on the team in points, and leads in total goals scored. He could have had another one Thursday night but instead gave the empty-net goal to a teammate. So why have so many fans soured on him?
DL: It comes down to expectations as well as the team's overall lack of offense. We knew heading into this season that the Red Wings weren't going to be an offensive juggernaut, but we collectively looked at the $5.7 million man as a reason to be hopeful. While yes, he is among the team leaders in scoring, it's not at the level that we expected. It's part of the reason I felt compelled to work a mock trade that sent Mantha to Montreal!
Now, to be fair, I would rather give Mantha another chance to perform next season (under, hopefully, more normal circumstances) than to just punt him off the team. If you're going to sell Mantha, then sell high on him. Trading him right now would be selling low, and this organization can't afford to miss out on value on a given player, especially one of Mantha's caliber.
What to Expect in Return for Any Trade This Season
PB: So, we started our little chat looking at potentially who may be off the trading block. And, it seems like, with the exception of the one obvious callout in Larkin (and the cupboard full of prospects that is quite clearly off the table), there really isn't anyone else who is off the table. I think that's pretty telling about the state of the organization when that's a conclusion we can easily draw.
We don't need to venture too far into who WILL get dealt … there's plenty of coverage around that, but my next question rests around assets. If you're Steve Yzerman, what are you specifically focused on? Do you look for draft picks exclusively, or are you OK with prospects from other teams that were mid-to-late round selections?
DL: It depends on the team Yzerman is working a deal with. When I worked my Mantha to Montreal deal, I had a couple of prospects that I had my eyes on, and I preferred acquiring them instead of, say, a third-round pick.
I also think that Yzerman will be looking to add picks for the 2022 draft, and he should. Detroit has two extra second-round picks in this year's draft, as well as an additional third. They don't have that same amount of bonus picks in next year's draft.
My overall preference is to acquire pieces that can bolster the pipeline for years to come. Whatever form that takes is fine with me. What about you?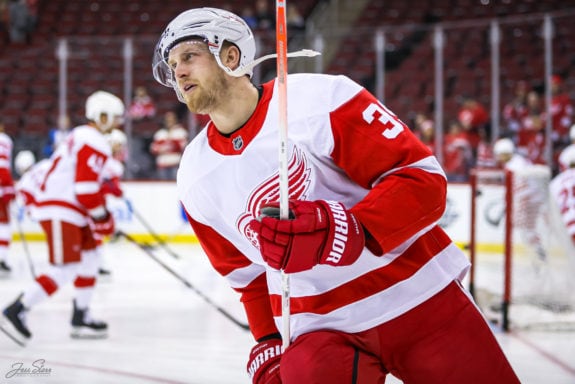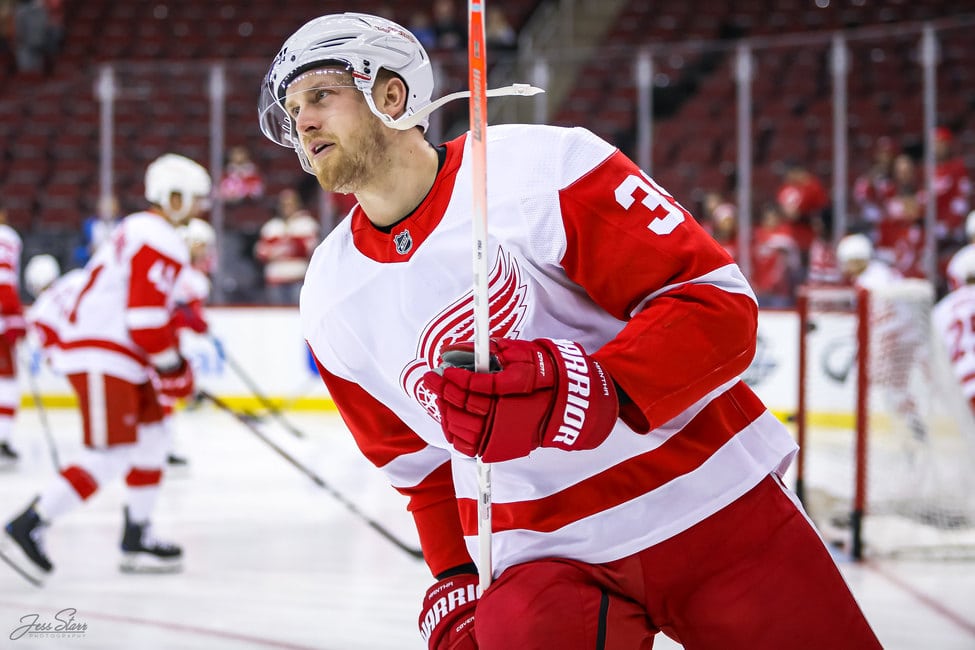 PB: I completely agree with you on that – I don't really think it matters if Yzerman acquires draft picks or talent that's already in another team's pipeline … whatever equates to the maximum value for whoever is shipped away. I think your comment about 2022 is so spot-on. Another option would be to package in one of this year's "bonus" picks for a better return, for example, Bobby Ryan and a 2021 third-rounder for a second-round draft pick in either 2021 or 2022.
Now don't laugh, because I don't pretend to call myself a GM, but I'm just saying if it sweetens the pot and helps bolster our draft positioning, I'm all for it. As I mentioned earlier, the state of the team is clear, and even though fans everywhere want to be playoff-bound, it's clear that there's still room to further stock the cupboard.
Circling back around, I'm curious. Though pretty much every rostered player is on the table … is there anyone you'd be disappointed to see go?
DL: I think you're onto something there. If you've got all these extra picks, why not utilize them as means to boost the return? I'd be willing to add Edmonton's second-round pick to a Ryan deal if it means Detroit gets a late first-round pick back.
Trade Candidates Who Would Be Tough to Part With
DL: Aside from the obvious ones, I would be upset to see two guys go: Troy Stecher and Jonathan Bernier. Stecher has been a huge boost to the defense since coming over from the Vancouver Canucks and he fits the age profile of this team very well. As for Bernier, he has done an admirable job as this team's starter over the last two years, and I think that he's the perfect "bridge" between now and when the goaltender of the future (hopefully) arrives.
What about you?
PB: You know, it's funny. For the past few years, I have NOT been Luke Glendening's biggest fan, especially after last year's nine-point, minus-29 campaign. That said, this season he has been without question one of the top role players on the team, and has represented his "A" quite well. We've all marveled at his face-off ability, and his eight points in 26 games this season has him well on pace to top last season's forgettable output. He has four takeaways, blocks shots, and overall just basically leaves it all on the ice every night.
I can't believe I'm saying this, but should LGD get dealt, I would be surprisingly sad, and grateful for his eight years in Detroit. When times are tough, you really look to those who continue to persevere with integrity and accountability, and he has done that, hands down.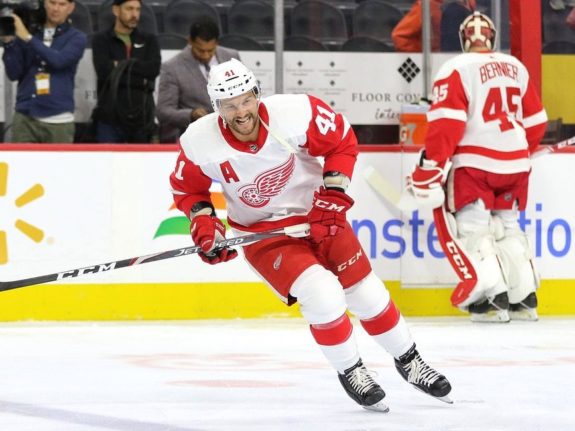 PB: Well, it's certainly going to be an interesting end to the season. Considering the expansion draft is approaching as well, I'm not exactly sure how I'll gauge Yzerman's trade deadline activity, but I am curious – what do you consider a successful return?
Personally, I'd like to see an additional three draft picks between the 2021 and 2022 drafts, or at the very least a mid-range prospect who has some experience already, and may be able to make some semblance of an impact in the 2021-22 season. What say you?
DL: The top thing on my wish-list is another first-round pick, whether it's in the 2021 or 2022 draft. However, if Yzerman can add some quality picks in the '22 draft, I'll be content. Any additional picks for the '21 draft are welcome, of course, but I don't think they're absolutely necessary.
PB: Well here's hoping for picks abound! Thanks for joining me fireside today – next time I'll bring the bourbon! Cheers!
Want more Red Wings content? Tune into The Hockey Writers' Grind Line — a weekly show on YouTube and Facebook. Check out our most recent show below, and make sure you subscribe to the channel so you don't miss any upcoming shows.
---
---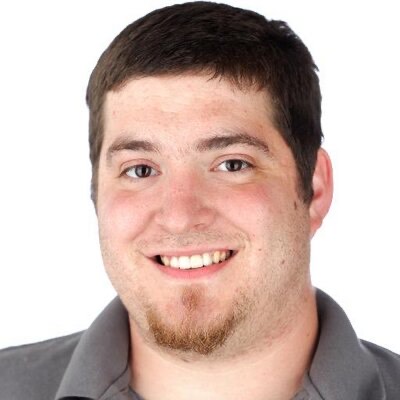 A die-hard hockey fan in the desert, and proud Iowa State alum. Detroit Red Wings and Arizona Coyotes contributor for The Hockey Writers.