The Colorado Avalanche are searching for solutions to their goaltending depth and have recently been kicking tires on the Buffalo Sabres' Jonas Johansson. 
Ever since Pavel Francouz became sidelined at the beginning of the season, general manager Joe Sakic has been trying to plug a hole. News back in January about Francouz's injury was initially good. Most outlets reported that whatever was keeping him out of the lineup (lower body) was minor. 
Yet, the 30-year-old hasn't played a game for the Avs this season, and his substitute, Hunter Miska, is not sparking joy. According to Sportsnet's Elliotte Friedman, Sakic has possibly approached Sabres GM Kevyn Adams about a trade for Johansson. 
In six games played so far in 2021, Johansson sports a 3.91 goals-against average (GAA), coupled with a .883 save percentage (SV%). These are not precisely sexy numbers, but the Avalanche and potentially others see good value in obtaining the 25-year-old Swedish goaltender. 
Johansson was the Sabres' 61st overall pick in the 2014 NHL Entry Draft. He is a big goalie (6-foot-5) who emulates his game after fellow countryman Henrik Lundqvist. Both he and Lundqvist play a similar deep-in-the-net style. Dobber Prospects — run by former Sportsnet and The Hockey News contributor Darryl Dobbs — ranks his probability of National Hockey League success at 65 percent, which puts him in the range of a moderate to a low-end starter. A backup, in other words. That percentage could increase with time as he faces more elite-level competition.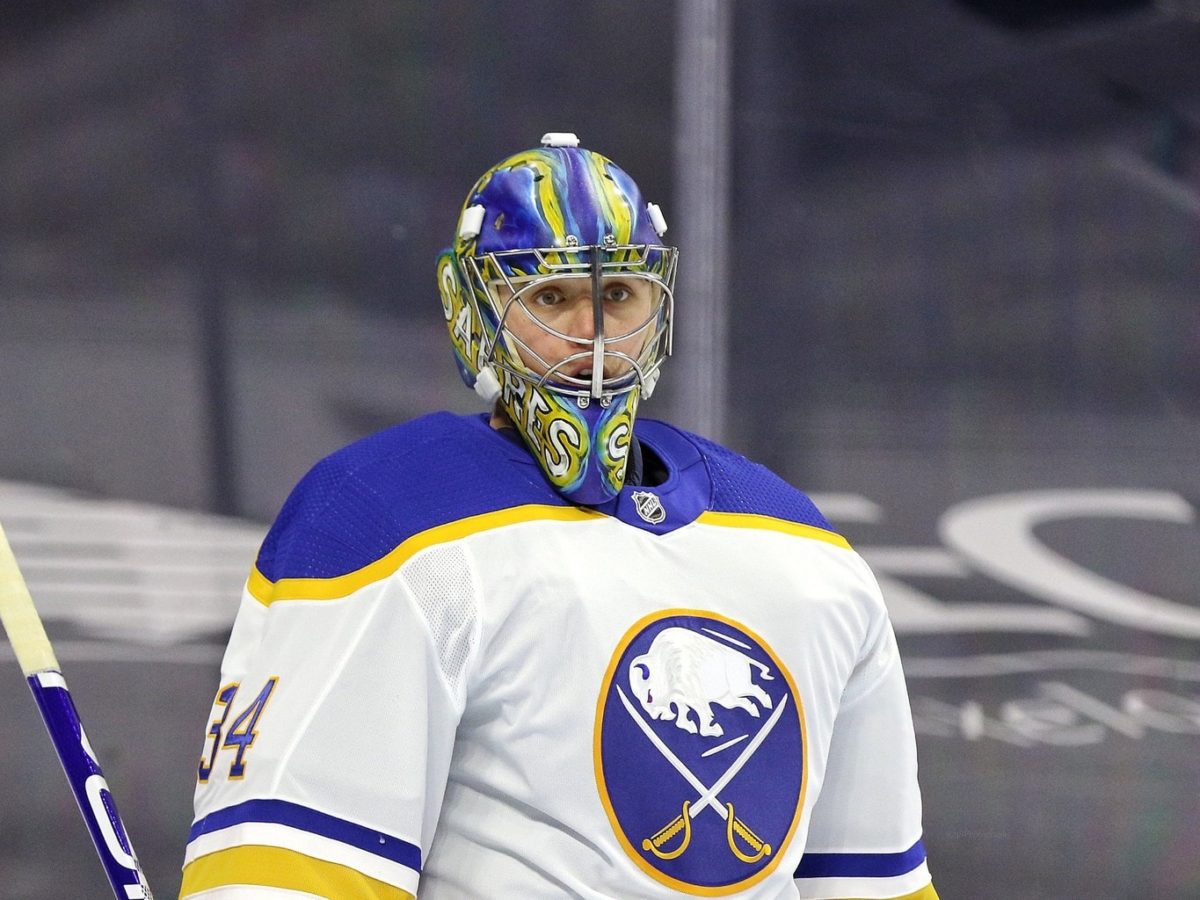 Johansson and Carter Hutton have shared the Sabres net since Linus Ullmark went down with a lower-body injury in late February. The team expects Ullmark to return at the end of March.
In 2020 with the American Hockey League's Rochester Americans, Johansson showed that he is on the cusp of becoming a reliable No. 1 goaltender. His .921 SV% and GAA of 2.28 were good for sixth among goalies in the AHL that year. He also earned an appearance at the All-Star Game. That work earned him a new contract with the Sabres, who re-signed him on Oct. 7 to a one-year deal.
"He knows what he's good at and he works hard in practice," Sabres coach Ralph Krueger said in the fall. "He's been extremely receptive to the coaching in Rochester and now here with (goalie coach) Mike Bales and this is not lucky what's happening here. We really feel a pro, a high-level professional, and this was truly an exciting game for him to build on."
While Hutton and Johansson haven't had the best defence in front of them, the two have also failed to give the team any big bail-out saves, and as a result, in-game momentum builders are few and far between for the Blue and Gold in this forget-about-it season. But that's not to put the Sabres woes fully on the shoulders of their goalies. The whole team shares the pain they are going through and the blame that goes with it.
Goaltending an Organizational Need for Both Teams 
The Sabres and Adams identified goaltending as an area they would like to address going into the season. It was arguably the most significant question mark facing the team before the season imploded.
That's because, heading into next season, the Sabres do not yet have any goalie under contract aside from Ukko-Pekka Luukkonen, who isn't ready for regular NHL starts. Trading Johansson now would mean that Adams would need to bring more help in the crease, either in return for Johansson or perhaps in another deal. 
Adams is unlikely to get a decent replacement for Johannsson from the Avalanche, who have also identified goaltending depth as an organizational need.
The Avs have their starter in Phillip Grubauer, who has posted outstanding numbers this season with 14 wins in 21 games, including a remarkable 1.95 GAA and a .920 SV%. Backup Pavel Francouz was also impressive as a rookie last year. Appearing in 34 games, he had a record of 21-7-4 with a .923 SV% and a 2.41 GAA. Should Johansson head to Colorado, he'll end up on the taxi squad once Francouz makes his return, which the Avalanche expect will be in early April. That's exactly the spot GM Sakic wants to improve as his confidence in Miska wanes.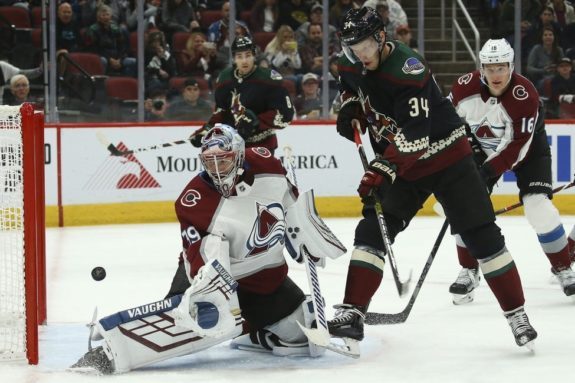 More than likely, a team like the Avs, who are heading towards a projected deep push into the playoffs, will be willing to trade futures to shore up any deficiencies they have picked up on. Johansson would provide an excellent insurance policy should Francouz or Grubauer become injured in pursuit of the organization's first Stanley Cup since 2001.
Avalanche Up Against the Cap
If the trade were to happen today, Sakic would have to move some dollars out. Johansson's pro-rated $700,000 contract has $337,931 remaining this year which bumps up against the Avalanche's projected $291,174 of cap space. Whether those dollars moving out in the form of a roster player would be a part of a possible trade with the Sabres is an open question, but cap compliance would have to be reckoned with somewhere.
If the deal doesn't happen until Francouz is back in the lineup, the cap issues won't matter. Because his contract is under $1.075 million, once Johansson is on any team's taxi squad, his salary will be treated like an American Hockey League contract and won't count against the cap. 
If the Avalanche are interested in Johansson, they won't be giving up any top-notch prospects for what will be the third-ranked goalie on their depth chart. Along with a potential roster player, he might snag some (late) picks at the draft, though. The Avalanche still have all of their third, fifth, sixth and seventh-round picks to play with this deadline.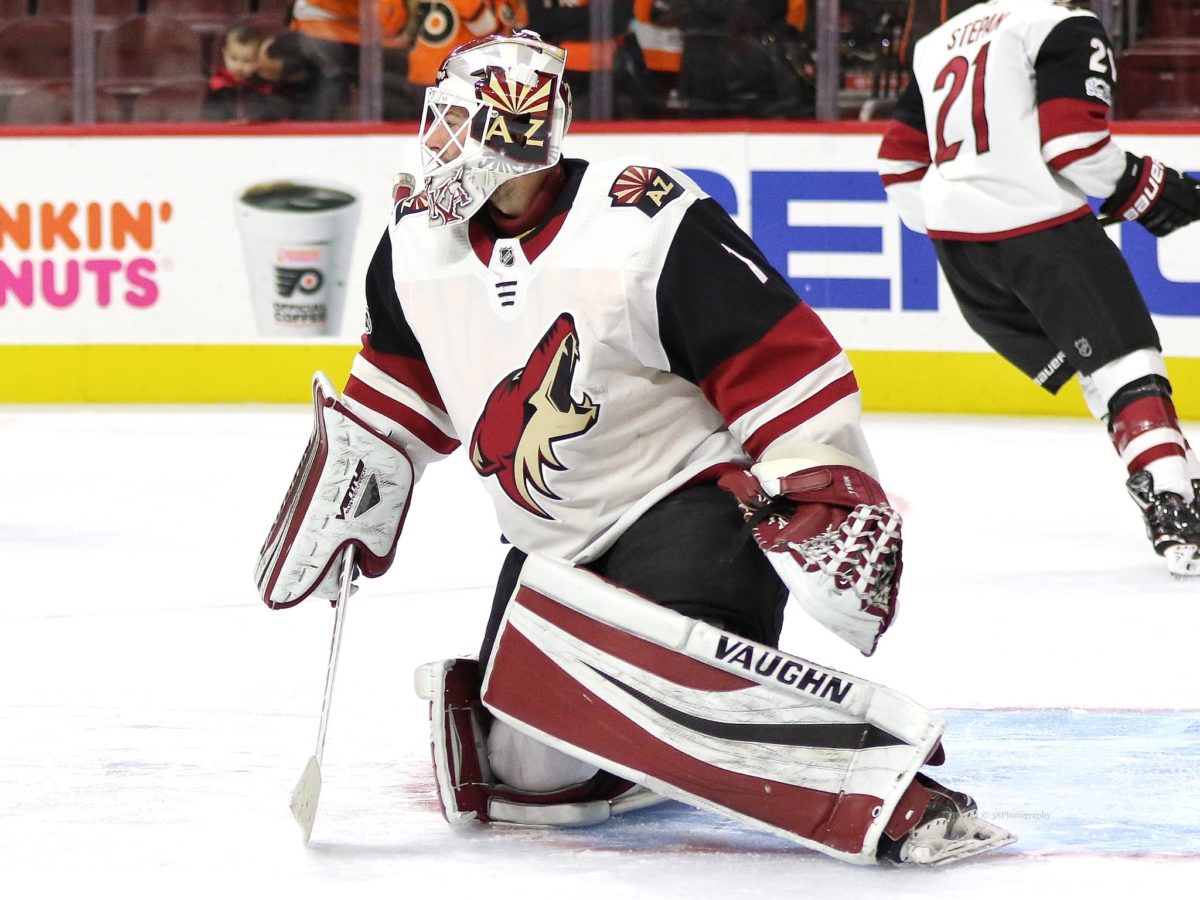 A one-for-one trade for Miska wouldn't get the Sabres any further ahead, but it would benefit the Avalanche. In four games this year, Miska has put up underwhelming numbers with a GAA of 3.33 and a SV% of .889. According to Dobber Prospects, his prospect rating is less than Johansson's, coming in at a 55 percent chance of NHL success. He is a bit behind Johansson in his development, in a limited amount of games.
Miska signed a two-year deal with the Avalanche in October worth $725,000. With the injury to Francouz, he was forced into NHL action before he was really ready. Bringing in a new goalie to shore up the overall organizational depth doesn't necessarily mean the Avs will force him out the door. Miska could stand to benefit from another couple of years of solid AHL development.
This is the time of the year when GMs around the league are playing a lot of phone tag and putting out feelers, but it doesn't necessarily mean that anything could happen. On paper, a Johansson deal to the Avalanche that doesn't net some draft picks or a roster player doesn't make sense. Perhaps Adams' best play would be to negotiate extensions with Johansson and Ullmark (the clear No. 1 goalie in Buffalo) and begin building the team from the net out.
But is Adams comfortable with these two as the premise of a competitive team? Time will tell. 
---
---