The Buffalo Sabres seem to have avoided the worst-case scenario between the pipes — for now. But the future of the team's masters of the meshed mansions remains uncertain.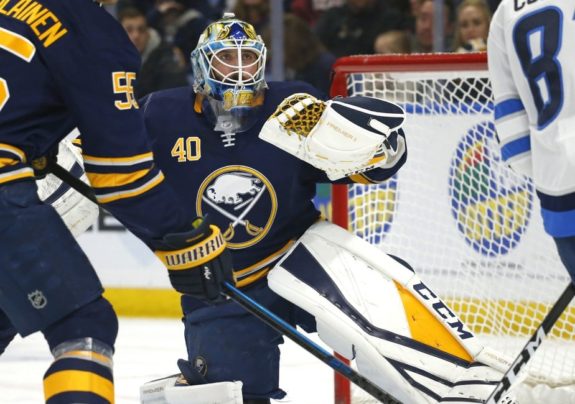 For a team that already averages 3 goals against per game, uncertainty in net might not come as a surprise.
Linus Ullmark returned to action Friday after taking time off to mourn his father's death. Had he missed more time, the Sabres would have been ultra-thin in the crease following the loss of Carter Hutton in a collision with Philadelphia Flyers' defenseman Ivan Provorov during Tuesday night's 3-0 loss.
Hutton is only expected to miss a couple of games, but as with any head injury, the full extent of the impact is not usually known right away.
With Ullmark expected to get the bulk of the starts this season as the team's 1A, Hutton will slot into the 1B position when he returns. It's not what you would call an ideal situation, especially since both will hit UFA status at the end of this season.
Jonas Johansson, the Sabres' third-round pick, 61st overall in the 2014 NHL Entry Draft, has shown promise, but he joins the others in also needing a contract next year.
With all of that in mind, general manager Kevyn Adams has some work cut out for him moving forward, which is why some have tied the Sabres to rumours of being in on the Marc-Andre Fleury sweepstakes.
Future Considerations
All three goalies on the squad this season have seen some action, which you could have predicted would be a reality sooner or later due to the compressed schedule.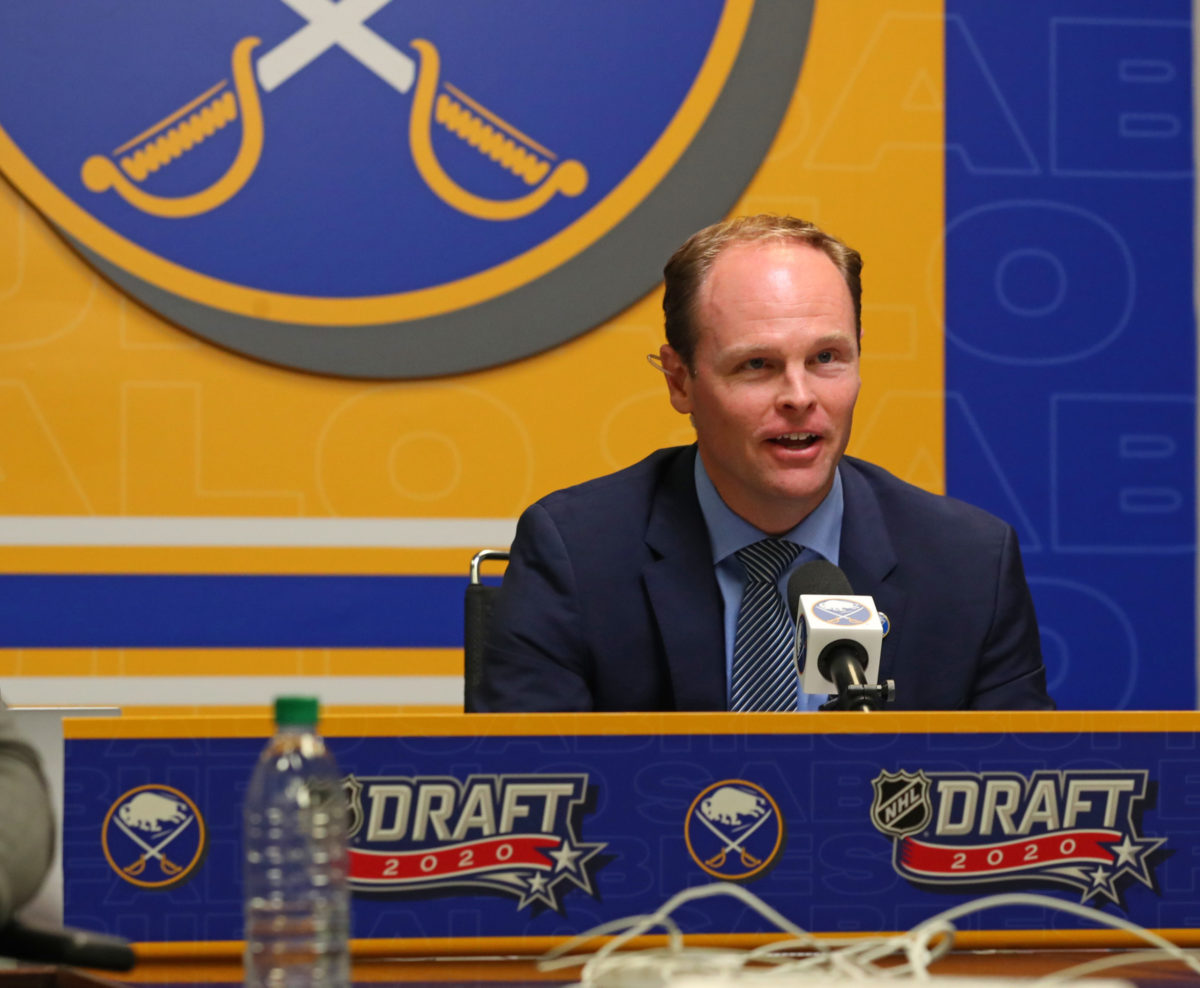 Goaltending was already a matter of much concern to start the season for this team. Question marks seemed to pop up easily from how good Hutton's eyes will be to how good Ullmark actually is (starter or backup?), and is Jonas Johannson ready to prove his worth? 
Playing 56 games in 114 days means sharing the net. There's not much room for error, and staying healthy is paramount.
That coarse reality is now beginning to set in.
There might only be limited potential with the three they have, and currently, there's no plan beyond 2021.
It's a truth that cuts about as deep as say, a freshly sharpened sabre might.
The rosiest of predictions this season had the Sabres getting into the playoffs and growing as a group. A deficit in net harms that possibility, which, let's admit, was a slim one to start with in a tough MassMutual East Division with the likes of the Washington Capitals, New York Islanders, Boston Bruins, New York Rangers, Flyers and Pittsburgh Penguins.
Head coach Ralph Kruger has got to be concerned. But after the game on Tuesday he chose instead to direct his anger and frustration at Provorov, claiming he intentionally injured the Sabres' goalie. 
"If you look at the way the elbow was extended, you know what you're doing," Kruger said in his post-game presser. "We'll see where this takes us. It was a big hit here tonight."
It's an interesting tactic, given that you would think he doesn't want to draw any more attention to the fact that he's down to one proven NHL goalie.
Johannson Not Out of Place
The good news is Johansson, coming in relief of Hutton and leaving the backup goalie bench eerily vacant (reminiscent of a David Ayers situation in the making), didn't really struggle much in only his seventh career NHL game.
It's also likely that, given his RFA status, he will agree to a contract that will see him return to the team next season.
The bad news is with goalies (maybe more so than players), the only way to get better in this league is to make mistakes and learn from them. That means Johansson isn't the permanent solution in net for the Sabres next season.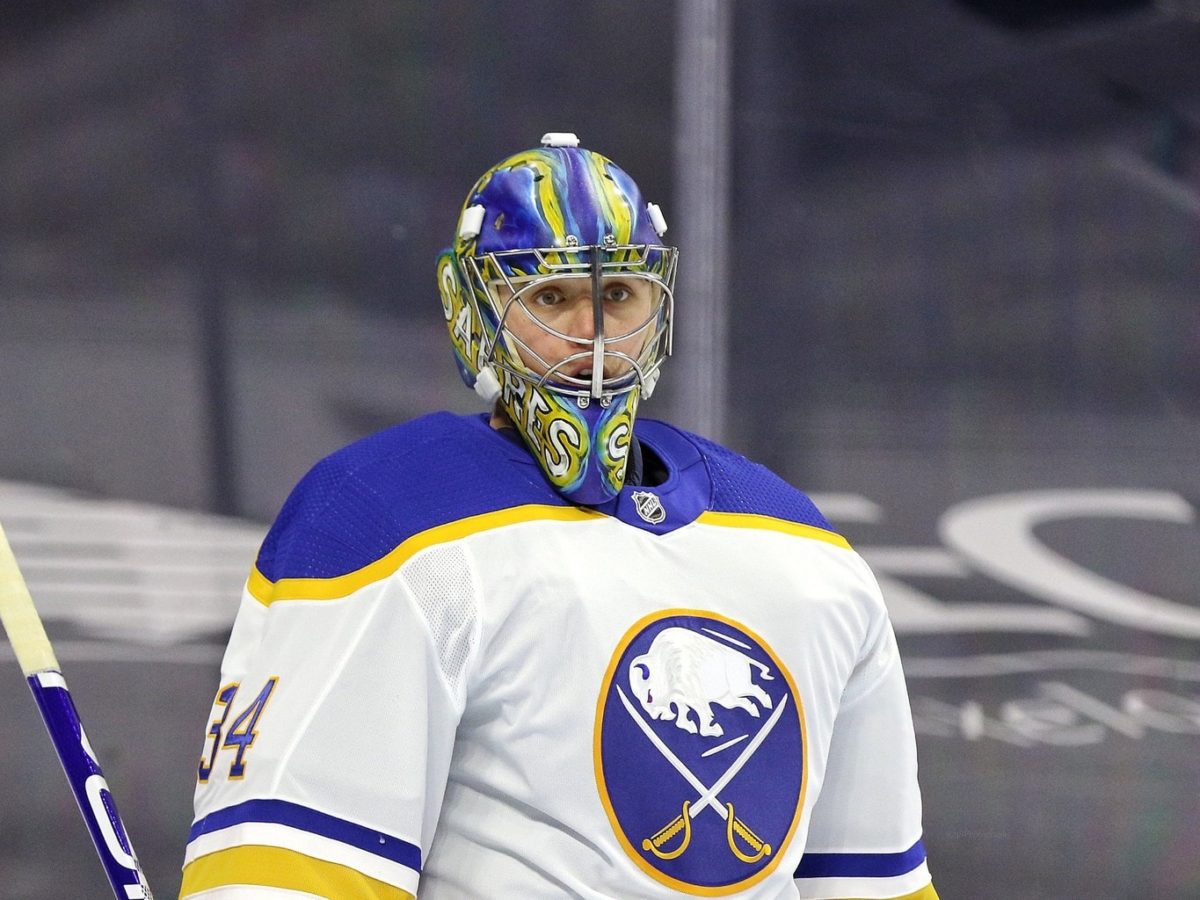 In six games during the 2019-20 season, Johansson had a 2.94 goals against average (GAA) and a 0.894 save percentage (SV%), going 1-3-1, including one game that didn't count against his win/loss record, coming in relief of Carter Hutton in a 6-1 loss to the Colorado Avalanche on Feb. 4.
Johansson is a big goalie who likes to play deep in his net, a style that mimics that of fellow Swede Henrik Lundqvist. Seeing increased competition against elite players will help speed his development this season, but you can expect hiccups along the way.
Like most young players joining the league, Johansson doesn't yet know just exactly what he doesn't know. Awkward phrasing aside, that means mistakes will happen.
Experience is the best teacher here, using your mistakes as learning checks, gathering information on the world's best players to inform you of how to bring your game to a level where you can compete with them.
Might he surprise us and show flashes of brilliance now and again? It's possible. But it's unlikely that Johansson is going to have it all figured out from the get-go. Or even, for that matter, by the start of the next season.
This season provides a chance for him to be a student of the game from the bench or the press box, joining in when needed on the basis of handling a lighter workload. 
Other Options in the System
Dustin Tokarski is plugging away in Rochester, getting ready for the AHL's start on Feb. 5. If nothing is done to address the goalie situation in Buffalo by next season, he might be thrust into the primetime before he is ready.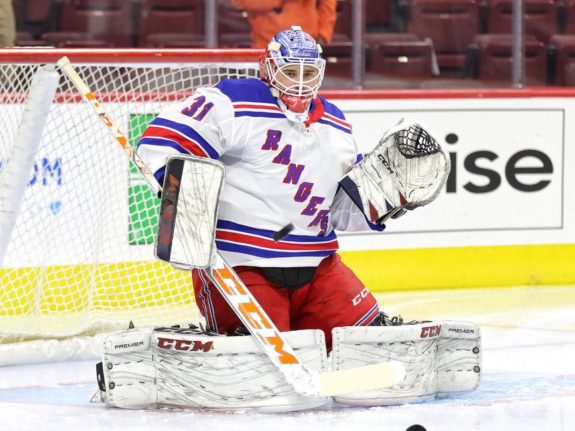 While posting outstanding numbers in the minors last season, recording a .924 SV% and a 1.97 GAA over 18 games with Wilkes-Barre/Scranton, Tokarski has struggled at the NHL level in the past and hasn't played a game in the league since he was with Anaheim in the 2016-17 season.
Many peg Tokarski as a career minor leaguer, but one never knows with goalies when they might start to shine. 
Perhaps instead of calling up Tokarski, GM Adams will instead opt to tap top prospect Ukko-Pekka Luukkonen, who joined the Rochester Americans on Saturday, Jan. 16.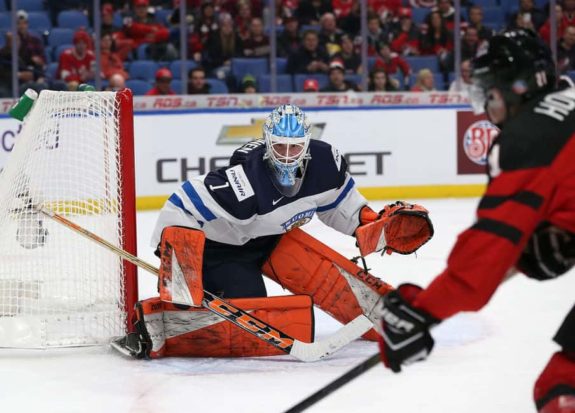 Luukkonen split his time last season between the AHL and the ECHL's Cincinnati Cyclones, going  12-7-3 with a 2.24 GAA and a .912 SV%. 
In Rochester, the 6-foot-5 goalie registered a record of 3-4-3 with a 3.15 GAA and a .874 save percentage. Those aren't great numbers, and they point to Luukkonen needing more development time before facing Crosby and Ovechkin on a full-time basis. 
Then there's Michael Houser, who, if Tokarski gets called up, will likely step in to fill his role with the Amerks.
Taking into account all the options in the system, the Sabres are likely to look to bring in talent from outside. It's possible that either Hutton or Ullmark will test the market this offseason. But even if one of them returns, neither is a solid number one.
With that in mind, let's look at the options that are available through trade and free agency.
Options Outside the System
It's worth nothing that there's not enough space to cover every option, so I selected a few of the most intriguing/entertaining ones below.
Although some of the options listed perhaps classify as more fantasy than reality, with the likelihood of the more premier goaltenders staying with their current clubs, there is also a chance that some teams might look to move in a different direction, making our first potential free agent an intriguing option should he hit the open market.
Tuukka Rask
The mere mention of this name makes Leafs fans cringe as they remember that the team drafted the Stanley Cup champ and Vezina Trophy winner before trading him to the rival Boston Bruins, who would torment them in the future. Sabres fans would love it if Rask joined their ranks and continued to stymie the Leafs at every chance.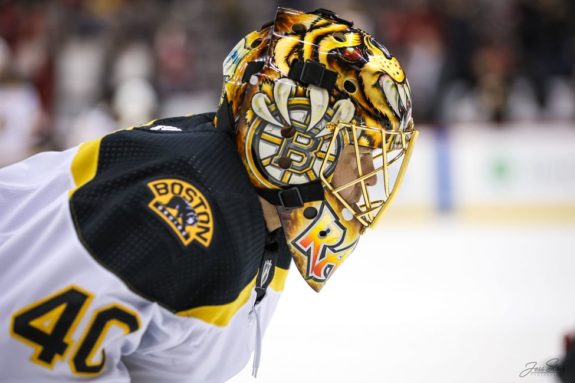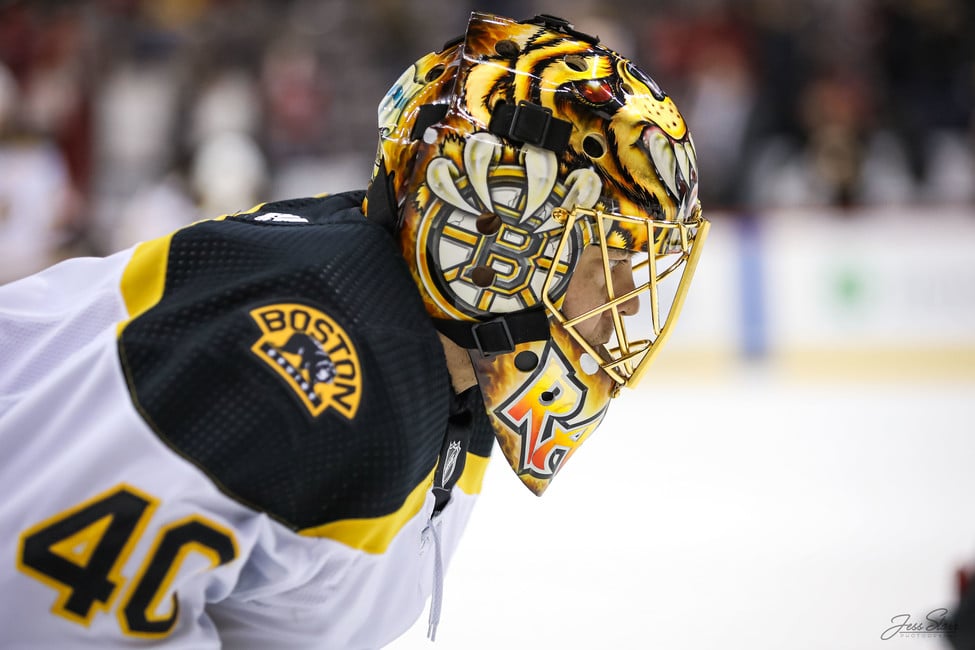 There's been some indication that his relationship with the Bruins has soured over the last few months, increasing the chances that GM Adams might be able to snag him through trade or free agency.
And why not?
At 33, Rask has still proven he can play, posting a more than respectable .929 SV% with a 2.12 GAA over 41 games played last season.
His cap hit last season came in at $7 million. Given the Sabres' cap situation, Rask would either have to take a trim on his contract, or the Sabres would have to move some pieces to make a good fit.
Frederik Andersen
Speaking of the Leafs — because everyone loves when we do — Freddie Andersen's contract expires at the end of this season, and depending on how things go for the Blue and White, he might just be available.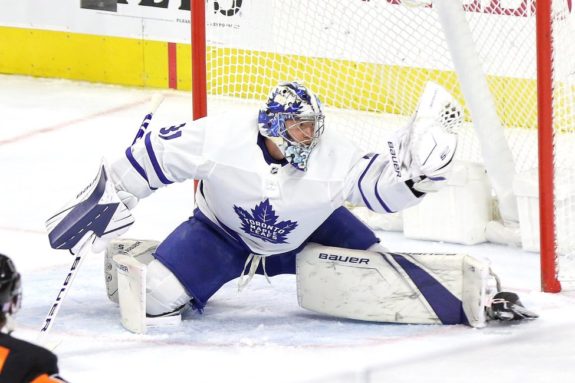 Fickle Leafs fans are easy to jump on Freddie and blame him for every mistake, but the great Dane has proven himself to be a solid, workhorse-like netminder who would be an improvement on the Sabres' current options.
His numbers saw a bit of a dip last season, as the whole team in front of him sagged in their overall performance, but his career numbers are solid, posting a .916 SV% to go along with a 2.63 GAA in 374 games played.
Comparative to current cap hits, he's cheaper than Rask at $5 million, but he may be looking for a pay raise if he has a good season. In reality, without many options available in the system for the Leafs, they are likely to make a hard push to re-sign Freddie before the season is over. That is unless he falls completely flat on his face and loses the starting job to Jack Campbell.
Pekka Rinne
Juuse Saros is the undisputed starter in Nashville now, and Rinne's outstanding career may just come to an end when the shortened 2021 season — and his contract — are over.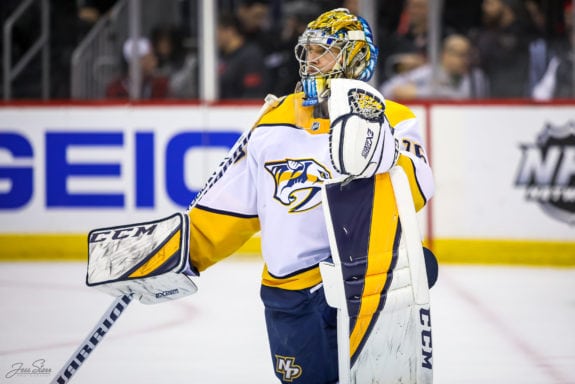 But what if the 38-year-old decides he wants another kick at the can?
It might be a stretch, but there could be a situation where Rinne takes a one-off deal to come to the Sabres and mentor Johansson and/or Hutton or Ullmark, should they return. It's unlikely, but let's dream together, shall we?
Should he make the move, it would likely be as a backup, meaning he will presumably take a pay cut from this year's $5 million cap hit. That's not an ideal situation for the Sabres going forward.
But it might not matter, because as a new Dad with deep roots in Nashville, the location of the only team he's ever played for, I can't see Rinne leaving.
Marc-Andre Fleury
Fleury's agent was not initially happy with the fact that the Vegas Golden Knights brought in Robin Lehner to take over the number one spot in net.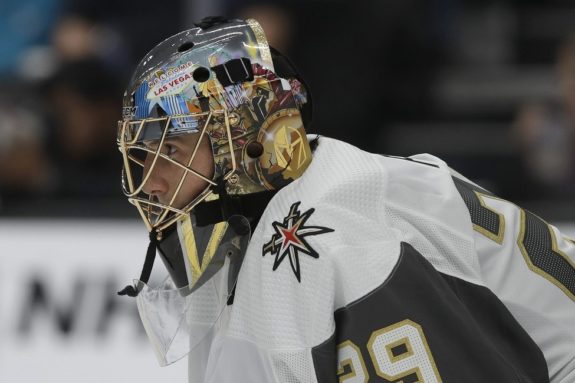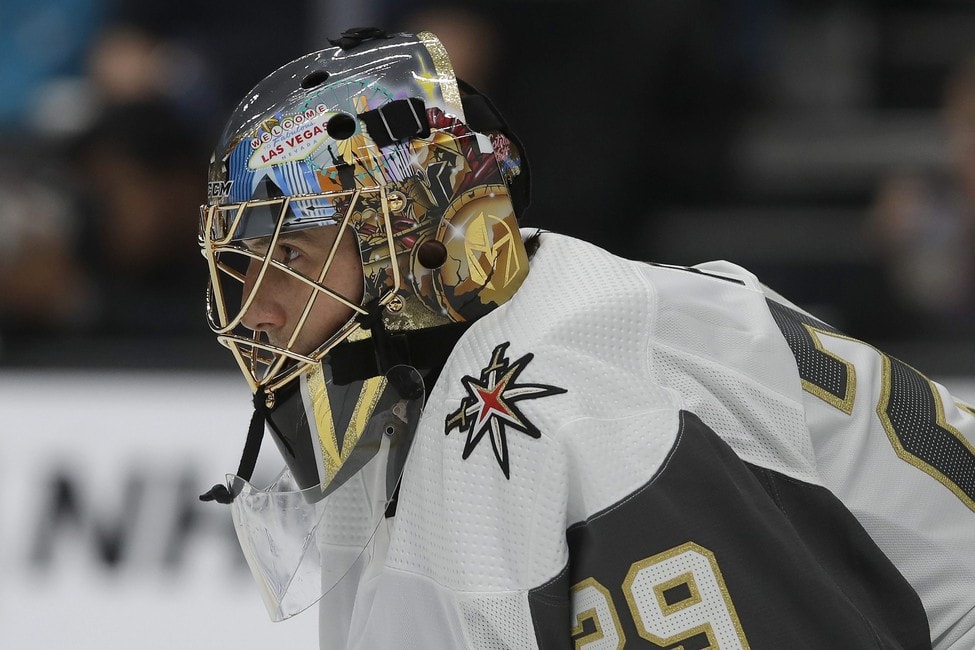 But both goalies were quick to share a laugh about it and smooth things over publicly.
Still, questions about Fleury's future in Vegas aren't going to go away. Trade rumours are already popping up again linking him to Buffalo.
Although he may be in the twilight of his career, the flower still blossoms every chance he's given, which makes him the most intriguing option out there for the Sabres.
With GM Adams looking to do all he can to improve the team now and keep star Jack Eichel as happy as can be, this move seems to make more sense the more I write about it.
It's hard to speculate what the price tag would be. Doing so would necessitate an in-depth look at Vegas' organizational needs, which I don't have space for here.
But all indications are that in the push to shore up the net, Fleury tops the must-have list for the Sabres, who will make their case through a trade should the cost not be too detrimental for the team's future.
Did I miss any obvious ones? Do you have any ideas on which direction the Sabres might go? Leave a comment below and become a part of the conversation.
---
---