Since his stint with the Montreal Canadiens began in 1963, Dr. David Mulder has worked with 9 different general managers, 16 head coaches, and has been a part of 12 Stanley Cup championships. However, during his time with the league's winningest franchise, Mulder has seen a lot more than just success on the ice. As the club's chief surgeon, Mulder has treated a plethora of players who have suffered through severe, and in some cases, life-threatening injuries. From his perspective, the scariest incident that he was ever apart of during his tenure with the Canadiens, was in 2000 when forward Trent McCleary blocked a slap-shot with his larynx:
"By far the most scary was Trent McCleary. And you recall that he received a slap-shot directly to the larynx, fractured it, and he suffered an immediate loss to the airway. That was my worst."
While the McCleary incident is understandably scary, Mulder admits that his most emotional moment with the Habs came when long-time camptain, Saku Koivu, made his miraculous return from cancer on April 9th, 2002 after missing the first 79 games of the 2001-02 regular season:
"The night that Saku Koivu returned to play. Maybe the most emotional night I've ever experienced because people were critical that he shouldn't return and that exercise was bad for cancer and [there was] a lot of conflict. We had gone through an enormous treatment protocol and recovery protocol and before the game he came to me to thank me and that was emotional. But then when he skated out onto the ice, and had a long standing ovation, I looked around at the people who were around me and there wasn't anybody who wasn't tearful. And so clearly that was my most emotional moment."

When my conversation with Dr. Mulder shifted to the current team, he mentioned that Andrei Markov's perseverance in the gym, and his dedication to rehab, has allowed him to return from two major surgeries on his right knee:
"His dedication to rehab and to working out. He has worked on a program with Scott Livingston and the training staff of the Montreal Canadiens and has built his quadricept muscles that stabilize the knee joint to an extreme degree. He works very hard on his fitness."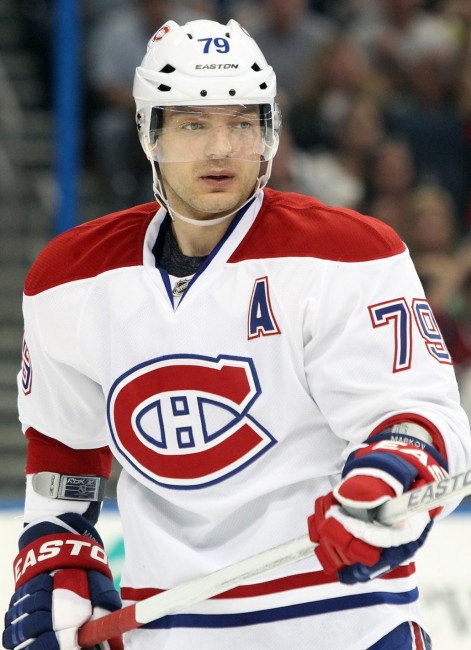 Mulder also praised winger Max Pacioretty, who as we all remember, severely injured his head and neck following a controversial hit from Zdeno Chara of the Boston Bruins. According to Dr. Mulder, Pacioretty recovered surprisingly quick. Mulder also expressed a gratefulness for Pacioretty's gestures inside Montreal's community, and in particular, his establishment of the Max Pacioretty foundation:
"There is a difference in recovery rate, and Max Pacioretty came back very fast. He had one of the most serious head and neck injuries that I've seen. It involved a fracture of the skull, facial bones, and also of the cervical spine, and he had a very significant concussion. He had treatment for his spine and was placed in a demobilizing device and than he basically had 'head rest' and he really recovered over a matter of six to eight weeks. I am very grateful that Max has recognized the need to be more active in concussion treatment and he has set up the Max Pacioretty foundation here at the General where we are now going to obtain an MRI called a functional MRI. It's a research machine and there will only be four in the world. Ours will be in conjunction with the Mass General in Boston and we hope it will provide us the ability to give a more accurate diagnosis of concussion, perhaps leading to new methods of treating concussion, and maybe be a better judge of when we can return players to play."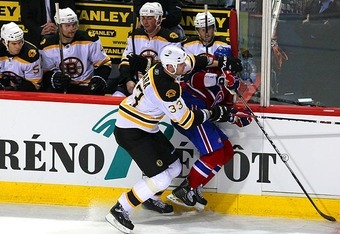 A few days after Max Paciorety's injury, Bruins forward, and ex Montreal Canadien, Mark Recchi infamously dismissed the severity of Pacioretty's concussion.
Mulder explained exactly what he thinks Mark Recchi meant when  those comments were made:
"I think that just reflects our general knowledge and treatment plan for concussion. We don't have any treatment for concussion except rest. Rest is supposed to include no video, or no audio stimuli. It's supposed to include physical rest, mental rest, no TV, no computers, no cellphones. So that's all part of rest, and I guess that's what Mark was talking about."
While still on the topic of concussions, Dr. Mulder reinforced how convoluted this condition truly is. He does believe however, that concussions are generally sustained due to the sport of hockey's overall intensity:
"Perhaps the reason that there are so many concussions is that we document them better, we have better assessment of them. Players are bigger; players in the NHL are probably 10 kilos heaving in the last 20 years, the game is faster, there's no red-line, it's a collision sport played at a high rate of speed."
Mulder also suggests that equipment, and respect play an important role in understanding why these injuries are so much more prevalent than in previous generations:
"Perhaps the current protective equipment renders the player more prone to severe head hits because they're got more courage with the equipment that they're wearing. And I think the other big thing that most players tell me today is that perhaps the respect for each other has changed or diminished."
Finally, as fans of the Canadiens weekly television series 24CH will remember, Dr. Mulder was called out by head coach Michel Therrien for stepping on the team's logo in the center of their dressing room. Therrien jokingly told Mulder that he'd be subjected to a fine should he make this mistake again:
"Fortunately I didn't have to pay it. It was more of a joke and he wanted to re-enforce the concept of not stepping on the logo for several reasons. I was more concentrated on what I was saying to the players and I wanted to be in the center of the room and I didn't realize that I had walked on the logo."
– about 17 minutes in is Dr. Mulder's part.
.
David is currently a second year Arts student at McGill University and aspires to have a career as a sports journalist one day. When he's not covering the Montreal Canadiens for THW, he is the sports producer for TVMcGill and the host of his very own show called "On The Line with David Stein." He is also a frequent contributor to the McGill Tribune.