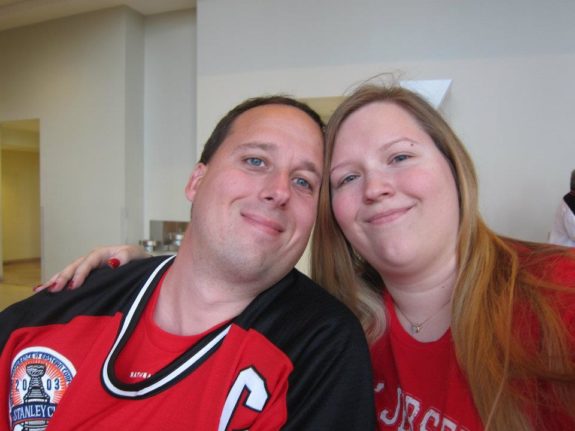 Welcome to the show that never ends. Come inside! Come inside! It is hard to believe fantasy hockey fans but we are only a couple weeks away from the "Olympic Break". So The Polish Express went to battle with the Jersey Devils. I know there are some legendary "Roto" battles that will be spotlighted here at some point but last week was a lot of fun. The result was not going to change that because of the challenge.

Now what happened in Week 17 of the THW Live Keeper League? Let's take a slightly closer look and tie in a little fantasy hockey news and notes on the side.
Fantasy Hockey Battle:  Rachel Vs. Chris
Both of us were fairly close in the standings and as Rachel put it bluntly at the start of the week….."I may be in some trouble here". Head to head fantasy hockey can be a fluky and strange being. We talk about everything and yes that is even down to last minute fantasy decisions on who to sit/start, etc.
There were lots of factors that went into the matchup but here are the Week 17 results.
TEAM
SKATERS
GOALIES
TOT
NAME
G
A
ATOI
SOG
BLK
STP
W
SO
GAA
SV%
Jersey Devils (94-59-17)
13
29
17:37
141
41
14
2
0
1.944
.9111
7-2-1
Polish Express (93-57-20)
10
26
18:45
133
57
11
1
0
2.704
.9024
2-7-1
There are several things that jump out right away. Normally strong categories went right out the window is unusual fashion. Average Time On Ice went out the window when I had no fewer than four in game injuries early in the week. Add in the odyssey of the two week trip to the "Injured Reserve" for Travis Hamonic and that category was blown to bacon bits.
Rachel had similar problems. Normally goals and assists were a pretty solid strength along with power play points and yet those deserted her in the middle of the week where I built a pretty sizable cushion heading into Saturday.
None of this happened while goaltending was pretty much neutral.  That was going to be fairly close as I did go 3-0-1 in those categories. What was funnier is the simple fact that Antti Niemi gave up two goals in the first period in both starts yet ultimately won. Rachel's mistake was starting Darcy Kuemper but who knew he would give up four goals. Other than that, her goalies were pretty solid in their three starts. Head to head dictated a strategy of when to start or when not to. It was particularly a fascinating case in expert matches. 

Fantasy Player Of The Week
Okay, that was for this battle anyway. Seriously, the winner was Andrej Sekera of the Carolina Hurricanes. Sekera had a goal and five assists along with ten shots on goal and seven blocks. He also averaged a bit over 24 minutes a night in what was a big week for the defenseman. Sekera and Justin Faulk has been a nice pairing for fantasy owners and a rather underrated one at that.
Basically combine that with David Krejci's four assists (all on the power play) and having four players with two goals each were keys to victory. Rachel had a bit of bad luck but something tells me that she will be back. She always comes back. I have a strange feeling her team will rise up with gusto after a couple of "off" weeks by her standards. It will be a fun sprint to the "Olympic Break" either way. See you next week.